Mission Valley football teams ready for new season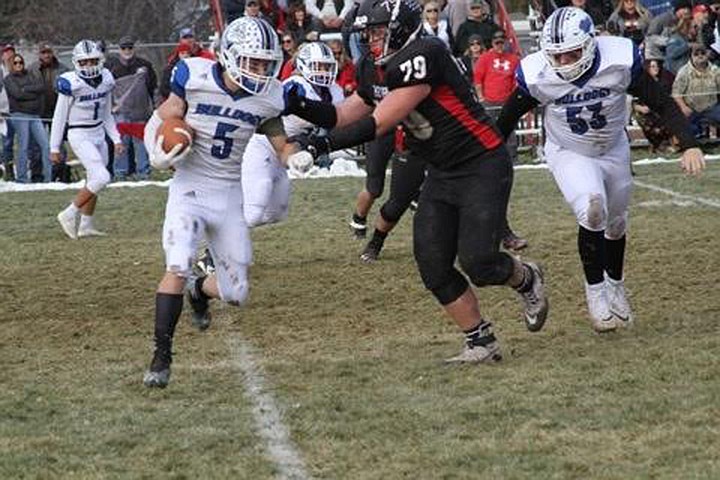 Mission Bulldog all-conference receiver Charley Adams (5) lowers his shoulder to advance the ball after catching a short flare from quarterback Kellen McClure during the Western C 8-man playoffs last season against the Park City Panthers. (Photo courtesy of Daisy Adams)
|
August 27, 2020 1:00 AM
If football is king, then the Mission Valley is about to undergo a royal visitation as area teams embark upon their 2020 schedule.
This season takes on a slightly different tone with an added dimension to concerns about staying health that extend beyond avoidance of injuries to include evading vulnerability to a novel virus.
Here's a look at the teams:
W8M Mission Bulldogs (2019:8-2, 2018:4-5)
The 2019 rendition of the gridiron Bulldogs advanced to the playoffs as a Western third-seed, but a deeper foray into the bracket was denied by a fourth quarter rally from Southern second-seed Park City.
The senior laden squad graduated 13 contributors that include a pair of all-staters in receiver Jedi Christy (3x a-c: 1st-tm ILB 2019, 2nd-tm WR 2019, 2nd-tm TE 2017) along with running back Troy Matt (2x a-c: 2nd-tm 2019, hm 2018) as well as all-conference lineman (2nd-tm OL/DL) Hayden Currie, signal caller Isaac Dumontier, Darwin Adams, Walker Murphy, Kolten Gardipee and a half dozen others.
Key returnees include dual all-conference senior Layne Spidel (4 TDrun+2TDrec) as well as versatile junior Charley Adams (4TDrec).
Though attrition from graduation affects the depth of the Bulldog roster, they also return several seasoned players that include seniors receivers John Komotios (2TDrec) as well as Ian Killorn (TDrec), sophomore quarterback Kellen McClure (15TDpass), sophomore receiver Bryce Umphrey (4TDrec) among others who saw a significant swath of playing time at crucial positions.
Bulldog head grid coach Tyler Murray embarks upon his fourth season at the helm, assisted by Matt Young and Jacen Petersen.
While coach Murray concedes that his team "is still finding its groove. Luckily for us, we return quite a few underclassmen that played significant roles .... With our eyes on the 2020 season, I think we have reloaded our roster. We are faster and more football intelligent overall from a year ago."
Mission kicks off their schedule when they host the visiting Thompson Falls Bluehawks for Senior Night Friday, Aug. 28. Eight seniors will be honored that include team captains Spidel, Komotios, Killorn as well as Lalo Bravo along with fellow seniors Boone Gilleard, Dustin Mitchell (Crec), Christian Smith and Javon Bolen.
W8M Arlee Warriors (2019:2-7, 2018:8-3)
After advancing to the playoffs the preceding year, Arlee went through some adjustments during a rebuilding phase last season. The 2019 rendition of the Warriors graduated a half dozen that include twice all-conference (2nd-tm C/DE 2019, 1st-tm C/DE 2018) lineman CJ Forgey, all-conference (2nd-tm OLB 2018) Kanoa Palazzolo, signal caller Cody Tanner along with Dustin Cordier, Jace Samsel and Jon Matt.
Seasoned senior returnees include twice all-conference (2nd-tm RB 2019, hm SB/ILB 2018) Colt Crawford, receiver Noah Coulson and lineman Tommy Tanner.
Warrior gridders enter a new era as Minnesota transplant Quinn Huisman takes over reins of the program after the tenure of Chuck Forgey. Ryan Landolfi reprises his role as assistant coach.
Coach Huisman aims to counteract any dampening effects from pandemic distractions with some measured doses of contagious enthusiasm: "As my kids will see in the classroom and out on the field, I'm a high-energy guy, and I am going to try and engrain that energy in everyone around me."
Arlee opens their season under the rubric of road Warriors when they travel to face the Trojans at Troy on Friday, August 28.
NWA Ronan Chiefs (2019:1-8, 2018:1-7)
Last season, the 2019 rendition of the Chiefs Ronan stung the visiting Yellowjackets of Stevensville in convincing fashion by three scores and closed to within a touchdown with conversion of winning a pair of other contests.
Ronan graduated a quartet of all-conference accolade accentuated athletes in (2nd-tm WR) receiver Matt Victor, (2nd-tm S) signal-caller Eric Dolence, (hm OLB) Kolby Reum, (hm C) Landon Lynch along with lineman Garrett Bartel. The two leading receivers, Victor and Reum, accounted for sixty percent of touchdown receptions, an indicator that others will be called upon to shoulder the reception load this season.
Though the Chiefs graduated their lead signal-caller, they return experience in senior Daniel Kelsch, who has thrown for close to 400 yards over the course of the past two seasons in a supplemental role.
Other returnees include senior backs Bruin Largent (1TDrun) and Daniel Bishop (1TDrun), who together with Kelsch (1TDrun+3TDrec) generated more than eighty percent of the rushing yardage last season, placing their backfield on pretty solid footing.
Senior receiver Trapper McAllister (KR/PR 38-481) supplemented the receiving corps last season, was the prime kickoff return specialist for the team as well as wreaked mayhem on defense. Returning senior lineman Jesse LittleBoy was a top ten tackler for the team and will help anchor the line.
Ronan head grid coach Matt Detwiler embarks upon his fifth season at the helm, assisted by OC Brian Labbe, DC Mitchell Wassam, Makenzy Kelsch, Hap Cheff and Riley Sampson.
Coach Detwiler pointed out that "We've had a great start to the season and are emphasizing the little things. While this does encompass football, it is more geared towards making sure our players are great community members and also positively impacting the people and the world around them as they move forward in life."
The Chiefs are slated to inaugurate their gridiron season when they host the visiting Browning Indians on Friday, August 28.
W8M Charlo Vikings (2019:2-6, 2018:6-3, 2017:9-2)
The 2019 rendition of the Vikings underwent a rebuilding transition last season after the graduation of key contributors. But younger players gleaned significant experience, lending to the expectation that their competitive fortunes should improve this time around.
Graduated are wrestling State BC champion running back Isaiah Allik, Wrangler Gaustad, Bridger Foust, and all-conference (2nd-tm DL 2018) lineman Levi Gaustad (Crun) among others.
Returnees include a quartet of seniors in running back Roper Edwards (3TDrec+TDrun), linebacker Nate Clark, receiver Phil Marquez and lineman Ethan Hafliger. Junior returnees feature receiver Braydon Zempel (2TDrec+Crun), signal-caller Coyle Nagy (2TDpass) and linebacker George Ranney. Sophomore returnees include receiver Dawson Dumont along with running back Tucker Love (TDrec). Others who supplemented the roster last season, but factored into the scoring include sophomroe receiver Keaton Piedalue (TDrec).
Head Viking grid coach Reese Cox returns to the helm for his second season, assisted by Josh Eastman (DC).
Coach Cox is "Looking forward and grateful for a shot at playing a season this year. While Cox acknowledges the team is still young, they "do have a lot of experience ... We should be very fast in our offense and ... disciplined in our defense.... Should turn some heads."
The Vikings kick off their season on the road against the Darby Tigers Friday, Aug. 28.
---