Mission volleyball squads prep for new year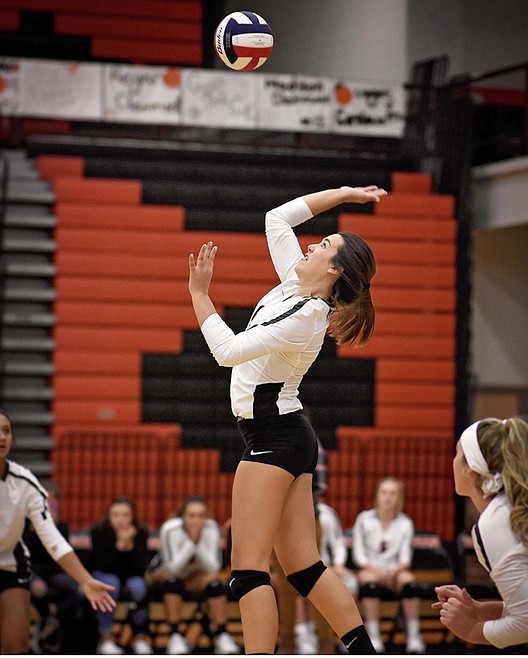 |
August 27, 2020 1:00 AM
Mission Valley area volleyball teams are geared up to inaugurate their schedules, with dual hopes of not only slamming spikes as well as digging out balls, but also defending against virus vulverability.
One early casualty of pandemic precautions has been the cancellation of tournament formats on account of too many folks packed into too small a space where it wasn't feasible to implement social distancing. But there is slated to be plenty of regular season action to whet volleyball appetites.
NWA Polson Lady Pirates (2019:11-9, 2018:7-14)
The 2019 rendition of the Lady Pirates made their first trip to state last season after an eight-year absence. Polson graduated a trio of accolade accentuated all-conference contributors in (2nd-tm) middle Misty Tenas, (hm) middle Grace Quinones and (hm) setter Lena Pawlowski. The trio accounted for more than 400 spikes as well as digs, over a hundred service aces and just under a hundred blocks.
Team LP likewise returns another trio of accolade accentuated all-conference seniors that include all-stater (1st-tm) Maggie Todd, (hm) setter Berkley Ellis and (hm) libero/defensive specialist Ara Mercer. Decorated returnees accounted for over sixty percent of defensive digs and in the vicinity of a third of all team spikes as well as service aces.
Lending further seasoned senior leadership will be "clobberin" Kobbey Smith, who was a century club contributor in both spikes (>100), defensive digs (200D) and led the team from the service line with almost five dozen aces. Senior Hallie Moss will supplement setting duties on a scale similar to that supplied by departed grads last season and has been refining a blocking technique to repel immigrant balls that opponents might mistake as a misplaced segment of Trump's border wall.
Senior Chloe DuCharme has been honing her wicked serve that receivers are more liable to treat like a potato too hot to handle just out of the oven. Senior SaVanna Carpentier is mending from an injury and will lend assistance from the sideline.
An influx of promising young players may also find themselves integrated into the mix from time to time.
Head coach Lizzy Cox embarks upon her third season at the helm of the Lady Pirates, assisted by Bonnie Klein and Mariah Newell.
Coach Cox is "grateful that we are back in the gym after a long off season of not knowing whether or not we would have a season."
The Lady Pirates open their season at Frenchtown Tuesday, Sept. 1.
14C Charlo Lady Vikings (2019:23-6, 2018:21-4)
The 2019 version of Lady Viking volleyball acquired the rubric "tenacious" last postseason on account of their collective determination and dig deep style of play. As a consequence, Charlo advanced to the State C Tournament for the first time since 2006 and notched their first state competition win in program history.
Graduated are all-state (2x a-c 1st-tm 2019, hm 2017) outside hitter Bella Hawk, all-conference (2nd-tm) six-foot middle blocker Kira McPhail and libero Destiny Manuel. The roster will be further impacted by attrition from the absence of preceding season contributors Liev Smith, Brooke Alder and Anneleise DeGrandpre.
The current rendition of the Lady Vikings return a pair of seasoned senior siblings in versatile all-state outside hitter/defensive specialist Carlee Fryberger along with Connor Fryberger. All-stater Carlee pounded out more than 300 kills while digging out over 500 digs as part of her portfolio over the course of last season.
Among other Lady Viking returees include a junior contingent of Kassidi Cox, Katelyn Young, Molly Kate Sullivan as well as Kyla Tomlin, supplemented by a pair of sensational sophomores in Hayleigh Smith and Mila Hawk.
Others are anticipated to be integrated into the mix as the season progresses.
One area of focus is compensating for a vacancy created at libero on account of graduation, where multiple options are being explored to evaluate which ones emerge with the necessary aptitude.
Lady Viking head volleyball Rhondell Volinkaty returns for a third season at the helm with the aid of second year assistant Jess Larson.
Coach Volinkaty is optimistic about the new season commencing: "Early on the girls have been working hard and putting in the time. Plenty of oldies on the roster and plenty of youngsters showing a lot of promise. Its shaping up to be another fun season."
The Lady Vikings open their schedule against the Lady Blackhawks in Seeley Swan on Thursday, August 27, then skip down the road to St. Ignatius to challenge the 7B Mission Lady Bulldogs on Saturday, August 29.
7B Mission Lady Bulldogs (2019:11-9, 2018:8-10)
The 2019 Lady Bulldogs graduated a significant swath of their roster from last season that includes a trio of all-conference accentuated players in (1st-tm) libero River Gonzalez, (2nd-tm) setter Hunter Eichert, (2nd-tm) outside hitter Karolyna Buck along with Olivia Garland, Azia Umphrey, Courtney Mitchell and Amy Dillard.
Key among returnees is all-conference (1st tm) senior outside hitter Sydney Brander, the team leading spiker at the net as well as tied for the lead in service aces. Other seasoned returnees include senior Keana Thomas and junior Maysa Couture.
Coach Rhandy (Cox) Hansen embarks upon her third season at the helm of the Lady Bulldog program.
The Mission Lady Bulldogs inaugurate their season with a quadruple C cross classification county clash when they host Charlo on Saturday, August 29, for their Senior Night.
NWA Ronan (2019:3-14, 2018:5-12)
The Maidens graduated a quartet from their roster last season that include libero Brooklyn Kenelty, right side hitter Regan Clairmont, middle blocker Madison Clairmont and defensive specialist Haylee Walchuk.
But they return a half dozen seasoned contributors. Foremost among those is versatile thrice all-conference (2nd-tm 2019, hm 2018-17) senior 6-0 middle hitter/blocker Madeline McCrea, a formidable force at the net on both defense as well as offense. Fellow upperclassmen Jaylea Lunceford, Kiana King and Katie Beh will lend further seasoned senior leadership to the squad.
Juniors Lexi Wirz, Hannah Rowe, Olivia Clairmont, Rylie Lindquist, LaReina Cordova and sophomore Leina Ulutoa. round out the early rendition of the roster that could see others integrated into the lineup as the season progresses. Many among the Maidens have been playing club volleyball during the offseason that is anticipated to bolster their competitive edge.
Lacey Phelan takes over the reins of Maiden coaching duties following the tenure of Charla Lake. Phelan graduated from Missoula Big Sky, then played collegiate volleyball for the MT Tech Orediggers.
Coach Phelan elaborated that "the girls are ready to have a sense of normalcy and were pretty devastated by the lack of spring sports and cancellation of summer club tournaments.... We have some great returning leaders and some shining new faces this year that I think will result in a very well rounded, strong, and competitive team."
The Maidens are slated to open their schedule at Libby on Tuesday, Sept. 1.
6B Arlee Scarlets (2019:6B 1-16, 2018:14C 14-5)
The 2019 rendition of the Arlee Scarlets were saddled with adjusting to the move to District 6B last season coupled with coping with turnover that required integrating new players. The Scarlets graduated Mandy Raad, Saige Koetter and defensive specialist extraordinaire twice all-conference (2nd-tm 2019, 1st-tm 2018) Emily Fiddler.
Now more seasoned, returnees include senior Halle Adams, junior Noel Johnson along with sophomore siblings Jerny and Rheid Crawford.
Shelby Sander takes over the reins of the Scarlet program after being their former assistant. Sander played middle blocker for JUCO Arizona Western Matadors and then played in the NAIA Central Methodist Eagles.
---