Time Capsule: Martin's big mack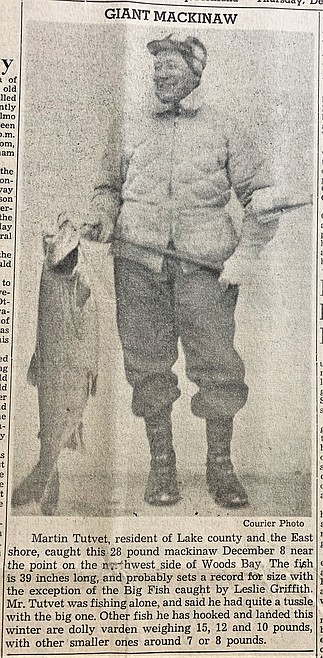 Giant mackinaw, from the Dec. 15, 1955 Flathead Courier.
by
Lake County Leader
|
December 16, 2020 10:00 PM
This week in Lake County news archives.
Dec. 17, 1970 (Flathead Courier)
Eleven lovely and talented young ladies will be put through their paces this Sunday evening to enable judges to choose a "Junior Miss of Lake County."
Festivities will begin at 7 p.m. in the Lincoln Auditorium with a physical fitness routine. … The girls will display their talent and will model sportswear and evening gowns.
Finalists are: Jenelle Devlin, Laurie Fisher, Debbing Winger, Suzanne Young, Lynn Welch, Ruth Schlinger, Pat Haverly, Lynda Holland, Pat Pomeroy, Sherry Carter and Diane Evertz.
Dec. 13, 1984 (Flathead Courier)
Fire swept through the Western Seed & Supply feed mill in Ronan early Thursday morning, destroying the mill and the adjacent office building. Escaping serious damage were two large grain elevators near the feed mill, as well as a storage building. No one was injured in the fire.
The rubble from the fire continued to cause smoke problems for some days afterward.
Dec. 14, 2000 (Lake County Leader)
Jeff and Kelly Smyth of St. Ignatius welcomed their new son, Lane Carter, to the world on Nov. 20, the first child born at St. Joseph's new medical center in Polson.
The hospital celebrated the first baby in the new medical center by giving the new parents a pair of commemorative wine goblets and a beautiful bouquet.
---