Time Capsule: 'The Christmas Bear' in St. Ignatius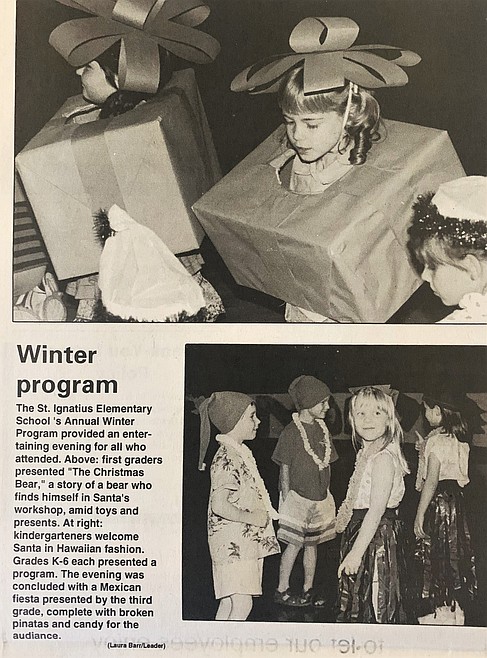 From the Dec. 23, 1993 edition of The Lake County Leader.
|
December 24, 2020 12:05 AM
This week in Lake County news archives.
County gears up for Y2K
Dec. 23, 1999 (Lake County Leader)
Local law enforcement and emergency services are prepared for "the big night," Lake County Sheriff Bill Barron said during a monthly 911 and Y2K preparedness meeting. …
Nationally, the FBI does expect terrorism over New Year's, according to Barron. In the Northwest, environmental terrorism may be the main threat, the FBI has indicated. Power plants, dams and the logging industry are the expected targets, according to Barron.
Sweaty Ducks capture girls' hoop tourney
Dec. 25, 1980 (Flathead Courier)
The Sweaty Ducks squeaked out a 13-12 victory over the Fire Fannies in the four- and fifth-grade girls' basketball tournament.
With a name like that, how could they lose? Deanne Wiese and Joanne Bick both scored six points, and Jade Cotler scored one to give the Ducks the win.
'Fisherman Frank' Davis dies at 106
Dec. 25, 1958 (Flathead Courier)
Frank Davis, who claimed an authentic birth date as April 10, 1852, which placed his age at 106, perhaps the oldest white person in Lake County, was found dead at his home in Polson.
His inveterate propensity for fishing, both for livelihood and a hobby, earned him the nickname "Fisherman Frank."
A native of France … he came to the United States about 1889, having stowed away on a ship. He is believed to have come to Montana in the early 1900s and first settled in the St. Ignatius area, where he raised chickens.
---