Basketball preview: Ronan's Fish era begins with plenty of talent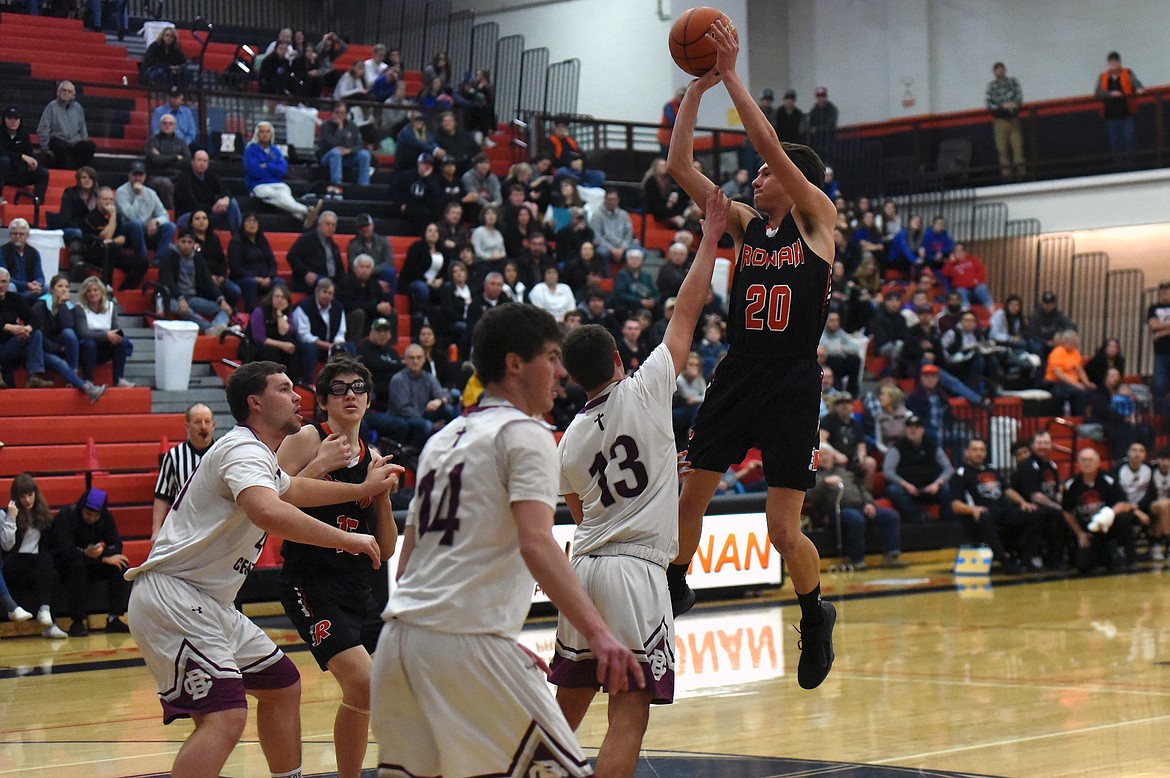 Ronan's Zarec Couture shoots over Butte Central players in the first round of the Western A Divisional Tournament Feb 27. Ronan fell to Butte Central 56-30. (Whitney England/Lake County Leader)
by
by John Heglie, special for the Leader
|
December 31, 2020 12:30 AM
Last year's rendition of the Ronan Chiefs culminated their season with somewhat mixed bag results. At times the team executed game plans that bordered upon basketball brilliance, while others lagged behind as if under a weight-like lethargy.
The Chiefs swept a strong Whitefish squad while succumbing to matchup difficulties against Columbia Falls, four very close conference contests with outcome differentials within a single possession. They edged then two-time defending State B champion Bigfork by a similar amount. Ronan managed to finally solve the riddle of the Libby Loggers during their postseason play-in qualifier after falling in both regular schedule contests by multiple possession margins.
Ronan enters a new era as DJ Fish takes over the helm of the Chiefs basketball program following Ron Couture's one-season tenure. Among the goals of the former Browning standout is maximizing roster potential with assistance from Mitchell Wassam and Jacob Alford.
The Chiefs graduated just two from their roster. As a consequence, returnees accounted for 83% of scoring last season, placing Ronan on very strong footing entering the new season.
Senior leading scorer, 5-9 guard Leonard Burke, is a bonafide deep threat who hit over three dozen triples from beyond the arc last season. Coach Fish has identified a strong communication component associated with Burke's presence on the floor, making him "a big time threat when it's time to close out games."
Skilled senior 6-5 forward Girma Detwiler is a primary emotional spark plug for the Chiefs. Fish feels that the caliber of Detwiler contributions could be an "X factor in driving us to a lot of victories."
Detwiler's presence in the paint forced the alteration of shot trajectories on multiple occasions in addition to his more than two dozen blocks last season. He topped 200 points and rebounds last season, and measured application of Detwiler's capabilities will be key to keeping his presence on the floor and out of foul trouble.
All-conference senior 6-0 forward Zarec Couture employs a workhorse ethic to his minutes on the hardwood. Having both run cross country, Coach Fish anticipates that because Zarec "understands that moment your body wants to relax, but the fire inside of you just keeps roaring," opponents may find their hands full during late flourishes.
Transfer senior 5-11 forward Michael Brown further bolsters the Chiefs' attack with sound ball-handling skills and a sharp eye for the basket. Brown was the leading scorer for Two Eagle River School last season, hitting 43 triples along with a career-high 28 points in a postseason semifinal loss.
Crafty junior 6-0 forward Ruben Couture applies the cross-disciplinary golf rubric "drive for show, putt for dough" by intermixing crisp passing and deft ball handling interspersed with strategic scoring.
Junior 6-2 forward Payton Cates and junior 5-9 guard Sage Coffman lend further depth to the Flying R offense, as well as defensive punch with added muscle in the paint and as assets around the perimeter.
The tennis background of junior 6-0 forward Dillon PrettyOnTop helps enhance effective net play around the rim.
The elevated basketball IQ and confidence displayed as a freshman on the hardcourt by now sophomore 5-11 guard Elijah Tonasket expanded opportunities to contribute that have been further enhanced by a season of seasoning.
Others are anticipated to emerge as the season progresses.
Coach Fish said the game on the hardwood is a reflection of life conduct.
"There's a difference between loving basketball with a passion and loving the idea of having passion for basketball."
From the perspective of their new coach, Chief basketball means that players "show up each day to fight for the love of the game. When you fight for that love, it means we are in this together, doing right things on and off the court, holding each other accountable. It means being a Chief in all aspects of life."
The Ronan boys are slated to inaugurate their basketball schedule at home in a Rez roundball rivalry wrangle against the visiting 7B Mission Bulldogs on Saturday, Jan. 2.
Ronan Chiefs
Coach: DJ Fish, 1st yr
Assistants: Mitchell Wassam, Jacob Alford
Returning: Seniors 5-9 G Leonard Burke; 6-0 F Zarec Couture; 6-5 G/F Girma Detwiler; transfer 5-11 G Michael Brown; juniors 6-0 F Ruben Couture, 6-0 F Dillon PrettyOnTop, 6-2 F Payton Cates, 5-9 G Sage Coffman; sophomore 5-11 G Elijah Tonasket
Departures: Trey Don't Mix, Saul BlackWeasel
---