Wilhelmina "Willie" Vink Laughlin, 87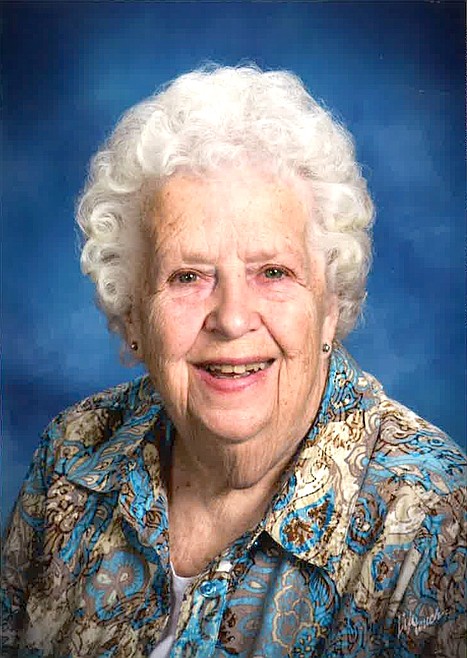 Wilhelmina "Willie" Laughlin, 87, of Polson, passed away at Kingswood Place Senior Living in Surprise, AZ, on Saturday, June 13, 2020, with her daughter Debra (Laughlin) and husband John Tietema at her side. She peacefully joined her husband George Laughlin 18 years and one day after his passing in 2002.
Willie was born November 23, 1932, in Scobey, MT to Cornelis and Johanna Vink. While growing up in Scobey, she played the clarinet in band, was active in Girl Scouts, and attended Girls State.
She met the love of her life, George Laughlin, who was her date for her senior prom. Willie graduated from Scobey High School in 1950, and soon after accepted a job at the Bank of Scobey. In 1951, George left to serve in the Korean War as a Staff Sergeant in the Army. While deployed, Willie wrote George a letter every day until he returned home in 1953.
On August 15, 1953 Willie and George married in Scobey where they started their new life together. Their daughter Debra was born in 1954 and son Edmond in 1955. After a few years in Scobey, George moved the family first to Helena and then to Deer Lodge for around a year each, finally settling the young family of four in Polson, MT in 1959. There they built their family home on 4th Avenue East in 1961 where they brought home their youngest son George, Jr. in 1962 to complete the family.
Willie enjoyed raising her children, teaching them fishing, camping, and boating around the Big Sky State. Willie worked part-time for the Lake County Courthouse in the Clerk and Recorder's Office in October 1965, becoming full time in July of 1974. She retired in August of 1993 as Clerk and Recorder for the county. After retirement, Willie would fill in as the Deputy Clerk when asked. Willie prided herself with her involvement in the First United Methodist Church, her dedicated service for many years as the treasurer in the Rebekahs – (IOOF) Lodge, and being an active member in the community with Girls State selection and serving as a polling official for many years. Willie's favorite past-times were showing her grandchildren off at church, watching them play in her backyard, making endless fond memories on Flathead Lake, and countless shared giggles with her wonderful Bridge Club ladies and many friends during Pinochle Night parties. Willie never met a stranger and everyone knew they were welcome at the Laughlin house.
Willie enjoyed 56 years at the family home in Polson. In 2015 she started to travel south to spend a few months a year with her daughter and family in Arizona to escape the harsh Montana winters. She moved permanently to Surprise, Arizona in 2017 and lived in the "casita" at her daughter's. In 2018 she moved into Kingswood Place Senior Living, five minutes from her daughter's house. She soon settled in with the residents who became her friends. Willie enjoyed everyday visits from her daughter, along with countless visits from siblings, children, grandchildren, and great-grandchildren. Even while in Arizona, Willie held her family close with many cherished phone call visits.
Willie touched the heart of anyone who crossed her path. She will be remembered by her sweet giggle and her words of wisdom she passed on to her loved ones.
She was the love and the glue that always brought the family together and her memory will be carried on through all of us that loved her, too.
Willie is preceded in death by her parents, Cornelis and Johanna Vink; and her husband George of 49 years.
She will be dearly missed by her children, Debbie and her husband John of Surprise, AZ, Ed and his wife Val of Marysville, WA, and George and his wife Kelly of Powell, WY.
Her six grandchildren and four great-grandchildren, who called her "Oma", will miss her sugar cookie welcome with every visit, and her Biscuits 'n Spread for special family gatherings, are, JoLynn (Ryan, Hannah, Ross) Copenhaver of Peoria, AZ, John (Jennie, John "Jack", Hayden) Tietema of Seattle, WA, Matthew Laughlin of Seattle, WA, Breeana Laughlin of Missoula, MT, George Laughlin, IV of Lewiston, ID, and Jessica Laughlin (Dave) of Powell, WY. Willie is survived by Brother Corrie (Maxine) Vink of Missoula, MT, sister Annette (Larry) Donohue of Scobey, MT, and 'little sis' Joan (Ken) Hayes of Missoula, MT, and many loving nieces, nephews, grand-nieces, grand-nephews, cousins and very good friends. Willie was a wonderful, compassionate lady, she leaves a huge hole in the hearts of everyone that knew her, especially her extended families created from the marriages of her children and grandchildren.
A private memorial will be held for immediate family members only. The family invites everyone to join them for a Celebration of Life Parade, Saturday, July 11, 2020, from 10:30 a.m. to 11:30 a.m. at the Veteran's Section of Lakeview Cemetery, Polson, MT.
Deb, Ed and George will be greeting each vehicle with a program while they pass by keeping everyone at a safe social distance.
Please take this time to share your memories of Willie with her children. The family would like to thank everyone for understanding we are not able to gather at this time.
In lieu of flowers, memorials are suggested to Alzheimer's Disease & Dementia Help at www.alz.org, Community Church of Polson, or to an organization of the donor's choice.
---