Kalispell's Mahlen wins Mack Days again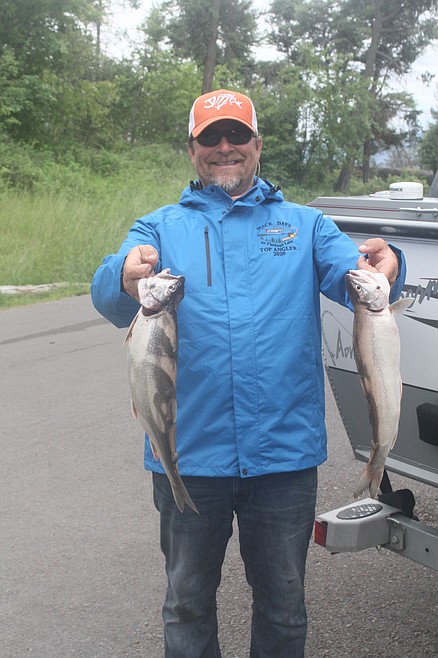 2020 Spring Mack Days champion Jason Mahlen shows off two of the 100 lake trout he caught Sunday in Flathead Lake. Mahlen is also wearing the jacket awarded by the Confederated Salish & Kootenai Tribes for claiming first place. Mahlen won Mack Days for the seventh time. (Scott Shindledecker/Daily Inter Lake)
by
Scott Shindledecker
Daily Inter Lake
|
July 8, 2020 10:24 AM
Excelling in the Mack Days fishing tournaments is about mastering the numbers game.
Kalispell's Jason Mahlen has unquestionably done it.
Mahlen claimed his seventh Mack Days title Sunday. He was a runaway winner, too. When Confederated Salish & Kootenai Tribes member Christopher Two Teeth was at the Wayfarers boat launch on Flathead Lake to record fish catches, he already had the champions jacket ready to give to Mahlen.
Standings were based on the average of an angler's best 12 days.
Mahlen's total was 1,381 and his 12-day average was 99.92. A counting error or an escaped lake trout kept him from having a perfect 100 average. On one day when he turned in his catch there were 99 fish in the cooler not the 100 he thought he had. That error has happened before to anglers and is very disappointing at the end of a long day of fishing. He did have 11 days of 100-fish limits during the event which is phenomenal. Not many anglers can reach that number day after day.
"I prepare for this all year," Mahlen said. "I'll brainstorm ideas on how to get faster. Putting fish in the color as quickly as possible is the how you win."
Mahlen also said being prepared for anything and the wildly varied conditions which occur on the lake are keys to winning.
"In 2019, we had ice and snow to begin and there was a late start and then this year with COVID we had another late start," Mahlen said. "It seemed like this year, there was a lot more wind on more days."
But Malhen fished through those windy days to catch nearly 1,400 macks.
"When your anchor doesn't hold, then you know it's time to go," he said.
There are a few anglers who may give him a race in the future. Sam Cusker of Bigfork came in at 1,133 fish and an 89.42 average, good for second place. Cusker had seven 100-fish days.
The third place finisher is Kolton Turner of Kalispell with 1,348 fish and an 89.17 average. Turner had two 100-fish days and five in the 90s.
Bob Turner of Kalispell was fourth with 1,194 macks and an average of 80.59. He had two perfect days. Mike Benson of Lonepine was fifth with 1,110, four perfect days and a 79.34 average. Matt Guckenberg Sr. of Kalispell came in sixth with 790 and 62.84 with one perfect 100 and Jack Kirkland of Missoula is seventh with 815 and 61.75. In eighth was Larry Karper of Florence with 735 and 57.59.
Ken Varga of Kalispell placed ninth with 601 macks and a 48.34 average. Larry Ashwell of Missoula was 10th with 668 and 47.34.
Overall, 2020 Spring Mack Days anglers boated 27,331 lake trout.
The six week-long event was three weeks shorter than any other spring event but the weekly average total of 4,555 is higher than previous years which range from 3,804 to 4,484 entries.
Two hundred thirty-four anglers turned in one or more lake trout entries. Up to $225,000 is awarded to anglers in different categories.
For the ladies, Julie Perkins of Kalispell was a runaway winner with 360 macks. Nicole Peters of Missola was second with 86 while Connie Jones of Kalispell was third with 59. Polson's Debbie Paine was fourth with 49, and in fifth was Laurie Kreis of Florence with 47.
Future anglers who will be soon giving the adults a run for top places spend hours on the boats in all kinds of weather fishing alongside their parents. These young anglers love fishing and being out on the water. Matt Guckenberg Jr. of Kalispell won the 13-17 age category with 403 fish while Leah Banyai of Kalispell was second with 41. Wyatt Thompson of Bigfork was third with 35, Alden Wood of Kalispell had 24 for fourth and in fifth was Shalaki Soukup of Polson and Madison Mahlen of Kalispell.
Brodie Smith of Kalispell was first in the 12-and-under age category with 180 entries. Colton Marrone of Kalispell was second with 102 and Waylon Jochim of Missoula was third with 35.
Larry Karper won the 70-and-over category with his 735 and Larry Ashwell was second with 668. They both placed in the top 10 category so first place went to Don Peters of Missoula with 112 and second place went to Ralph Johnson of Columbia Falls with 33.
There were several anglers in the 80-plus age group fishing in the event. Ralph happens to be one of them — he is an excellent angler and has been competing for several years.
Paul Jochim won the largest fish category with his 38.5-inch, 25 1/4 pound lake trout.
Smallest fish winners were Larry Ashwell of Missoula with a 6.5-inch lake trout and Ellis Surratt of Huson caught a 6-inch laker.
Winners of Siberian Coolers were Marty Herak of Polson for Monday through Thursday and Felix Gauci of Stevensville for the Friday to Sunday fishing.
Morgan Amdahl of Kalispell with 132 entries and Toby Thompson of Bigfork with 198 entries were drawn first and are $1,000 winners in the lottery drawing.
Young Cooper Harris of Richmond, Virginia with 23 entries was a $600 winner, John Malatare of Arlee with entries was a $500 lottery prize winners.
Thirty-five lottery drawing winners were done electronically. First winner in the cash instead of merchandise group went to Josh Morigeau of Helena-$500. There were 32 cash prizes drawn also electronically. Go to www.mackdays.com for a complete list of prize winners.
Fall Mack Days will begin Sept. 8 and end Nov. 15. It will be a longer event to make up days lost in the spring. The events are used as a management tool by the Confederated Salish and Kootenai Tribes to reduce non-native lake trout in Flathead Lake.
---