Polson High student finds purpose in helping others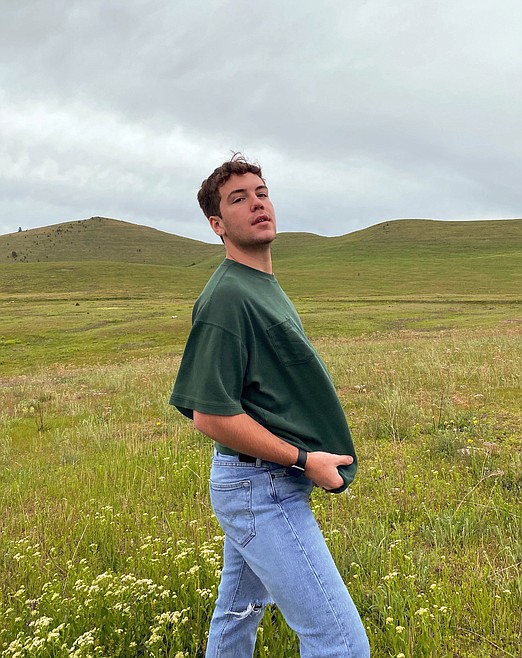 Spencer Henning is Polson High School's recipient of the Today's Achievers, Tomorrow's Leaders Award. He is headed into his senior year of high school and is looking forward to pursuing a career as a surgeon in the future. (Photo provided by Spencer Henning)
by
WHITNEY ENGLAND
Lake County Leader
|
July 16, 2020 11:29 AM
Spencer Henning is the Polson High School recipient of the Today's Achievers, Tomorrow's Leaders award sponsored by Kalispell Regional Healthcare and the Lake County Leader.
As Spencer Henning looks forward to his senior year and beyond, he is sure of at least one thing — he desires to always continue serving others and extend a helping hand.
In the vast span of activities he is involved in, most center around giving his time and talents to many people, friends, acquaintances and strangers alike. Spencer helped with Meals on Wheels, tutoring kids at the middle school in math and serving as a LINK Crew leader helping new students at the school feel welcomed and comfortable. He also volunteers with National Honors Society and spends hours of his weekends and summers working in nursing homes, at first as an activities coordinator and now as a CNA.
Spencer was nominated for this award by his mother Shauna Henning, and part of the nomination reads, "Spencer is a student who is dedicated as well as willing to learn all he can… All (of his volunteer work) shows responsibility, honesty, loyalty, and leadership… He loves helping others and has a heart of gold."
One of the most challenging extracurricular programs he is involved in is HOSA-Future Health Professionals, where he is president of the Polson chapter. HOSA helps students that might be interested in pursuing a career in the medical field find potential advancement opportunities while providing a unique leadership development curriculum. For Spencer, HOSA is helping him open up doors in the medical field far before even graduating from high school.
He expressed that taking on the role as president of the chapter was particularly challenging, but a task for which he was willing to arise to the occasion.
"It was kind of hard to adapt to such a big role, so I really had to step up my managing and organizational skills," Spencer said.
As part of the Today's Achievers, Tomorrow's Leaders award, Spencer must choose an organization to receive $250, and he selected the Polson HOSA chapter.
Inspired by his mother's work as a nurse, Spencer has a dream of becoming a surgeon. He became interested in the medical field after hearing Shauna talk of her work, the intriguing medical language and realizing he wanted to assist and serve others.
"I definitely want to help people, I get satisfaction just with helping other people besides myself," Spencer explained. "I think a lot of times everyone is just caught up in themselves, which is not always bad, but sometimes it's nice to do stuff for other people."
During his junior year of high school he participated in the Health Internship offered at Polson High School which gave him a rewarding opportunity to spend a portion of his class time at St. Joseph Medical Center shadowing professionals. The hands on experience only accelerated his passion and drive to pursue a career as a surgeon.
"I believe the positive attitude he has as well as the respect he has for others makes him an amazing role model for others," Shauna wrote in the nomination. "I have had many of the staff at the hospital involved with the internship program come to me to tell me how polite Spencer is, as well as how he is so willing to learn and pays complete attention to detail."
Next year he is hoping to gain further experience in healthcare as he plans to take a work release and put in more hours as a CNA as well as start training as a pharmacy technician.
Spencer moved to Polson around the age of seven from Michigan, but he explained he has family that still lives out east and he visits every summer. He has a huge passion for travel and pursuing new adventures. Spencer also loves being outdoors hiking, kayaking, swimming and skiing, to name a few.
As the soon-to-be high school senior reflects on his success thus far, he has many achievements he is proud of himself for pursuing.
"(My biggest achievement so far) I think is my whole high school career, getting good grades, getting into National Honors Society; I can't pinpoint just one thing, but I'm very proud of myself for everything I've pushed myself forward to do," he said.
Spencer has one more year of high school which he plans to take full advantage of in preparing for his next steps. He is looking forward to applying for college and taking more challenging classes. Spencer is hoping to attend a university out of state as he continues to gain perspective on the world around.
And as he seeks after his own personal endeavors, he is committed to keep his heart centered on serving those around him along the way.
Reporter Whitney England may be reached at wengland@dailyinterlake.com
Recent Headlines
---