Fundraising continues for 7th Ave Skatepark expansion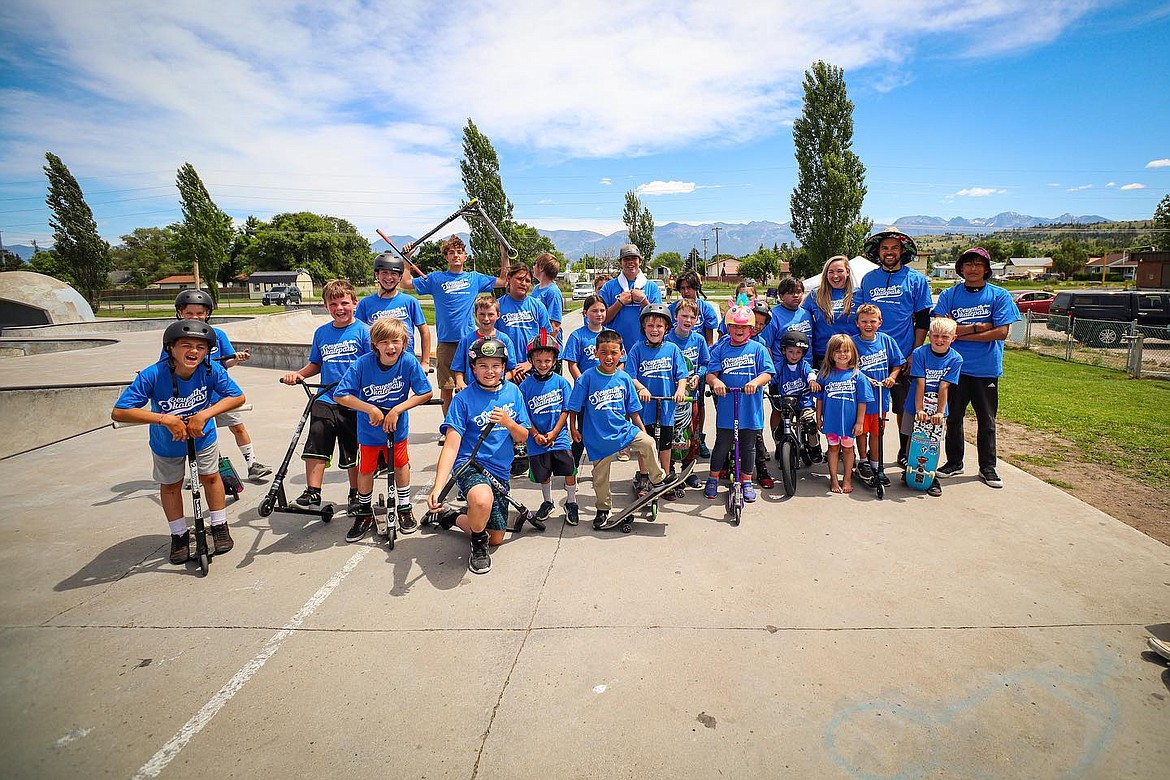 Participants at the 2020 7th Ave Skatepark skills clinic pose for a group photo after a week of fun at the park June 22-26. (Photo provided by Jesse Vargas)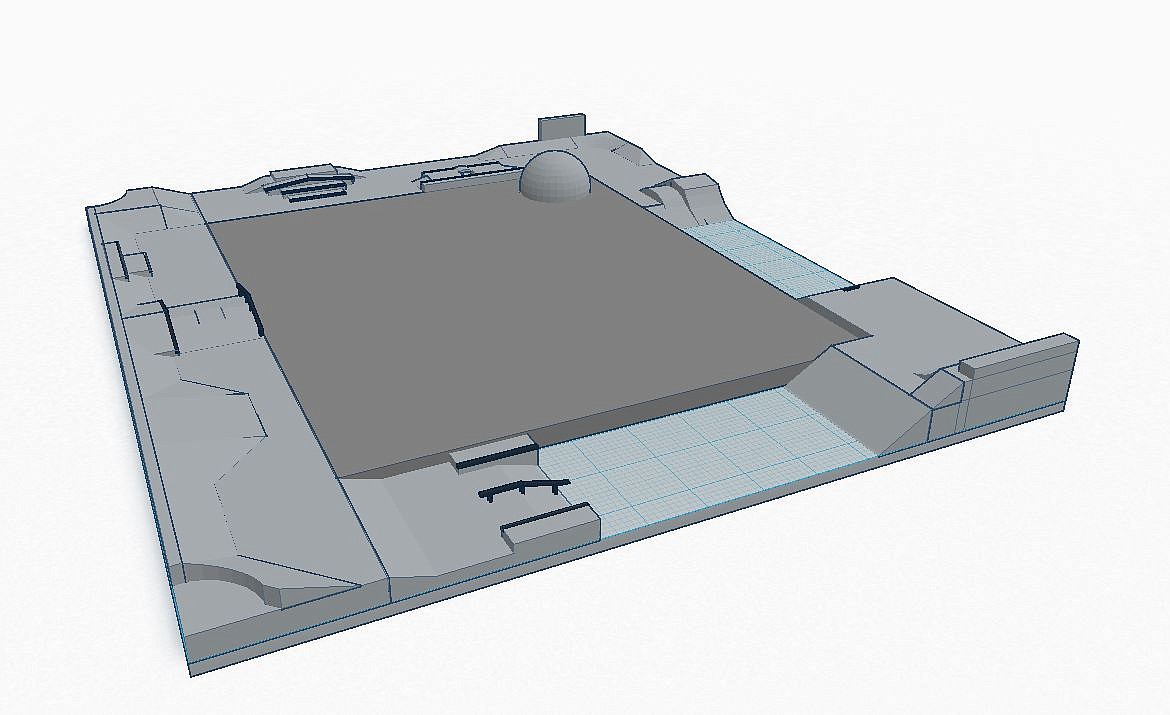 This drawing shows the design for the expansion of the 7th Ave Skatepark. This features an addition of 25 feet on each side of the park with new beginner and street obstacles. (Photo provided by Jesse Vargas)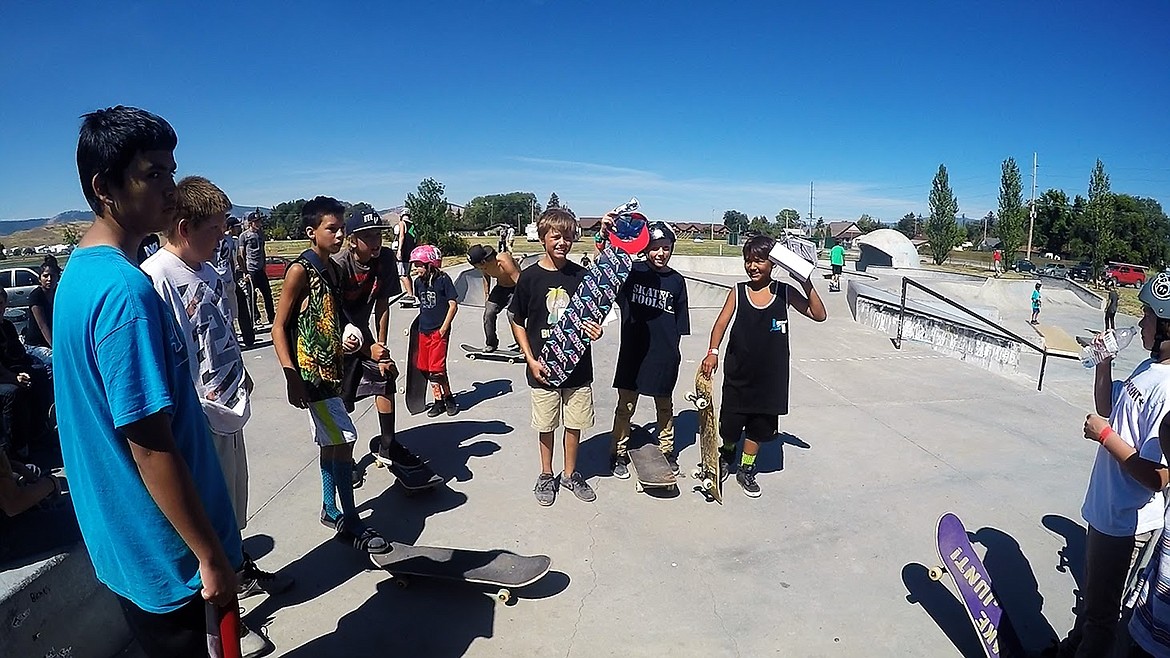 Particpants celebrate a great week of riding at the 2020 7th Ave Skatepark clinic June 22-26. (Photo provided by Jesse Vargas)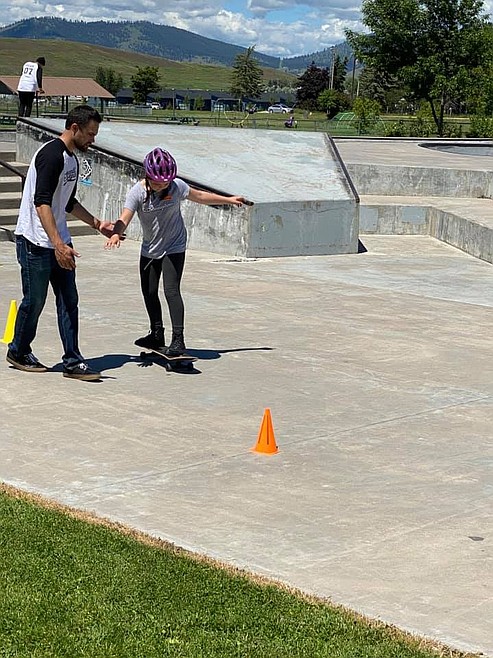 Jesse Vargas helps a new skateboarder at the 2020 7th Ave Skatepark clinic over the week of June 22-26. (Photo provided by Jesse Vargas)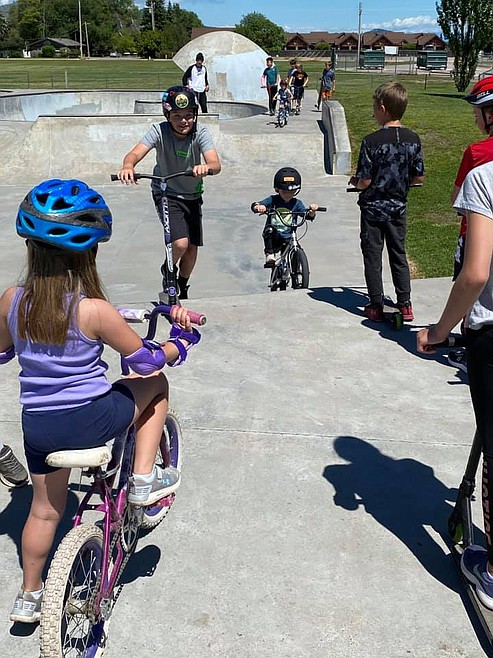 Kids working on their BMX skills at the 2020 7th Ave Skatepark clinic over the week of June 22-26. (Photo provided by Jesse Vargas)
Previous
Next
by
Whitney England
Daily Inter Lake
|
July 27, 2020 10:35 AM
For the last five years a dedicated group of individuals has poured extra time and energy into a project that would expand the current 7th Ave Skatepark in Polson to be more inclusive of all levels of riding.
The present park is composed of more advanced features, like a 10-foot deep bowl and helmet, making progressive skill building difficult for all riders whether they're learning on skateboards, BMX bikes or scooters. Founder of the 7th Ave Skatepark Association Jesse Vargas explained that one small section of the park with a shallow bowl is essentially the only beginner terrain and the design for the expansion would give novice through advanced riders new features to aid progression.
"The goal is to add those beginner-friendly obstacles around the park; it would essentially double the size of the park and add features for everybody," Vargas said after explaining he had noticed beginners attempting to learn and giving up quickly because the terrain was not welcoming.
The design for further development of the park, which was drawn up by Vargas with the skatepark committee's influence, involves expanding the current cemented area by about 25 feet on all four sides. This will create a loop around the already existing skatepark, with obstacles strategically placed advancing from novice to expert levels. The addition will also make "street" riding, obstacles such as ledges, stairs and rails, more available as the current park is focused on riding large skatepark bowls.
"We really just want to round out the skatepark so it doesn't matter where somebody comes from or their skill level or style of riding," Vargas said. "It's going to be the best park that they can learn at and expand their skills no matter where they're at (with riding)."
The association formed in the summer of 2014 and since has been raising funds for the estimated $222,000 project. They have raised nearly $80,000 thus far, most of that coming in 2018 from a number of grants.
However, in that same year two key members of the committee, former city manager Mark Shrives and former head of the Lake County Community Development Corporation Gypsy Ray, left their jobs for differing reasons, so it also left the association with tough vacancies to fill. Vargas said little progress was made in 2019 because of this, but they now feel the community support has returned.
With city and community involvement, he expressed that the committee is also wanting to more aggressively apply for grants throughout the remainder of the year.
In addition, Vargas and his girlfriend Loni Havlovick are looking to host more fundraising events, sell merchandise, attract private donations, organize skills clinics and put on the annual rail jam to gain more support for the project. They hope to have enough funds raised to break ground in the spring.
The duo recently hosted the 7th Ave Skatepark's first-ever skills clinic which brought out 35 kids to participate in skateboarding, BMX or scooter skills sessions over the course of a week in June. The amount of participants blew Vargas away and he expressed the success of the event was evident in numerous ways.
"It was a really positive thing, I think the kids got a lot out of it," Vargas said. "I was really proud to see all these kids there, and learning the way they were. It was really cool to watch and I think the parents saw that too."
The skatepark association is now preparing to host the 2020 Polson Skatejam, which is an annual event dating back to the '90s when the skate park consisted of handmade ramps and obstacles on an old abandoned slab foundation. The event will showcase a beer garden, food trucks and live music, and is sure to draw a crowd while bringing awareness to the expansion project.
For Vargas, his passion around the expansion project stems from his love of skateboarding. He believes skateboarding brought several positives into his life and kept him focused on improving himself. He started the 7th Ave Skatepark Association with the goal of expanding the park because he wants to give future generations the opportunity to fall in love with riding, regardless of the discipline.
"I just loved skateboarding, I loved the whole sport of it," Vargas said. "I think that's been my biggest motivation… I just want to give back what it has meant for me all these years."
He said skateboarding has taught him tenacity and persistence, and those qualities are showing through as he sees this project through to the end, no matter how long it takes.
"I think it's kind of a cool metaphor for life in general, you're constantly pushing yourself to do something or accomplish a goal and that's what skateboarding has really taught me," Vargas said. "If there's something you want to do just keep trying it, keep doing it and eventually it will happen."
For more information check out polsonskatepark.com or 7th Ave - Polson Skatepark Facebook page.
Reporter Whitney England may be reached at 758-4419 or wengland@dailyinterlake.com
---