Mariners topple Lakers AA, split with Twins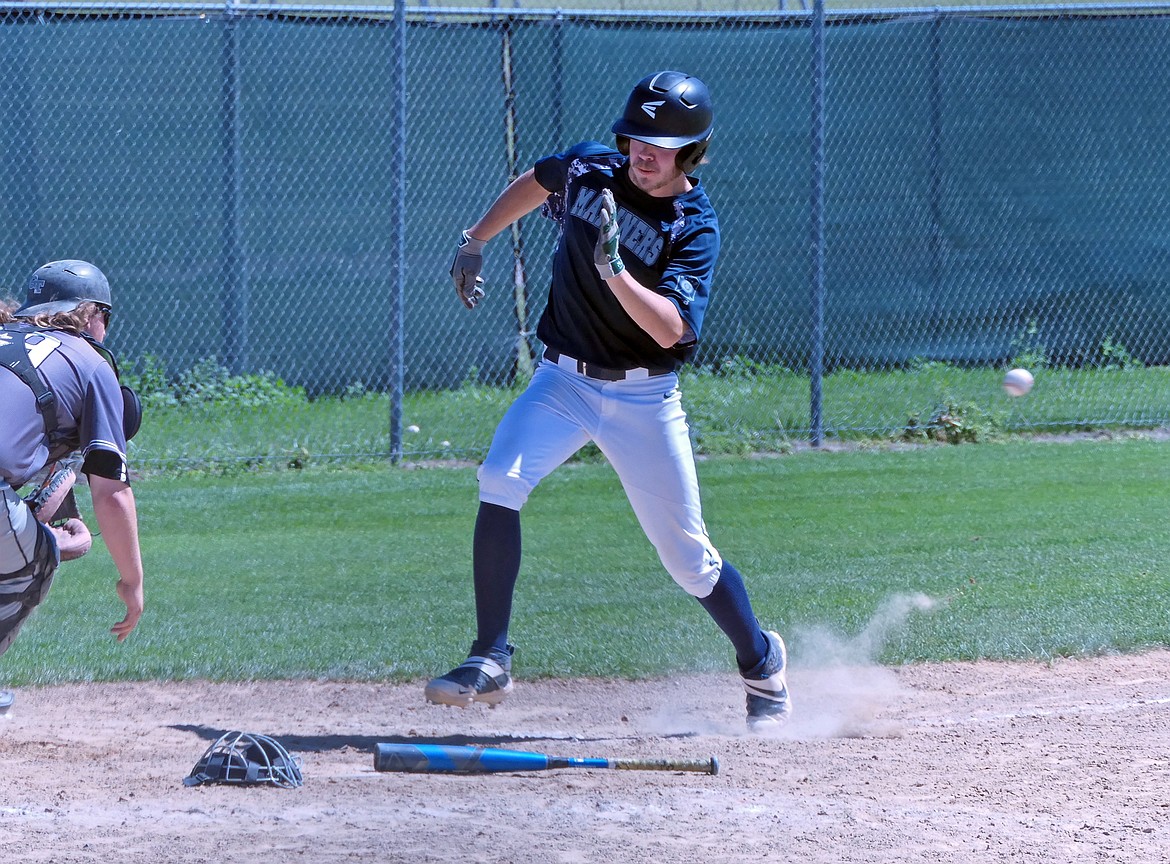 Mariners' Ethan McCauley sprints to home plate, beating the ball there to score a run in a game against the Glacier Twins on Saturday, July 25. (Whitney England/Lake County Leader)
Mariners pitcher Ethan McCauley thows a pitch in a game against the Glacier Twins on Saturday, July 25. (Whitney England/Lake County Leader)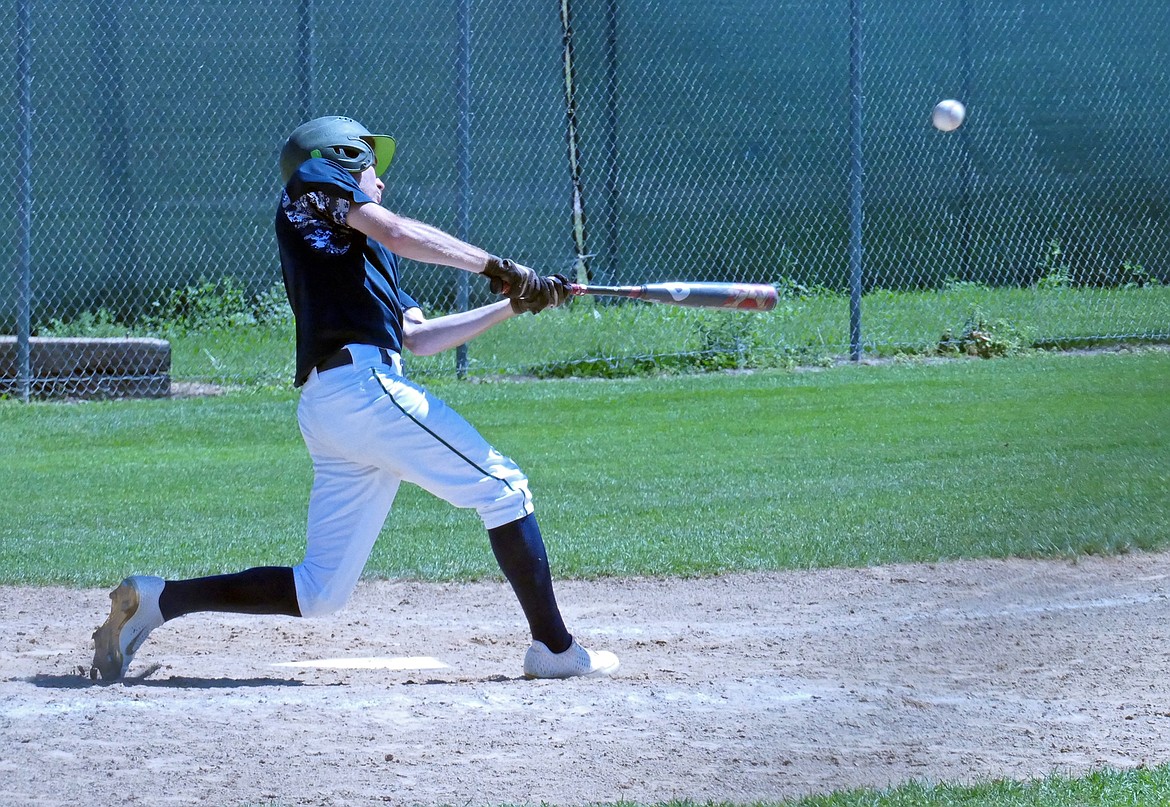 Mission Valley's Keyan Dalby pops up a fly ball in a game against the Glacier Twins on Saturday, July 25. (Whitney England/Lake County Leader)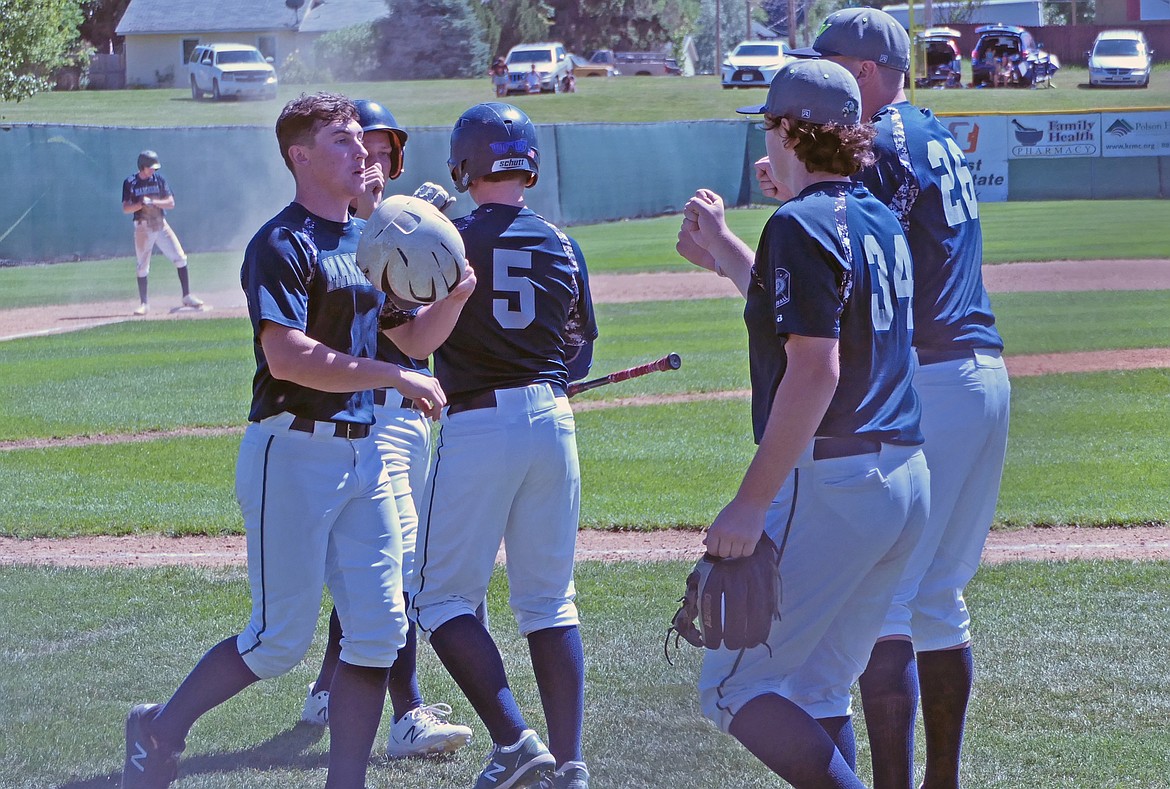 Mariners players celebrate as Eric Dolence and Xavier Fisher score a run each on a Keyan Dalby triple in the bottom of the sixth inning against the Glacier Twins on Saturday, July 25. (Whitney England/Lake County Leader)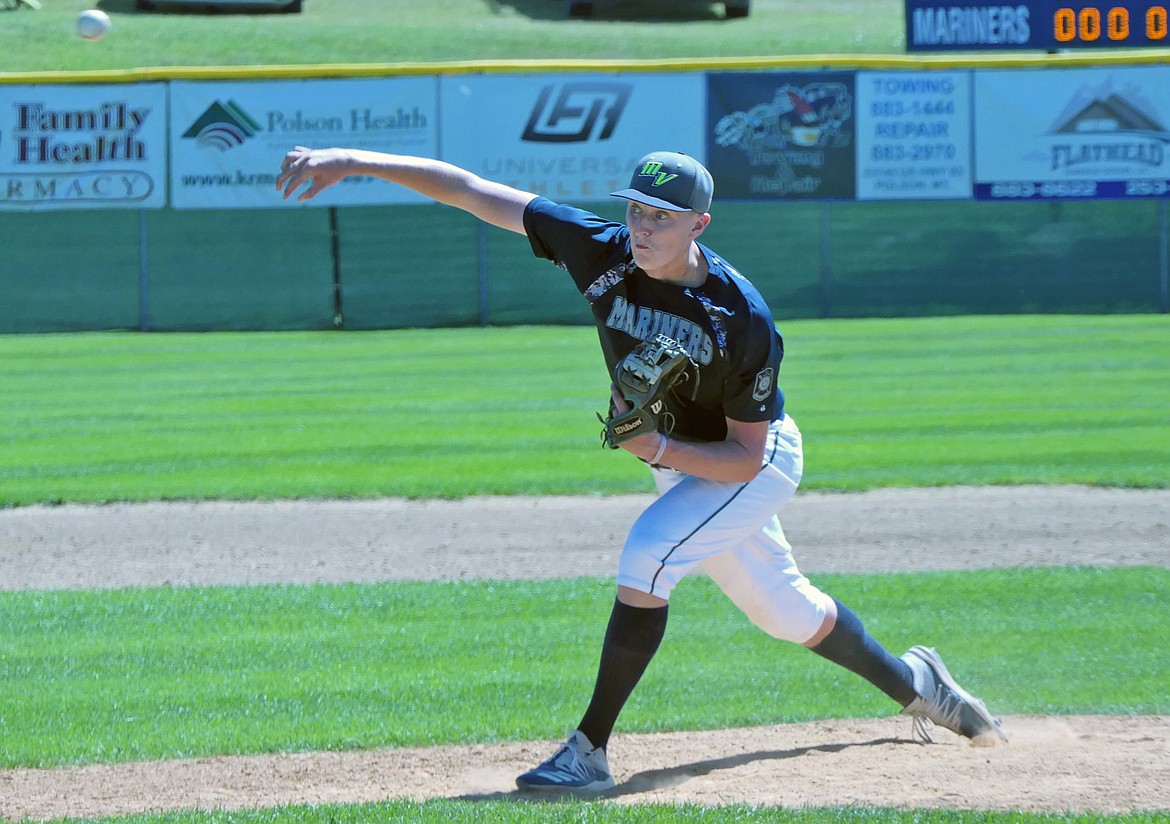 Mariners' Trevor Lake throws a strike in a game against the Glacier Twins on Saturday, July 25. (Whitney England/Lake County Leader)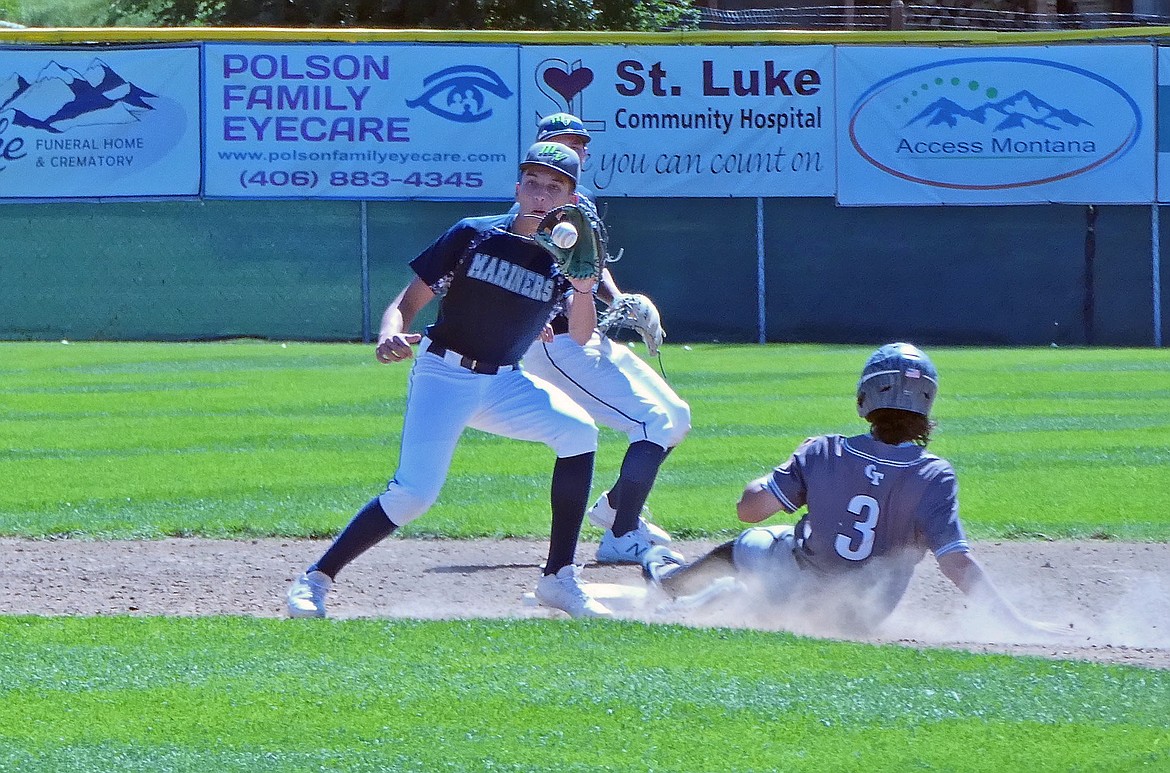 Mariners' Alex Muzquiz catches the ball at second base, narrowly missing the tag out in a game against the Glacier Twins on Saturday, July 25. (Whitney England/Lake County Leader)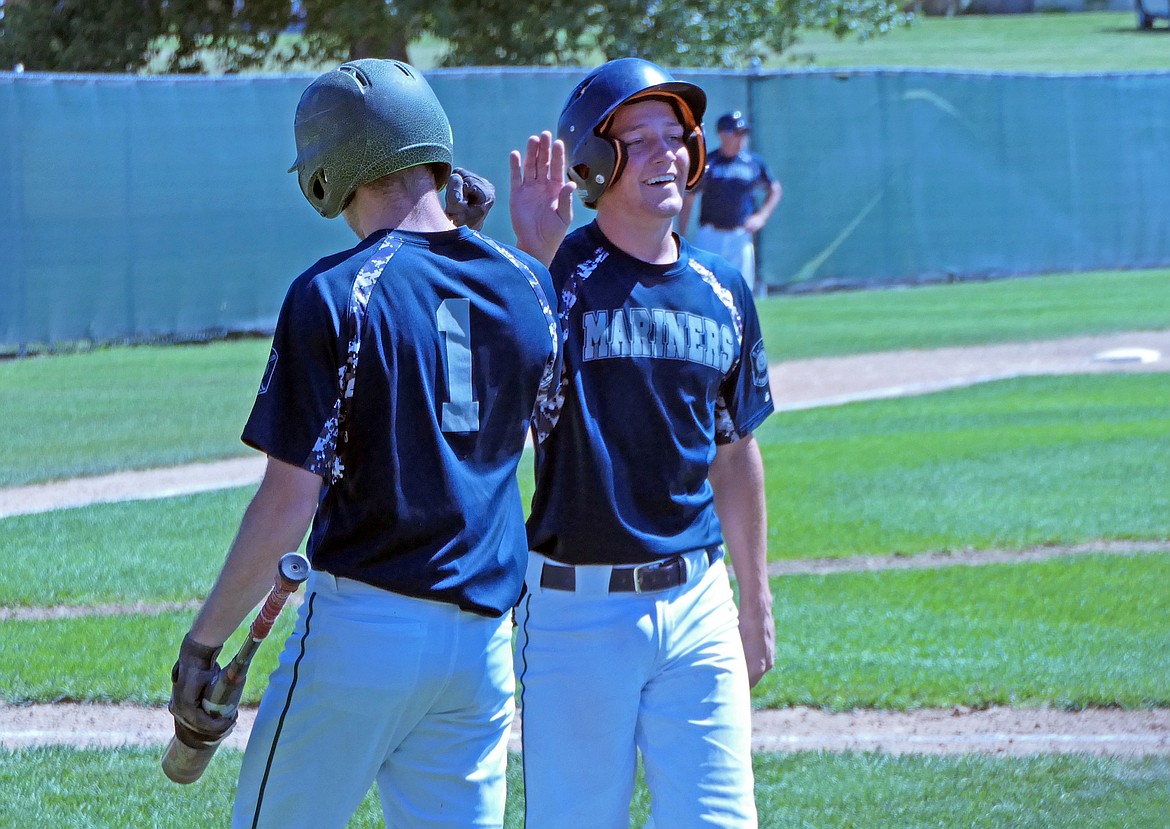 Mariners' Xavier Fisher celebrates with Keyan Dalby (1) after scoring a run in the final inning of a game against the Glacier Twins on Saturday, July 25. (Whitney England/Lake County Leader)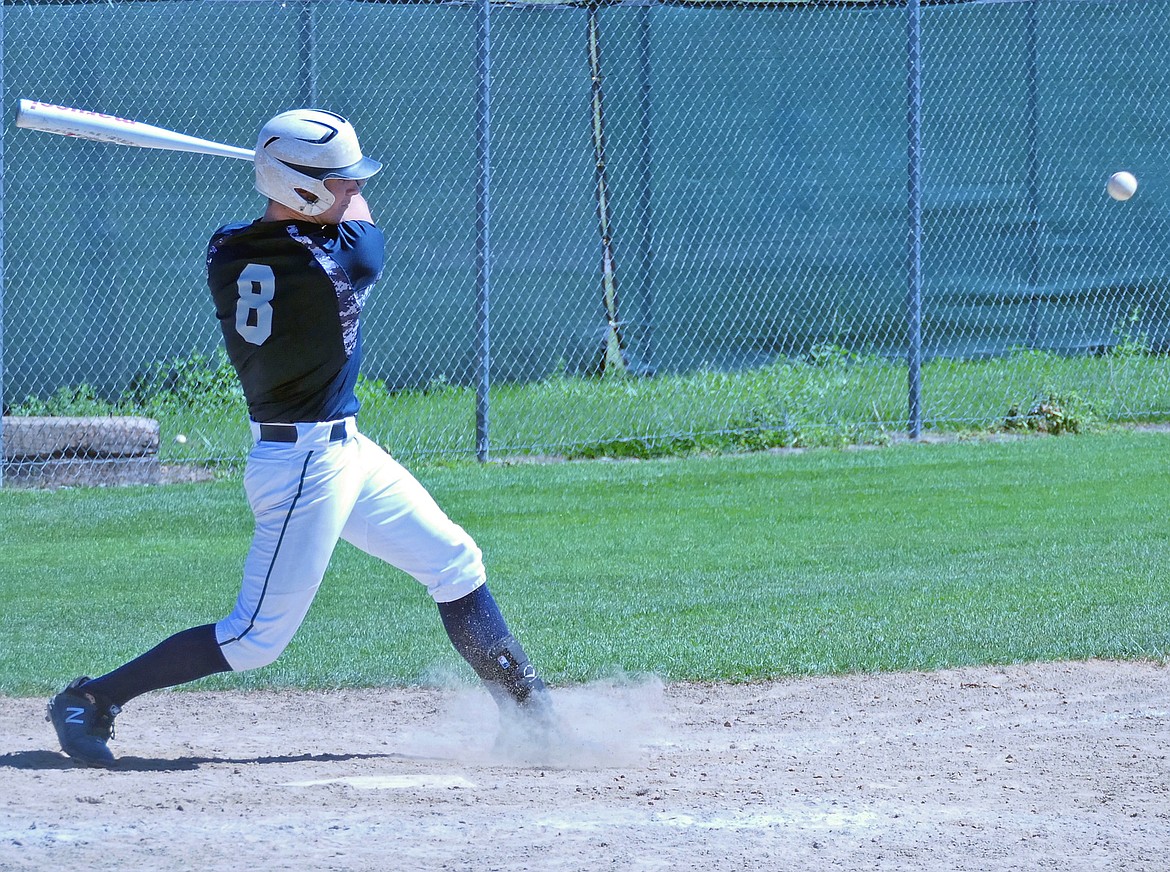 Mission Valley's Eric Dolence records a single RBI in a game against the Glacier Twins on Saturday, July 25. (Whitney England/Lake County Leader)
Previous
Next
by
Whitney England
Daily Inter Lake
|
July 30, 2020 8:59 AM
Last week the Mission Valley Mariners A took down a competitive Kalispell Lakers AA team on July 21 before facing a familiar conference foe, the Glacier Twins, for a "Senior Night" doubleheader on Saturday.
By the bottom of the third inning in Kalispell, the Mariners had jumped out to a 7-0 lead over the higher-divisioned Lakers; the team never looked back from there, eventually taking a 9-4 non-conference victory.
After Kalispell pitcher Reid Barrows opened the game with three up, three down, the Mariners responded by scoring five runs in the next inning. Led off by a Keyan Dalby ground ball hit, the next four Mariners up to bat all got on base to eventually score a run each. Dalby, Espn Fisher, Alex Muzquiz, James Bennett and Trevor Lake all recorded runs before the close of the inning.
Dalby and Fisher were then able to score again in the third inning after taking advantage of two critical errors by the Lakers, putting the Mariners up 7-0. Mission Valley allowed the Lakers two runs in fourth, and then another two within the final three innings.
Mariners' Ethan McCauley scored a run after he was hit home on a triple from Dawson Dumont in the top of the sixth. Fisher finished the game with another run in the ninth inning after hitting a double to get on base, then capitalizing on Lakers' errors to score his third run of the game.
Mariners starting pitcher Dylan Davis pitched four innings to throw 33 strikes and 24 balls. Muzquiz came in as a relief pitcher also throwing 33 strikes and Bennet pitched the final inning.
Following that win, on Saturday Mission Valley hosted the Glacier Twins in its two final games of regular season play. In the first game of the doubleheader the Mariners got out to a slow offensive start while allowing Glacier to stack up the runs early on.
Finding themselves down 9-0 heading into the bottom of the sixth inning, the Mariners finally got on a hot streak. The Twins had a pitching change, with Jake McIntyre taking the mound to start the inning. The Mariners scored four runs before the Twins switched pitchers again, this time to George Robbins.
In the sixth inning, Espn Fisher led off batting for the Mariners with a ground ball and an error by Glacier to make it on base. He was followed by a Muzquiz line drive to right field, then Mariner's Lake was hit by a wild pitch to load the bases. Ethan McCauley followed with a single RBI to send Fisher home for Mission Valley's first score of the game.
The Mariners proceeded to pile on six more runs and eight hits total before the sixth inning wrapped up. The Twins came back and added four runs of their own on a series of solid hits in the top of the seventh.
In the Mariners' final opportunities at bat, trailing the twins 13-7, Dumont made it to second base following a Twins' error. Xavier Fisher hit a line drive to get on base and was hit home by Dolence's double to center field. Dalby came up to hit next, but his ground ball was fielded by the Twins who tagged him out at first base. Mission Valley fell to Glacier 13-9 despite the attempted comeback.
The second game told a bit of a different story, however. Now it was the Mariners' turn to collectively add runs each inning, scoring two runs each in the second, fourth and fifth innings while holding the Twins scoreless.
Mission Valley's starting pitcher Dylan Davis only allowed one hit for the Twins in the five innings he played. Davis threw 48 strikes in 77 pitches before Dolence took the mound in the sixth inning.
Bennett and McCauley each scored in the second inning, then Bennett added another run after a Lake double to right field in the fourth. Lake also made it home on account of a Twins' error to add up the Mariners score to 4-0 by the top of the fifth.
Xavier Fisher recorded a single hit to lead off the Mariners' fifth-inning batting, followed by a Dolence double line drive. Muzquiz stepped up to the plate next and hit with a double to right field. Both Dolence and Fisher scored a run in the inning.
The Glacier Twins responded after the Mariners made a pitching switch to Dolence for the final two innings of the game. The Twins went off for five runs in the 6th, but came up short of taking the lead after Dolence ended the streak by striking out Glacier's Trenton Tyree.
Mission Valley held off the Twins 6-5 in the game, which concluded the Mariners regular season. The Mariners will now head to the Montana American Legion Baseball Class A district tournament in Florence from July 29 through August 2. The Mariners finished 10-8 in conference play with an 18-13 overall record for the 2020 season, which was shortened and adjusted due to the COVID-19 pandemic.
Reporter Whitney England may be reached at wengland@dailyinterlake.com
2020 Western District tournament matchup:
(#3) MVA Mariners vs (#6) Kalispell A Lakers
MVA Mariners 6, Glacier A Twins 5 nc
Mariners (10-8, 18-13), Twins (13-3, 31-19)
Whitefish 000 005 0 – 5 5 3
Mssn Vlly 020 220 x – 6 10 1
Hayden Meehan, (5) Cade Morgan and Zach Veneman. Dylan Davis (3K,2H,2W), (6) Eric Dolence (2IP:1K,3H,0W) and Espn Fisher. WP – D.Davis (4-2).
GLACIER A TWINS – Mason Peters 0-2, Stevyn Andrachick 1-3, Payton Davisson 0-2, Zack Veneman 1-3, A.Andrachick *1-3, Jacob Polumbus 1-3, Trenton Tyree 0-3, Cade Morgan 0-2, Jack Price 1-3.
MISSION VALLEY A MARINERS – Dawson Dumont *2-4, Xavier Fisher *2-3, Eric Dolence *1-2, Alex Muzquiz 1-3, E.Fisher 0-2, Keyan Dalbey 2-3, James Bennett 0-2, Trevor Lake 2-3, Ethan McCauley 1-2.
2B – *T.Lake, *Muzquiz, Dolence, Dumont. RBIs – S.Andrachick, Davisson, Veneman, A.Andrachick, Polumbus; Dumont, *X.Fisher, Muzquiz 2, *T.Lake, McCauley. SF – Davisson, *. SH – Dolence. BB – Peters, Morgan; E.Fisher, Bennett. HB – Peters; X.Fisher. ROE – Morgan; X.Fisher, Bennett. FC – McCauley, Bennett.
(Sa25Jul20gm2)
Asterisk (*) denotes stat variant(s) where alternate data exists - GTGC = GT 2E: A.Andrachick 2ab (SF vs rbi 4-3go), MVM: Dumont 3h (H vs ROE), X.Fisher 1h (ROE w/0rbi vs H+rbi), Dolence 3ab (1-3go vs SH), T.Lake (3B vs 2B, 2rbi), Muzquiz (3B vs 2B+FC)
Glacier A Twins 13, MVA Mariners 9 nc
Whitefish 022 221 4 – 13 13 4
Mssn Vlly 000 007 2 – 9 12 3*
Trenton Tyree, (6) Jake McIntyre, (6) George Robbins and Austyn Andrachick. James Bennett (2.67IP:4H,3W), (3) Ethan McCauley (5H,1W), (6) Trevor Lake (2IP:1K,4H,4W) and Espn Fisher. LP – Bennett (1-1).
GLACIER A TWINS – Mason Peters *3-5, Stevyn Andrachick 2-5, Payton Davisson 1-3, Zack Veneman 1-3, A.Andrachick *1-3, Jacob Polumbus 2-3, Cade Morgan 2-4, Devin Beale 1-2, Chad Queen 0-1, Jack Price *0-3, Hayden Meehan *0-1.
MISSION VALLEY A MARINERS – Dawson Dumont 1-5, Xavier Fisher 3-4, Eric Dolence 0-3, Keyan Dalbey 1-5, E.Fisher 1-4, Alex Muzquiz 3-4, Trevor Lake 1-3, James Bennett 0-1, Ethan McCauley 1-3, Dylan Davis 1-4. 10 lob
HR – Veneman. 3B – S.Andrachick, Peters; Dalbey. RBIs – Peters, S.Andrachick 2, Veneman, A.Andrachick 2, Polumbus 2, Morgan 3, Beale, *Price; *X.Fisher 2, *Dolence, Dalbey 2, E.Fisher, McCauley, D.Davis. SF – A.Andrachick, Beale. BB – Veneman 2, A.Andrachick, Polumbus 2, Morgan, Beale, Price; X.Fisher, Dolence. HB – Davisson 2; Dolence, T.Lake. ROE – Morgan 2; X.Fisher, Dolence, Dumont, E.Fisher. FC – Veneman; T.Lake. SB – Veneman 2, Polumbus 2, Peters, Morgan 2; X.Fisher, Dumont. SB – Polumbus 2, Veneman 2, Beale, Morgan 2, Peters; Dumont, X.Fisher. (Sa25Jul20gm1)
Asterisk (*) denotes stat variant(s) where alternate data exists - GTGC = GT: 13H Peters 4h (H vs ROE), Price 2ab(0rbi), Meehan 2ab (1rbi); MVM: 2E X.Fisher (0rbi re:E6), Dolence (0rbi re:E8).
MVA Mariners 9, AA Lakers 4
A Mariners (17-12), AA Lakers (28-7)
Mssn Vlly 052 001 001 – 9 11 1
Kalispell 000 201 100 – 4 8 4
Dylan Davis (4IP: 4K,3H,3W), (5) Alex Muzquiz (4IP:1K,5H), (9) James Bennett (2K) and Espn Fisher. Reid Barrows, (5) Conner Drish and Cael Willis. W – Davis (). L – Barrows.
MISSION VALLEY A MARINERS – Dawson Dumont 3-5, Xavier Fisher 0-4, Eric Dolence 0-5, Keyan Dalbey 2-5, E.Fisher 2-5, Muzquiz 0-4, James Bennett 1-4, Trevor Lake 1-4, D.Davis 1-1, Ethan McCauley 1-2.
KALISPELL AA LAKERS – Drish 0-3, Gage Brink 2-4, Ethan Diede 1-4, Jack Corriveau 2-3, Kostya Hoffman 1-3, Kobe Burland 0-3, Kae.Willis 1-4, Barrows 0-1, Caden Willis 1-3, Charlie Hinchey 0-3, Danny Kernan 0-1.
3B – Dumont. 2B – E.Fisher; Cad.Willis. RBIs – Dumont, T.Lake 2, Bennett 2; Drish, Burland. SF – Bennett. SH – D.Davis. BB – Muzquiz; Drish, Corriveau, Burland. HB – X.Fisher; Hoffman. ROE – Muzquiz 2, E.Fisher, McCauley. FC – Diede. DP – MVM: b8(6-4-3: X.Fisher, Dolence, T.Lake); KL:t6(6-3). GIDP – Dalbey; Corriveau. (Tu21Jul20)
2020 MV A Mariners pitcher record reconstruction:
Eric Dolence (4-1), Dylan Davis (4-2), Alex Muzquiz (3-2), Xavier Fisher (2-1), James Bennett (1-1), Ethan McCauley (1-1), Noah Shriver (1-1), Trevor Lake (0-2), Dawson Dumont (0-1), Trevor Harris (0-1), Libby forfeits (2-0).
2020 MV A Mariners vs. conference competition (4 x S + 2 x N):
S sub-district: vs Bucs (1-3), vs Root Sox (1-3), vs A Mavs (4-0); N sub-district: vs Twins (1-1), vs A Lakers (1-1), vs Loggers (2-0).
Libby Loggers 8, MVB Mariners 7 (9 inn.)
Libby (15-20)
M.Vlly 102 013 000 – 7 7 2
Libby 020 010 401 – 8 10 4
Dawson Dumont (5K,2H,6W), (5) Noah Shriver (2.67IP:1K,5H,2W), (7) Alex Muzquiz (1.33IP:1H,2W), (9) Ethan McCauley and Espn Fisher. Ayden Williamson, (3) Tucker Masters (3K), (5) Alex Svendsbye (2K,2H,1W,3HB) and catcher
MISSION VALLEY B MARINERS – Dumont 1-3(2BB), Muzquiz 1-5, E.Fisher 2-4(RBI,BB,ROE), McCauley 2-4(2B,2RBI,HB,ROE,CS), Shriver 0-4(RBI,HB,ROE), Wyatt Wadsworth 0-4(HB), Brock Henriksen 1-3(RBI,BB,FC,CS), Cymian Kauley 0-3(BB), Jesse LittleBoy 0-3(HB). lob8
LIBBY LOGGERS – Zhang 1-2(3B,2BB,HB,SB), Anderson 0-2(3BB,FC,SB,CS), M.R-B 1-4(SH), Masters 3-5(HR,3RBI), Thompson 2-4(2B,BB), Williamson 0-5(ROE), Offenbecher 1-4(FC,SB), Williams 0-0(BB), Svendsbye 1-3(2B,2BB,SB), Chandler Bower 1-4(2RBI,BB), Haddock (cr), Hoover (cr). (Th23Jul20gm2)
Loggers 19, MVB Mariners 0
M.Vlly 000 00 – 0 1 5
Libby 336 7x – 19 13 1
Brock Henriksen (2.67IP:1K,6H,3W), (3) Cymian Kauley (2K,1W) and catcher. Rusty Gillespie and catcher.
MISSION VALLEY B MARINERS – Noah Shriver 0-1 (BB), Owen McElwee 0-1 (BB), Dante Baltz 1-2(2B).
LIBBY LOGGERS – Tripp Zhang 4-4(HR,3B,2x2B,8RBI), Quade Anderson 0-3(RBI), Zane Brown 1-1(2B), Caden Williams 0-2(ROE), Landon Haddock 1-3(ROE), Chandler Bower 1-2(2RBI,HB), Trey Thompson 1-3(ROE), Aydan Williamson 0-1(RBI,ROE), Tucker Masters 2-4(2B,3RBI), Hunter Hoover 1-2, Jeff Offenbecher 0-2(ROE), Brett Osborne 1-1(RBI,BB), Moxley Roesler-Begalke 0-1, Alex Svendsbye 0-0(2BB), Kiye Jenkins 1-1.
(Th23Jul20gm1)
---