New wildfire near Polson; Dixon blaze at 2,000 acres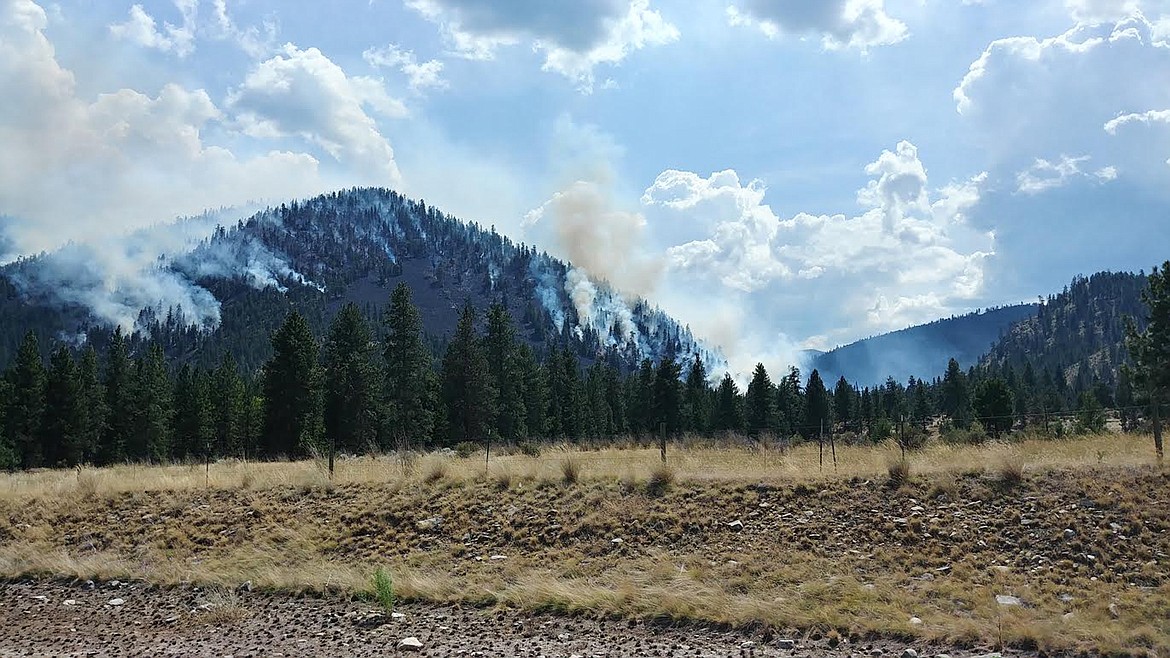 Smoke pours from the Magpie Rock Fire Wednesday afternoon in Sanders County. The fire had reached nearly 2,000 acres and was burning between Dixon and Paradise. (Chuck Bandel/Clark Fork Valley Press)
by
Scott Shindledecker
Daily Inter Lake
|
July 30, 2020 8:58 AM
Another wildfire was reported on the Flathead Reservation Tuesday afternoon southwest of Polson.
According to the Confederated Salish & Kootenai Tribe fire officials, the Horseshoe Fire was reported at 1:54 p.m. Tuesday on the banks of the Flathead River. The fire is located 10 miles southwest of Polson and is 140 acres in size with no containment after jumping from the west side of the river to the east. It is burning in a Ponderosa pine and juniper stand.
The cause of the fire is under investigation.
There were three engines, one 20-man attack crew, five air tankers and two helicopters battling the blaze with 45 personnel assigned to the fire.
Single tree torching and spotting were observed.
The helicopters dropped water on hotspots. There are no evacuations, no structures are threatened and there are no road closures.
The Magpie Rock Fire, located west of Dixon, has grown to 1,975 acres and is 0% contained. It began Monday and was likely started by lightning, officials said, and an investigation is underway. It was burning through trees and brush on steep and rocky terrain in the Magpie Creek drainage south of Montana 200.
Winds more than 20 miles per hour pushed the fire east/southeast toward Revais Creek. Heavy air tankers dropped retardant on the fire, along with other aviation resources.
No evacuations were ordered and no structures were threatened as of Wednesday.
Several aircraft, two engines, dozers and about 160 personnel were on the scene Wednesday.
Road closures included Revais 6000 road between Revais and Magpie, and Magpie 5000 road. People are asked to stay out of the area and adhere to road closures.
The Clear Creek Fire, north of Perma Bridge along Highway 382 was contained prior to last weekend. That fire was believed to have been sparked by heavy equipment in a rock quarry. It burned about 345 acres.
In Flathead County, the Lemonade Fire is burning in the Flathead National Forest, north of Pleasant Valley.
According to National Forest officials, the fire is about 2.3 acres in size and burning in heavy timber at about 5,000 feet elevation.
Fire crews are working on containment with a helicopter, bulldozer, hose-lay, water tender, and volunteer fire department support.
According to the Montana Department of Environmental Quality, smoke from fires in California has drifted in, causing moderate air quality impacts in many locations across the state. Also, fires burning in Sanders County are causing localized smoke impacts.
The forecast calls for continued hot and dry weather through the weekend across the region.
Reporter Scott Shindledecker may be reached at 758-4441 or sshindledecker@dailyinterlake.com
---