Jack Dale Anderson and Viola Mae (Beavers) Anderson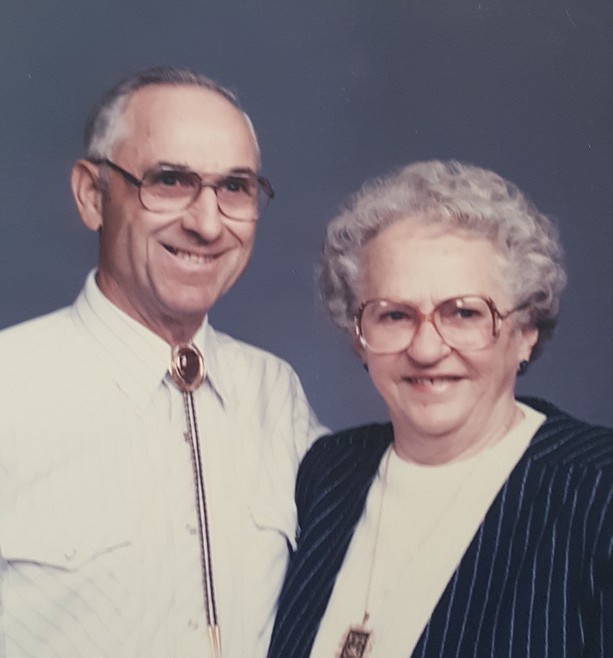 Jack and Vi were married on June 29, 1942. One of those marriages that people said: "That will never last." Mom went on to be with Jesus on May 31, 2014, just a month before they would have celebrated 72 years together. Dad went to rejoin Mom on May 21, 2020. It's nearly an impossible task to write about my parents in this short space so I won't even try to list all the accomplishments, places of employment and organizations.
They were very happy together and most importantly knew Jesus as Lord and Savior. Mom had a prayer list by her chair and always started her day with the list and time with Jesus. After they moved to Montana in 1965 (I always said I got married and they left home,) they visited several churches before settling at the Missionary Alliance Church in Polson. They both served in various ways in the church for many years. Dad was also in Gideons and they talked about the Gideon breakfasts.
They lived in Pablo for a while before buying property outside of Pablo and enjoyed their acreage and the creek. Mom had many humorous stories of taking care of the place and the animals while Dad was gone working. She always called me to relate the latest funny episode. She wrote several hilarious poems and even submitted some to the Cappers Weekly. She was known for her wit, but Dad could also hold his own from time to time.
Dad served in the Army and was stationed in Florida during WWII. During the years we lived in Newcastle, Wyoming, he drove a fuel truck for Johnston Fuel Liners. After the move to Montana Dad worked at the lumber mill in Polson before driving truck, once again hauling logs. He eventually owned his own truck and skidder and was a one-man operation for several years. He was very proud of his perfect driving and safety record for all those years.
Mom was a homemaker, excellent cook, baker, and crafter. Some of you will remember reading newspaper articles about the "Teddy Bear Lady." She stopped counting after she had knitted over 2000 teddy bears. Most of those teddy bears were given to St. Luke Community Hospital in Ronan for the kids. She would take 12 pink and 12 blue bears about every two weeks and leave them at the nurse's station. I believe some made their way into some Highway Patrol cars also. She developed her own pattern and insisted I (Rita) learn how to make them so while visiting in 2012. I relearned how to knit and the teddy bears live on! She also sewed and crocheted. She also made most of Dad's western work shirts and my school friends were envious of my clothes and sweaters she made for me.
Dad was a very hard worker. Besides the many hours in the woods he always had a garden and was always busy taking down trees on the place for their own firewood. I believe he was 95 when he bought his last new Rototiller and log splitter…GO DAD!! Mom canned till she couldn't anymore, then sat at the table and told Dad how to can the tomatoes, green beans, beets, on and on…and oh yes, all the raspberries and cherries. I think the pump house is still full of canned goods. If it didn't get put in a jar, it got dehydrated or frozen, nothing went to waste!
They were very proud of their three kids and loved us very much. When you live to be in your 90s, most of your friends have already passed on, but I'm sure there are still many of you left in Ronan at the Senior Center, in Pablo and Polson, that will remember Jack and Vi fondly. They also had many friends and fond memories of their time in Mesa at Venture Out. Drew and I are also very thankful to our younger brother Ryan for all the help and care he gave to our parents.
Dad was preceded in death by his parents, three brothers, and one sister. Mom was preceded in death by her parents and one brother. They are survived by their three children, Drew (Alice) Anderson of Mesa, Arizona, Rita (Max) Lewis of Casper, Wyoming, and Ryan Anderson of Pablo; four grandchildren, Mike (Tracy) Anderson of Whitefish, Mark Wunder of Salt Lake City, Utah, Bryan Wunder and Kevin Reher of San Rafael, California, and Carrie (Ray) Laceby of Casper; three great-grandchildren, Isabel and Tyler Anderson of Whitefish, and Victor Laceby of Casper; one brother, John (JoAnna) Anderson of Polson; and sister-in-law Elsie Mae Anderson of Gering, Nebraska, plus several nieces and nephews.
---