Johnston, Prugh winners at Lake City Open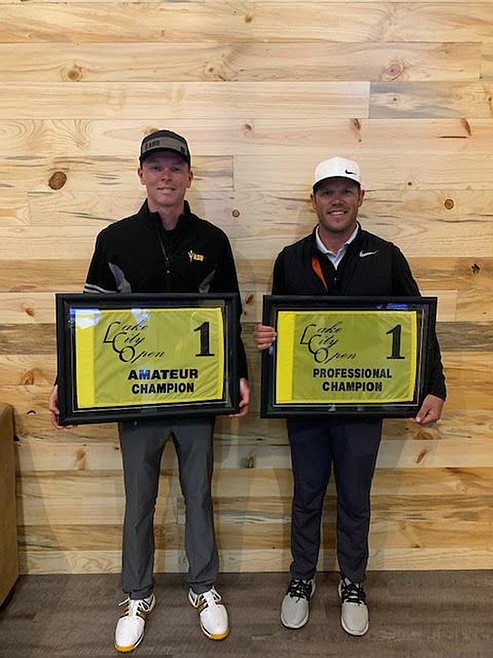 Ryggs Johnston, left, and Corey Prugh, were the big winners last weekend at the 2020 Polson Scholarship and Education Foundation Lake City Open at Polson Bay Golf Course. Johnston won the amateur division while Prugh claimed the pro class. (Photo courtesy Polson Bay Golf Course)
by
Lake County Leader
|
June 18, 2020 10:56 AM
Ryggs Johnston of Libby and Corey Prugh of Spokane were the big winners last weekend at Polson Bay Golf Course's Lake City Open.
Johnston, who enjoyed a good freshman season at Arizona State, was a runaway winner among the amateurs, posting a two-day score of 132, eight shots ahead of Joey Moore's 140.
Johnston shot a blistering 64 Saturday before posting a 68 Sunday.
Johnston was a four-time Montana state champion while playing for the Loggers. In his freshman season, he finished with a No. 47 national college ranking, including sixth among freshmen. In the classroom, Johnston had a 4.0 grade point average.
For Prugh, it was his third Lake City Open Professional championship. He earned a $3,000 check for the triumph. He is currently a coach at Community Colleges of Spokane.
Prugh edged Mike Grob by one stroke, 141-142. Grob's runnerup finish netted him $1,700.
The golfers endured a 90-minute rain delay Saturday and more wind and rain Sunday.
Jeff Allen and Josh Gold each scored 143s for third and Ryan Molby scored 144 for fifth.
The Senior Pro Champ was Jason Lehtola, who scored 145.
Here are the flight winners:
Moore's 140 won him the championship flight.
Three players tied for first in the first flight with 147s, including Sean Ramsbacher, Sean Gilligan and Mike Matt.
In the second flight, Mat Stevenson scored 147 for first place while Jace Rhodes' 152 won the third.
In the fourth, Sean Ryan scored 150 to win it. Two players tied for first in the fifth flight with 163s. They included Chad Ostby and Mark Phister.
In the sixth flight, Charles Lansing's 159 was a winner while Randy Kelley's 166 triumphed in the seventh.
Tom Brown won the eighth with a 163 while Josh Burland scored 183 to claim the ninth flight.
The event benefits the Polson Scholarship and Education Foundation, which began in 2002. It has raised more than $300,000 and benefited more than 300 Polson High School graduates.
---