Polson Police popular with populace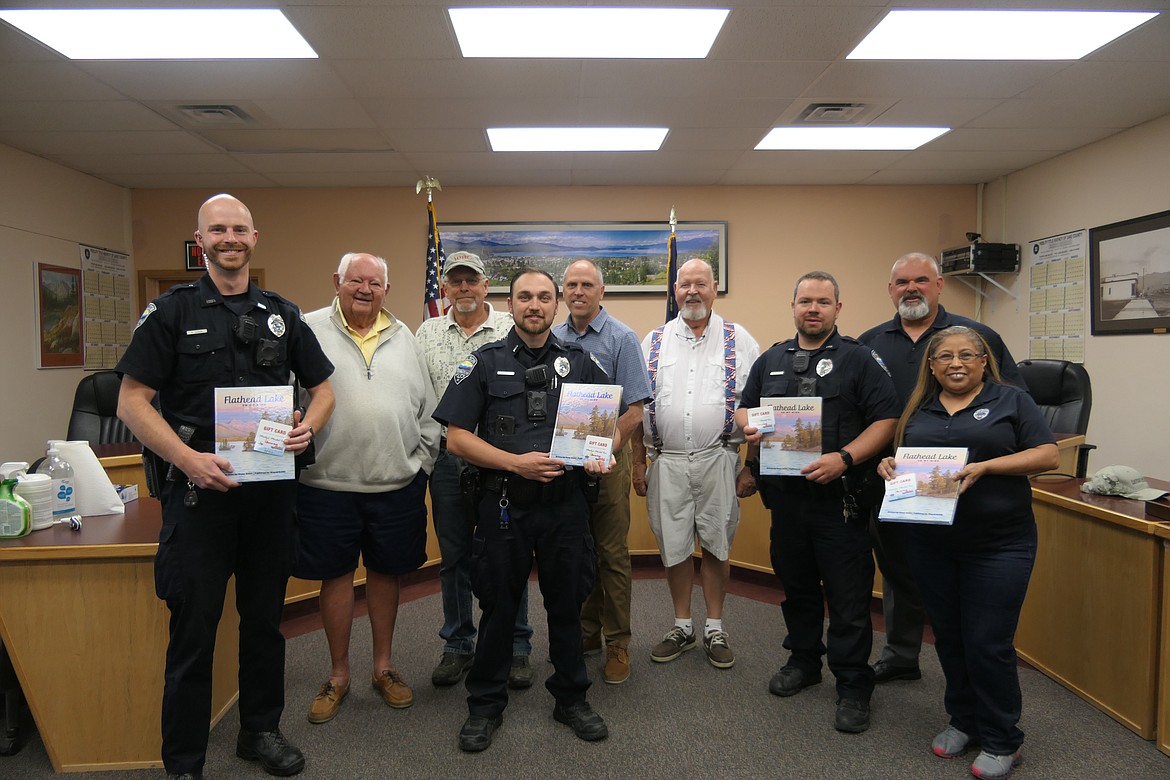 Polson Police Department received a generous thank you from community members: a $200 grocery gift card and a copy of "Flathead Lake on My Mind" for every department member. From left, front, are officers Kyle Cooper, Dylan Moll, Jim Atkins, Chief Wade Nash, and evidence technician Joan Hart. From left, back, are donors Ray Wooldridge, Polson Rotary president Hu Beaver, Super 1 owner Greg Hertz, Wayne Shili.
by
Carolyn Hidy
Lake County Leader
|
June 25, 2020 12:36 PM
Four grateful citizens joined together June 22 to give each member of Polson's City Police Department a surprise appreciation gift.
Chief Wade Nash gathered four on-duty officers together for a presentation by Wayne Shili, Ray Wooldridge, state Rep. Greg Hertz, owner of Super 1 Foods, and Hu Beaver, president of Polson Rotary Club. Shili and Wooldridge each personally donated $1,000, and Super 1 and the Rotary Club also each donated the same, giving each of the 20 department employees and officers a $200 gift card to Super 1. Shili included a copy for each of them of "Flathead Lake on My Mind," a book of local stories he published.
"In light of the recent national focus on policing," said Shili, "we would like to show appreciation for our department and what they do here locally."
Chief Nash assured his crew that he had checked to make sure the donations were allowed, and was assured that as long as the entire department is included, there is no problem accepting gifts of appreciation from community organizations and individuals.
Chief Nash spoke after the gifts were awarded about his goal to have a department that lives up to his vision of being trusted by, and working with, the public.
"We serve and work for this community, and if we don't have compassion for our community members, then we are failing," Nash said.
It would appear his mission is successful, shaping positive attitudes and relationships with not only the public, but within the department. A recent demonstration against racism held by Lake County residents, after the death of George Floyd at the hands of Minneapolis police, was met with openness and support from the Polson Police. Sgt. George Simpson accompanied the protest march and spoke of the department's positive work environment and community focus.
"We have vast experience in this small department," he said, emphasizing the overall diversity of personnel, and the emphasis on community service. He spent many years in the Jacksonville, Florida police department of over 2,000 people. "I think this is the best police department in the whole country. We are Polson people."
"You guys have been getting bad press nationwide," said Shili. "Locally, I think we all know what good jobs you do and how important you are and it's great to live in an area like Polson."
Nash said he has received a lot of support recently.
One elderly woman stopped by in tears, he said.
"She wanted to make sure we were OK," Nash said. "I told her we'd be all right. We police differently here than a lot of places. But that sincerity from her, when you see that they know and have compassion for what you do, it grabs your heart." Two days later she brought in 30 homemade cinnamon rolls with butter cream frosting. "It's from the heart, and that's the way I want my officers to police is from the heart. We have to have compassion to do our job."
He said it would be difficult to have that same feeling working in a large city where you didn't get that mutual compassion.
While there seems to be no community appetite in this area for the "defunding" of police some are calling for across the nation, Nash said there is a real need for additional funding to help citizens struggling with mental health and/or addiction issues.
"A lot of our re-occurring issues relate to addiction issues. But we don't have adequate resources and facilities," he said.
"Policing has changed," Nash continued. "I've been in law enforcement 26 years. When I first started as a peace officer, that's what I was, a peace officer. I think today, a peace officer isn't just a peace officer. He's a psychologist, he's a social worker, he's an addiction counselor. All these things get put on the police, and we're not educated in all this stuff. But common sense and compassion go a long way in policing. If you have those two things, you can be a successful cop."
"But it still starts at the top, setting an example and having standards and hiring good people." When he started here as chief in 2011, Nash said, a "community-involved" police department was one of his biggest wishes. "Communication, transparency, a pretty simple recipe for success," he said.
"You folks are very professional," said Shili. "Wade's done a great job of gathering people who represent this city and the people in it. This just shows our appreciation for you folks."
"You do a wonderful job in the community and you have a tough job all the time," said Hertz.
"We're glad you're here," Beaver agreed, "and glad for how much the community members support and appreciate you guys."
"We have a hard job to do, but if we as a department can partner with our community, it makes us all stronger," said Nash.
---