Tough State A draw for Polson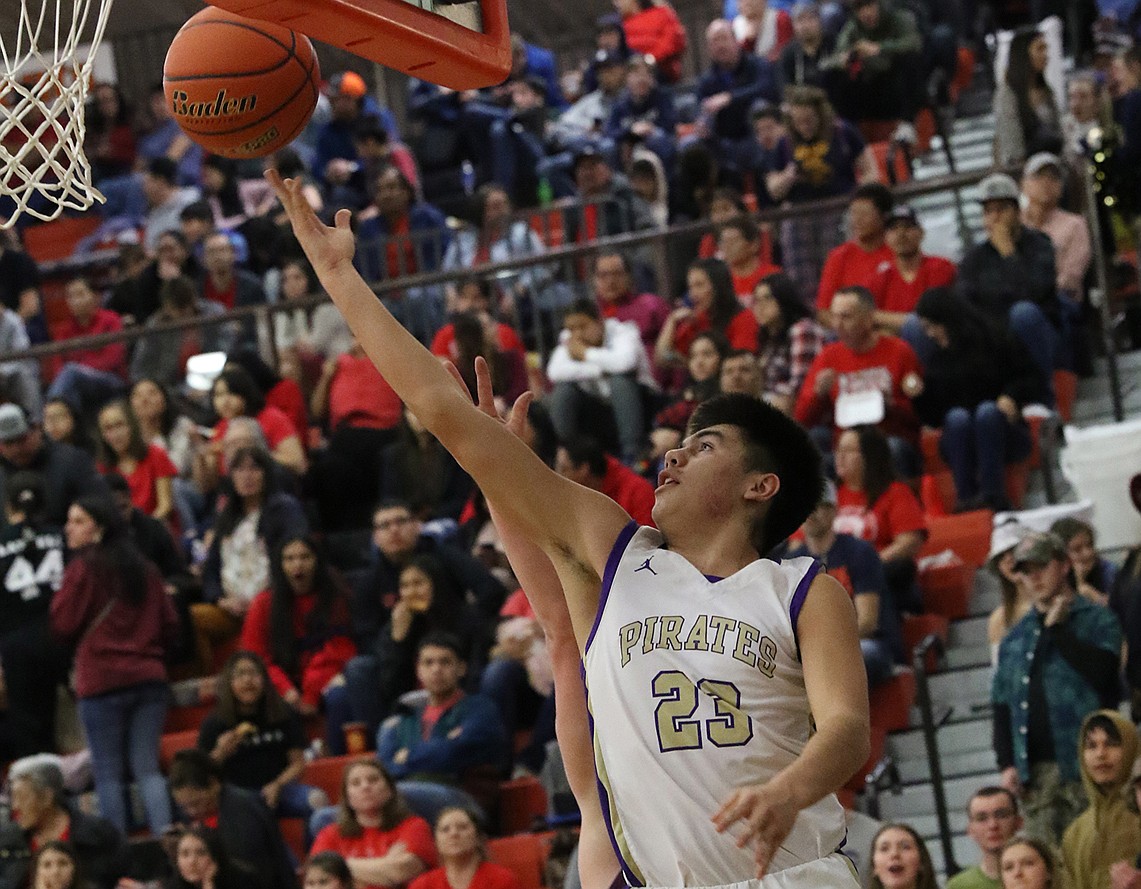 Polson senior Anton Lefthand lays in two of his nine points in the consolation game at the Western A Divsional tournament in Ronan on Feb. 29. (Bob Gunderson photo)
by
Whitney England
Daily Inter Lake
|
March 12, 2020 9:30 AM
The Pirates have a tough draw.
Polson will match up against undefeated Hardin in the Montana Class A State Championships Thursday. Tipoff is scheduled for 10:30 a.m. at MetraPark in Billings.
Pirates' coach Randy Kelley knows that first round will be a demanding game.
"We're happy to be going – that's number one, but it ends about there," Kelley said. "Just because our opponent, Hardin, is the real deal."
The Polson boys basketball team fell to Butte Central in the consolation game at the Western B Divisional Tournament Feb. 28, but it was enough to rank them as the No. 4 seed from the West and qualify for the state championships.
Polson had bright moments in divisional play, especially as they defeated Ronan and Whitefish, but also struggled against really physical teams.
Pirate leading scorer Colton Graham, who averages 12 points per game, was a huge force for Polson in divisional play and the Pirates will look to him to continue that at state. He scored 18 in the victory over Ronan, and then put up 15 points and 10 rebounds against Whitefish.
Polson big man Trevor Lake is also key for the underdogs. If he can stay out of foul trouble, he provides a defensive presence in the paint while exhibiting great abilities in the post on the other end.
For Hardin, Famous Lefthand is the big threat as he averages 21 points per game.
Kelley explained his team has been prepping this week by drawing up some offensive strategies, but he knows there is one thing that really has to flow in order to stand a chance in the first round.
"We could come up with all kinds of different schemes, but the bottom line is we've just got to be able to shoot the basketball really well," Kelley said. "That's a tough draw, yes it is," Kelley said. "We're going to go in there, play solid defense and rebound well, but we're going to have to shoot the ball well too."
Bigfork Vals head to State B in Butte
The Valkyries will open play at the Class B State Basketball Tournament at the Butte Civic Center Thursday as they take on Big Timber at 5 p.m.
Bigfork enters the tournament as the second seed from the Western Division after falling to Loyola in the divisional title game in Hamilton Feb. 29 while the Lady Sheepherders finished second to Colstrip in the Southern B Divisional title game Saturday, 45-38. That was Big Timber's first loss.
The Valkyries come into the game averaging 45.5 points, 28.4 rebounds and 11.5 steals per contest, having won three of their last four games. Big Timber is also 3-1 in its last four games.
The winner will advance to face the winner between Malta and Forsyth at 5 p.m. Friday. Malta is the top seed from the North.
The girls' championship is 6:30 p.m. Saturday.
— Bigfork Eagle
---