Polson swimmers victors in recent Junior B-C swim meet
by
Lake County Leader
|
March 19, 2020 10:01 AM
Polson's Lake Monsters' swim team was victorious in the Montana Junior B-C swim meet on Saturday, March 7.
This signifies the first meet they have won in combined team scores since 2016, as they edged out Bozeman Multisport Aquatics by only 11.5 points.
"We are B-C State Champions," Lake Monsters' coach Shayna Swanson said. "Super excited about that since that was a big, scary team goal. The kids are super psyched to win."
According to Swanson, the Lake Monsters team has several swimmers on the rise and couldn't give her whole team enough praise.
One swimmer she mentioned is Gus Hertz, who took first place in four events at the B-C meet. Also he recently won the 50-yard backstroke event in his 13/14 age group at the recent Montana State Short Course Championships.
In the 13/14 girls, Hailey Hanson placed in several events including first in both 500-yard and 1,000-yard freestyle races. Swanson said her favorite event to watch was Hanson in the 500 freestyle event.
These are just two out of several kids who placed in the B-C meet. The Lake Monsters had 28 swimmers in total competing in 232 races over the weekend. They had 128 top 16 finishes.
The swim team out of Polson has a lot of swimmers that are just beginning, but getting stronger every day. Swanson said she believes so many of her swimmers have true potential in the pool.
Another Lake Monster to watch is 9-year-old Roman Sawyer who is the first-ever Lake Monster to qualify for a regional tournament. During the Montana State Short Course Championships he took second in the 100-yard breaststroke with a personal best time of 1:28.44.
"He told me when he was eight, he was going to make it (to regionals)," Swanson said. "It amazes me how young he is, but how mature his swimming is… he is something special."
Sawyer will head to Federal Way, Washington, to compete in the regional meet sanctioned by USA Swimming March 19-22.
As for the rest of the Lake Monsters, they have one more meet of the season. The team will compete at the BMA Brookies April Classic at the Bozeman Swim Center on April 25-26.
The Lake Monsters' Top 3 finishes at the Junior B-C State Championships are below:
Saturday
8&under 50 backstroke girls Hailey Cottet 2nd
8&under 50 backstroke boys Sawyer Caldbeck (1st meet) 1st, Finn Taylor (first meet) 3rd
11/12girls 200 butterfly Amelia Stene 2nd, Dixie Montgomery 3rd
11/12boys 200 Fly Lachlan Sloan 1st
13/14 boys 200 fly Gus Hertz 1st
8&under 25 breaststroke Sawyer Caldbeck 3rd
13/14 boys 100 breaststroke Gus Hertz 1st
15&over girls 100 breaststroke Aspen McKee 2nd
10&under girls 200 IM (individual medley) Olivia Cottet 2nd
8&under girls 25 Freestyle Macy Montgomery 1st, Hailey Cottet 2nd
8&under boys 25 Freestyle Sawyer Caldbeck 1st
13/14 girls Hailey Hanson 2nd
8& under girls 50 butterfly Macy Montgomery 2nd
15& over girls Aspen McKee 1st
10&under boys Keagan Young 3rd
11/12girls 200 backstroke Amelia Stene 2nd
11/12 boys 200 backstroke Lachlan Sloan 2nd
200 Medley Relay 11&over girls 2nd (Aja Simshaw, Amelia Stene,
9/10girls 500 Freestyle Olivia Cottet 2nd,
9/10boys 500 Freestyle Keagan Young 2nd,
11/12boys 500 Freestyle Lachlan Sloan 1st
13/14 girls 500 Freestyle Hailey Hanson 1st
15&over girls 500 Freestyle Aspen McKee 2nd
Sunday:
11/12girls 1000 Freestyle Amelia Stene 1st, Dixie Montgomery 2nd Ana Hertz 3rd
11/12boys 1000 Freestyle Lachlan Sloan 1st
13/14 girls 1000 Freestyle Hailey Hanson 1st
13/14 boys 1000 Freestyle Gus Hertz 1st
15&over girls 1000 Freestyle Mesa McKee 2nd
15&over girls 200 Breaststroke Aspen McKee 1st
8&under girls 25 Butterfly Macy Montgomery 2nd
8&under girls 50 Freestyle Macy Montgomery 3rd
8&under boys 50 Freestyle Sawyer Caldbeck 2nd
13/14 girls 50 Freestyle Hailey Hanson 3rd
15&over girls 50 Freestyle Aspen McKee 1st
10& under boys 100 IM Boden Sloan 3rd
8&under boys 25 Backstroke Sawyer Caldbeck 3rd
10&under boys 100 backstroke Keagan Young 2nd
11/12boys 100 backstroke Lachlan Sloan 3rd
10&under boys 50 breaststroke Boden Sloan 2nd
13/14 Boys 50 Breaststroke Gus Hertz 1st
15&over girls 200 Freestyle Aspen McKee 1st
200 Freestyle Relay 10& under boys 2nd (Luky Yellowhorn Lefthand, Keagan Young, Sawyer Caldbeck, Boden Sloan)
200 Freestyle Relay 11& over girls 2nd (Hailey Hanson, Aspen McKee, Ana Hertz, Mesa McKee)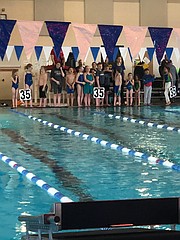 ---