Schools closed statewide for 2 weeks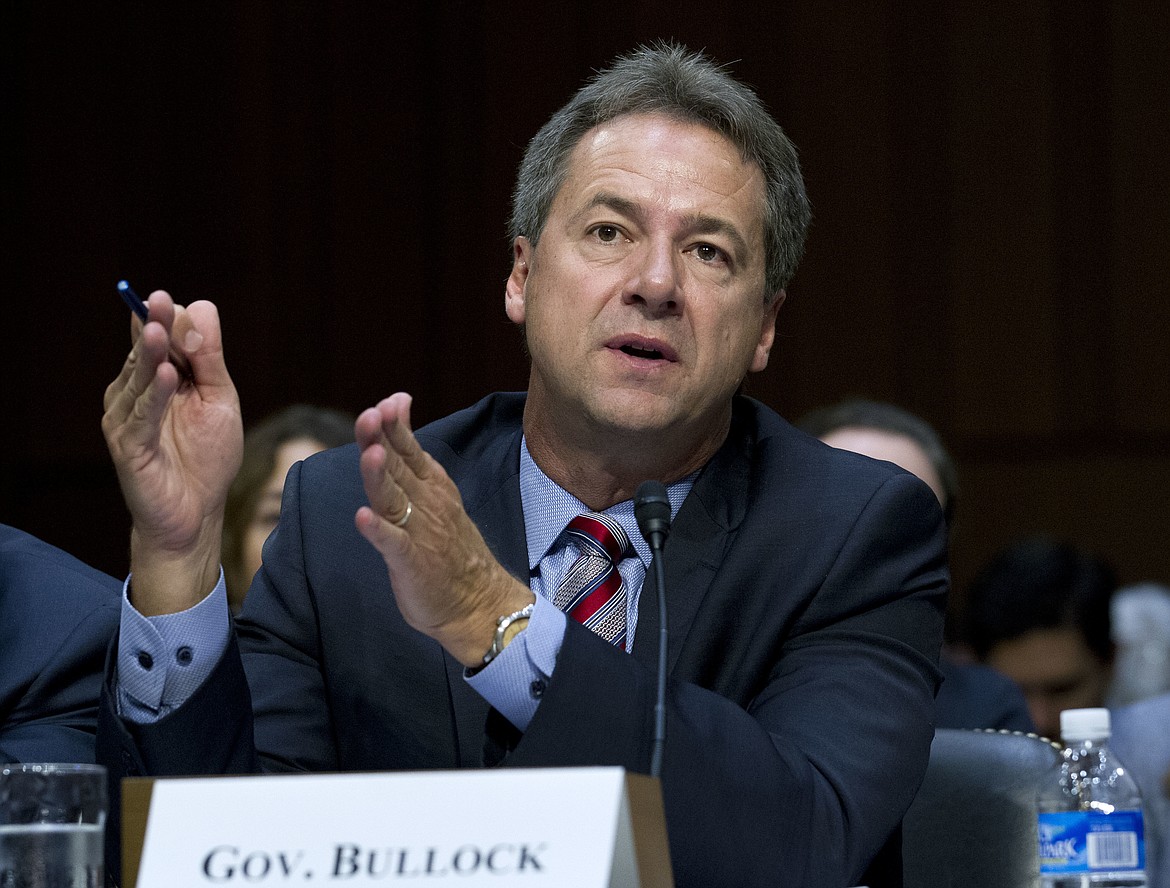 Montana Governor Steve Bullock. ( AP Photo File )
by
MATT BALDWIN
Lake County Leader
|
March 19, 2020 10:01 AM
Households and workplaces are regrouping this week after Gov. Steve Bullock directed Montana's public K-12 schools to close Monday through March 28.
The announcement came as part of a set of directives aimed at slowing the spread of COVID-19, including social distancing measures and limiting visitation at nursing home facilities. The decision is not in response to an outbreak in schools, Bullock added.
As of Tuesday, eight adults had tested presumptive positive for COVID-19 in Montana. Three cases are in Missoula County, and the other cases are in Gallatin, Yellowstone, Silver Bow and Broadwater counties. Testing is now going on seven days a week. Montana reported its first case on Friday.
No cases have been confirmed in Lake County, according to Lake County Public Health. All local COVID-19 tests sent to the Montana Public Health Laboratory in Helena have all come back negative.
According to Bullock, Montana has the capacity to test 750 more individuals, and he expected the Centers for Disease Control would send 1,000 more tests this week.
Bullock said the decision to close Montana schools until March 27 "was not taken lightly," and he "recognizes the hardship it creates" for many Montana families. He also could not give an assurance that schools would be back in session by March 27.
"This is a very dynamic situation," Bullock said.
Bullock said schools will continue to receive state funding during the two-week closure.
Polson School District Superintendent Rex Weltz notified staff, students and parents of the temporary closure on March 15.
Earlier in the week, Polson canceled all after-school community events and functions. The high school DECA trip to Nashville was canceled, elementary wrestling was canceled and the school's weekend ski bus to Whitefish was canceled.
"We certainly understand that we all are in uncharted waters with much uncertainty," Weltz stated in a message to parents and staff on Tuesday. "Our best-developed plans today most likely will change in hours as the Nation, Montana, and Polson School District adjusts to meet the needs of our students, staff, and community. As parents, the uncertainty is frustrating and I can assure you it is for us as well. Thank you in advance for your flexibility and understanding."
He said Polson teachers are developing lessons that can be delivered remotely, and that parents should expect a call from their student's teacher this week. These remote lessons will start Monday, he added.
Free grab-and-go breakfast and/or lunches are available for students at Cherry Valley, Linderman, Turtle Lake Head Start, Elmo Community Center, Big Arm Fire Department, Dayton Elementary and Valley View School.
Weltz said custodial and maintenance staff have already begun a "deep clean" at the district's schools.
"It is my sincere wish that we are able to flatten and slow down this outbreak so we can get back to normalcy," Weltz said. "This I know is true, it will take all our part as a community of people."
Ronan School District is also preparing for some type of remote teaching during the closure. Superintendent Mark Johnston said teachers were in the process of creating lesson plans.
"We understand some might not have technology, internet access, printers, or other challenges but we will do what is necessary to get you the work," he said in a message to parents.
"This is a difficult situation for all of us, and I feel like we are trying to build a plane while flying it. Please keep in mind that we are doing our best to balance the educational needs and well-being of our students, staff and the community."
Grab-and-go meals will be available for Ronan School District students over the next two weeks.
Breakfast and lunch will be served at Ronan Middle School and Pablo Elementary. Starting Tuesday, the district will be using buses to deliver meals at 10 other locations. The buses and feeding areas will be accessible from 8 to 9 a.m., and 11:30 a.m. to 12:30 p.m.
Pablo delivery spots include: Pablo Elementary parking lot, Sparrow Lane/North Burnt Pine, Joe Dog Drive, SKC Bookstore. In Ronan: West entrance of RMS, Pache, Clarice Paul/Woodcock, Pewlosap Lane, White's Meats, Job Corp, and North Crow Clubhouse.
St. Ignatius Schools planned to have meals ready for students as well. The district said all extra-curricular and school activities will canceled for the next two weeks.
Arlee Schools planned to distribute meals to students via the bus routes. People are advised to visit www.arleeschools.org for the latest updates.
Bullock's directive led to other closures across Lake County.
The Ronan and Polson Boys and Girls Clubs will be closing for the two-week period, adding that the "safety of our club members and their families is our top priority."
The North Lake County Public Library is closed through March 28, as well.
"The health of our community is of the utmost importance to us, and we feel it is necessary to slow the spread of this virus that most severely affects a large number of our patrons," the library stated on its website.
All use of the library meeting rooms is canceled until further notice, and people are asked to not return any materials that they have checked out. All due dates will be extended without accruing any overdue fees.
Ronan Library is closed as well, and canceled all of its library programs and events, including computer classes and story times until further notice. All items currently checked out will be given an automatic 3-week renewal.
Flathead Valley Community College in Kalispell also made the decision on Sunday to cancel classes through March 29.
The Early Childhood Center will also be closed, but campus offices will remain open.
FVCC classes will resume March 30 through remote delivery.
To mitigate the impact of school closures on families, Bullock encourages all employers to be generous with their employee sick and paid leave policies during this time.
"I recognize that our schools often serve as a lifeline for families and that this decision is going to have disruption on Montanans over the coming weeks. I'm committed to working with schools, communities and public health to minimize the impact. I encourage businesses to do everything they can to support families as well," Bullock said.
Bullock strongly recommends the public limits all gatherings, especially those with more than 50 people, in every community across the state. He also recommends that individuals over the age of 60 or who are immunocompromised or have chronic health conditions do not participate in gatherings of more than 20 people. He also recommends that parents should avoid, if possible, placing children for childcare with grandparents or individuals over the age of 60 or immunocompromised persons.
Visitation in Montana's nursing homes is suspended except for certain compassionate care situations. People who meet the exception for visitation will undergo a screening to determine whether they have traveled in the last two weeks, are residing where community spread is occurring, or if they have symptoms consistent with COVID-19.
---