Two Eagle River School student Alishon Kelly receives achievers award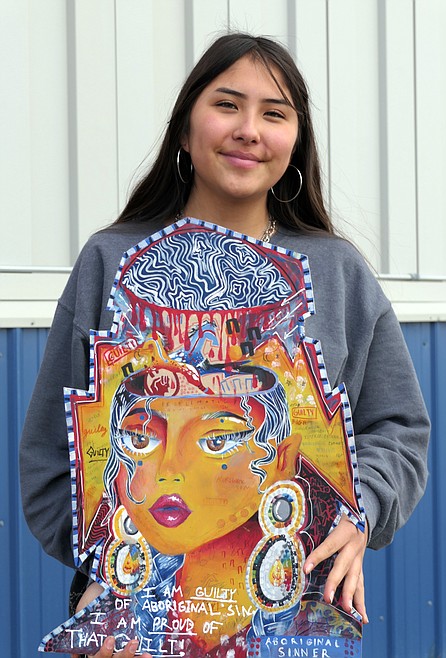 Besides being an activist, organizer, and honors student, "Today's Achievers, Tomorrow's Leaders" award winner Alishon Kelly is an artist and singer. (Carolyn Hidy photo)
by
CAROLYN HIDY
Lake County Leader
|
March 19, 2020 10:01 AM
Alishon Kelly, a freshman at Two Eagle River School in Pablo, received the February "Today's Achievers, Tomorrow's Leaders" award for exemplary students making an impact on their community. The award is jointly sponsored by Kalispell Regional Healthcare and Lake County Leader.
Alishon is a strong advocate for respecting and appreciating Native American culture, history and rights. Until recently, she attended Ronan High School, where she was an honors student. She was part of the Johnson O'Malley (JOM) program, the Native American Culture Club, and the Indian Education Committee, as well as participating in frequent classroom debates and discussions related to respecting Native Americans. She is interested in starting a speech and debate team at Two Eagle River.
Part of being a strong advocate, Alishon says, requires being a well-informed debater. Not a passive learner, she has read autobiographies of Native rights activists such as Russell Means and Leonard Peltier and studied the AIM movement and other civil rights movements. She is "highly interested" in how they still affect the reservations today and how they accomplished what they did.
Alishon is president of the Yoyoscut Youth Council, a local part of the national Unity Youth Council program. She attended the National Unity Conference in Florida last summer, as well as the midyear conference in Tempe, Arizona this February, learning about a wide range of topics including how to manage businesses, how to manage healthy relationships with parents and others, and how to present yourself in a professional setting. As president of her local chapter, she got meetings changed from monthly to weekly so they could get more done.
"Due to Alishon's hard work and ability she has the potential to go far in her life, but she is not willing to 'go' without bringing others along with her," wrote Ronan Schools Indian Education Director Jessica Johnson, nominating Alishon for this award. For example, Alishon will use the $250 donation she receives from this award, as well as funds raised through fry bread sales and other donations, to help take her fellow Youth Council members to this year's national conference in Washington, D.C.
Alishon got interested in activism with her mother, Alyssa Kelly. They attended protests with such organizations as Idle No More. The two of them and a few others from this area attended the "No DAPL" camp at Standing Rock Sioux reservation for about a week, supporting that tribe's efforts to prevent a large oil pipeline from crossing their land and the Missouri River. They took what food and supplies they could fit in their small car. But the camp was well stocked, too. "I could have showed up there with nothing and they still would have provided for me. Food, sleeping bags, tents, beds.
"It was my first exposure to other Native Americans who were as organized and political as I strived to be. Everyone treated each other so nice, really respectful of each other, like they knew you forever. It was a tight community for the whole time.
"It was so crazy. In the media, I would see things like, 'These DAPL activists – they're angry, they're violent.' There were tanks and military people outside of the camp." But in the camp itself, "there were kids, elders — everyone would just get up every morning and bathe in the river. It was amazing."
"Things like that," she says, make it clear, "you need to defend your community, you need to defend your elders and your youth. The best way you can possibly do that is inform yourself."
"Alishon is a leader among her peers and community," wrote Johnson. "As a freshman in high
school she already exhibits a level of wisdom, inquiry, and intuition beyond her years…[with] the ability to evaluate multiple perspectives, ask constructive questions, and apply them to possible solutions."
"I believe that all Native Americans have to be political," Alishon says. "So much of what's going on affects Native Americans directly. It's our responsibility to know what's going on for our kids and future generations.
"Russell Means, Leonard Peltier, all these activists sacrificed so much just so that I could be here, going to a school like Two Eagle, where it's all tribal. The best way I can pay them back is to continue their legacy — respect myself as a Native American."
---