Warriors hopeful after state tourney appearance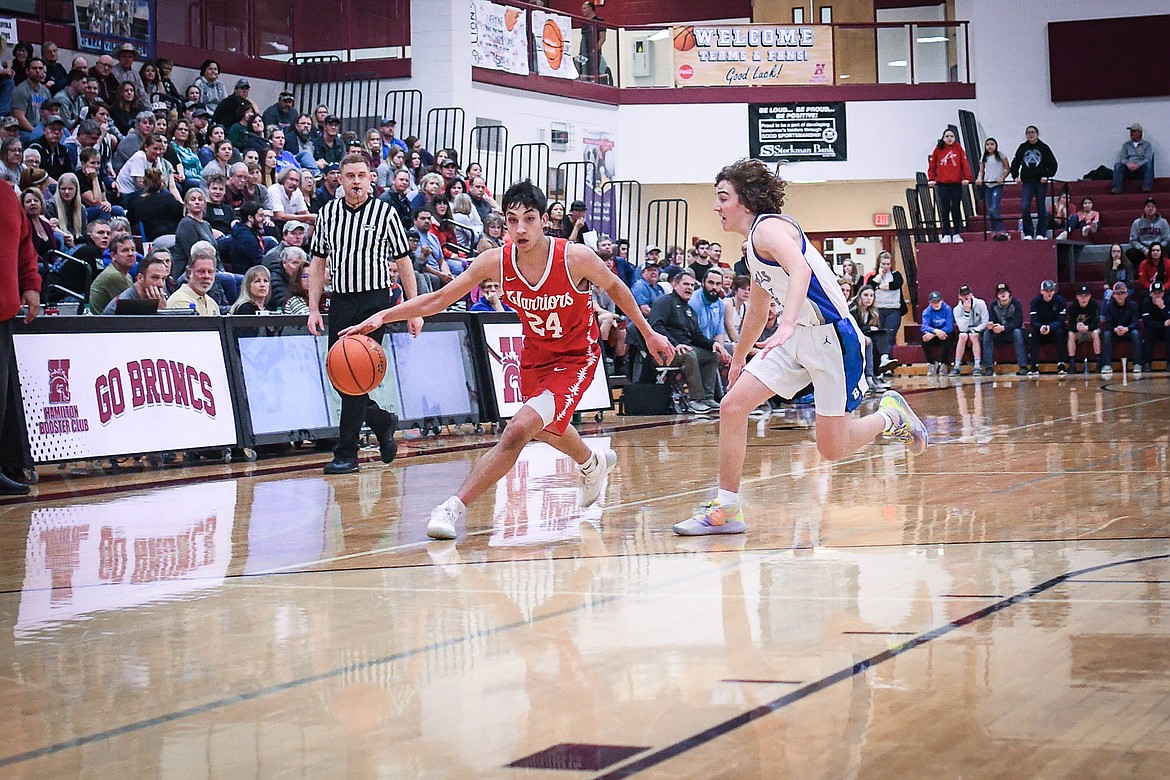 Arlee's David Haynes drives down the court against Bigfork in the Western B Divisional Tournament which took place in February. (Christa Umphrey photo)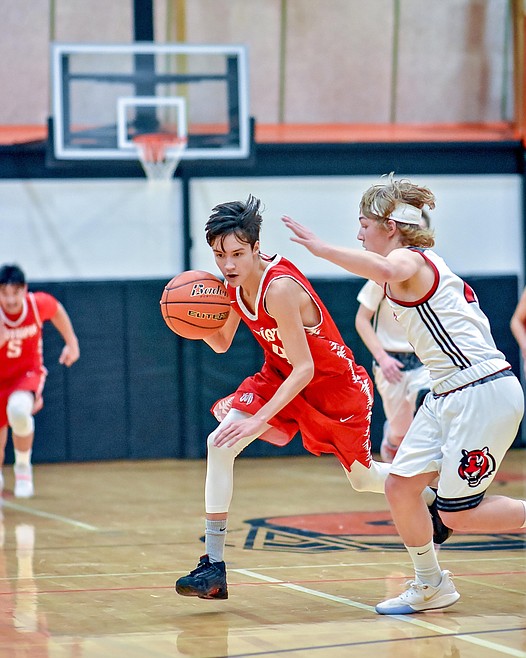 Arlee junior Sage Nicolai dribbles against defensive pressure earlier this season. Last weekend the Arlee high school boys basketball season wrapped up with the Class B state tournament. (Photo courtesy of Christa Umphrey, Forward Photography)
Previous
Next
by
Whitney England
Daily Inter Lake
|
March 19, 2020 10:01 AM
The Warriors are building a team for the future.
Despite Arlee dropping a pair of games at the state basketball tournament last weekend, head coach Zachary Conko-Camel is proud of his squad.
"It was a great tournament," Conko-Camel said. "We've accomplished a lot this year… We've got good momentum (for next season)."
In addition to winning a divisional title, those accomplishments include adjusting to what Conko-Camel referred to as a "new coach, new system, new culture" created at Arlee. After last year's offseason, which included a somewhat controversial coaching change, Conko-Camel has had to basically rebuild the program.
The Warriors spent the better part of the year bonding as a team and adjusting to the new system that Conko-Camel worked to put into place. Many of the kids were new faces to the varsity lineup and that inexperience showed throughout the season, but especially during state tournament play.
"First time being out there and playing, it's different sitting on the bench watching it versus getting out there and having to carry the load," Conko-Camel said. "Just a little nervous and didn't finish how we needed to."
Before the Class B MHSA Boys Basketball State Tournament was cut short due to COVID-19 precautions, the Warriors matched up against Rocky Boy on Thursday and then in a consolation round on Friday they faced Shelby.
In Arlee's opener they stayed neck-and-neck with the Rocky Boy Northern Stars out of Box Elder until midway through the second half. The game was tied up at 46 points as the third-quarter buzzer sounded, however Arlee could not score in the final quarter of play. The Northern Stars finished the game on a 16-0 run to beat the Warriors 62-46 and advance to the next round.
"I wish we showed up a little bit better in that first game…" Conko-Camel said. "But the kids did really good, they battled."
Warrior seniors David Haynes (14), Billy Fisher (13) and Cody Tanner (11) led their team in scoring, with Tanner also leading the way in other categories including four assists and three steals.
Unfortunately for Arlee, Tanner found himself in early foul trouble and fouled out in the third quarter after only 14 minutes of total playing time.
"Wish we could have had Cody out there a little bit more in that first game," Conko-Camel said. That was a tie game going into the fourth, so yeah he sure could've helped us in the fourth. He's kind of the team leader."
In Arlee's consolation round matchup the following day, the Warriors battled against Shelby, the second seed in the northern division. Although Arlee had a better showing late in this game, they were still outscored in the fourth quarter 20-13, leading to a 68-59 loss.
A bright spot for Arlee was the performance by sophomore Levi Fullerton as he achieved a varsity career scoring high of 29 points against Shelby. He shot with impeccable accuracy as he netted 11 out of 15 from the field, and 60% from beyond the arc.
"Levi got to the right spots and made the shots," Conko-Camel said. "That was great momentum for him moving into his junior year next year."
As the state tournament signaled the end of the high school basketball season, the Warriors are now looking forward to future years. However Arlee will miss its four seniors, including Zach Running Crane, Tanner, Fisher and Haynes.
"I was really proud of those seniors, they did great stuff all season," Conko-Camel said.
Although the seniors have led Arlee all season, Conko-Camel knows he has many promising players coming up the pipeline. He anticipates a great showing from some eighth graders entering the school next year, as well as a changing of leadership. Fullerton is among the potential future team leaders.
"It's kind of the passing of the torch, with Levi leading us in that last game with 29 points and playing a big leadership role in that game," Conko-Camel said. "He's going to be a bright spot."
Conko-Camel also mentioned junior Micah Johnson as a hopeful to fill some large leadership-role shoes.
"Micah is going to step back in, he's going to be a senior so I expect some big things from him next year," Conko-Camel said. "I got to know him this year and he's going to put in work this summer, be ready to do it next year."
As this season draws to a close, Conko-Camel is already thinking about all the promise his team has on the court. He predicts in his second season as head coach, he will be able to build on the principles already taught this year – and foresees an Arlee boys basketball team stronger than ever.
"Season two they'll know what is expected and I just know they're going to rise to the occasion," Conko-Camel said. "We're going to be a great team next year."
Reporter Whitney England may be reached at 758-4419 or wengland@dailyinterlake.com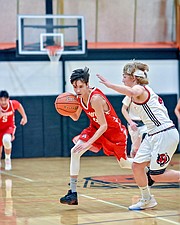 ---