Outbreak prompts Polson swimmer to train in open waters of Flathead Lake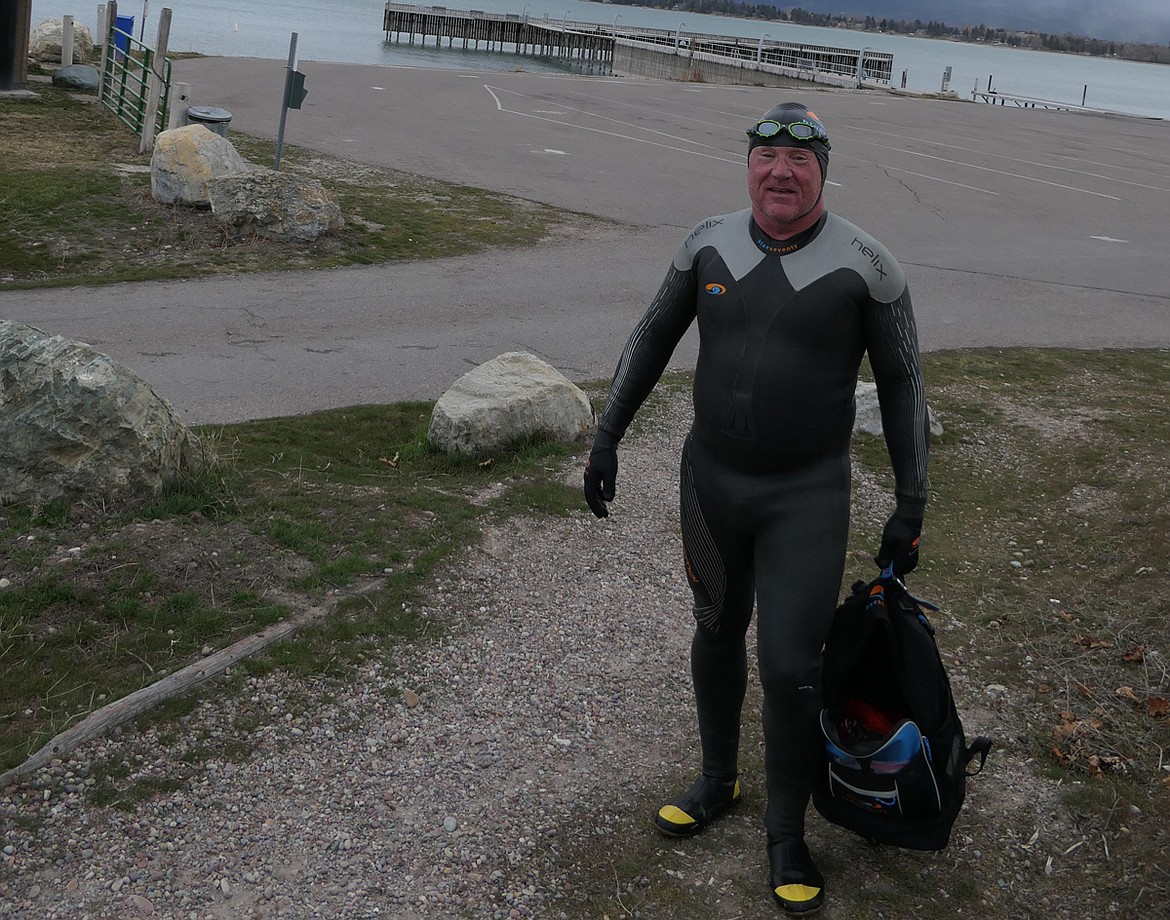 Polson's Mark Johnston is swimming in Flathead Lake as he prepares for a competition that ranks the top 10 pool swimmers in the world in their respective age classes. Johnston was training at the Mission Valley Aquatic Center before COVID-19 forced its closure. (Carolyn Hidy/Lake County Leader)
by
Kianna Gardner
Daily Inter Lake
|
March 26, 2020 9:47 AM
At the age of 60, Mark Johnston has set out to accomplish what might be his life's most lofty ambition yet. The Polson resident decided last year that in 2020 he was going to try to rank as one of the top 10 pool swimmers in the world for his age division.
Reaching such a goal requires countless hours of training.
But when the coronavirus reached Montana and all non-essential businesses began halting services, Johnston's go-to swimming venue, Mission Valley Aquatic Center, was no exception to the temporary closures.
The center shut down last Thursday, forcing Johnston to look elsewhere for his training needs. It turns out he didn't have to look far, considering Flathead Lake is close to his home.
"I feel super privileged to be within walking distance from one of the most magnificent lakes in the world," Johnston said. "Social distancing is kind of a redundant statement in Montana where the outdoors are just waiting for us. Who else is going to be swimming in a freezing lake? It's perfect."
Johnston moved his pool training regimen to the open waters of Flathead Lake where surface water temperatures currently range from 38 to 45 degrees, according to the Flathead Lake Biological Station.
An accomplished swimmer already, Johnston has had experience swimming in freezing waters. Just last year, he swam an independent "ice mile" twice in Flathead Lake — sans wetsuit — and has participated in multiple ice swim meets.
Aside from training off and on in frigid waters himself, he has also spent a significant portion of his athletic career training and guiding others on how to accomplish channel swims in open, cold water.
However, these experiences aside, Johnston said he is now in unfamiliar territory having to train for pool events in the winter waters of Flathead Lake.
"Most pool events are what we would call sprint-swims. So taking these fast moving events into vast cold water where I would normally practice endurance swimming is going to be challenging. Then on top of that, I have to train in a wetsuit, which really changes your balance and how you function in the water," Johnston said. "This is a first for me."
In order to rank in the top 10 in the world, he will have to excel at multiple meets throughout the year and in multiple pool events. According to Johnston, with adult competitive swimming, the Federation Internationale de Natation (FINA) will observe competitive swims from around the world throughout the year and will rank the world's best swimmers from those who performed well at such events.
"So they look at all of these officially sanctioned swim meets from around the world, typically 20 to 30 events, and they divide people according to their age groups and determine who the strongest swimmers are within those divisions," Johnston explained.
Johnston's age group is 60 to 64. And considering he just turned 60 in November, he knows now is the time to capitalize on this possible ranking because he is on the younger side of his age division.
"You age up. All athletes do," Johnston said. "In most cases, someone who is 60 has an advantage over someone who is 64. If you're going to rank the best you're going to have to go for it when you're at the start of your range."
Aside from having this advantage, Johnston said he also believes his varied skill set in the water will push him forward in the rankings.
His top event is the 100-meter individual medley which consists of four 25-meter competitive strokes: the butterfly, the backstroke, the breaststroke and freestyle.
"I'm a unique swimmer in that I can do all of these pretty well," Johnston said. "So if I swim those and I swim them quickly and swim them multiple times at multiple meets, I think I can pull it off."
In Flathead Lake, he has been training for these sprints much like he would in the pool.
Johnston has swam for long enough to know that it typically takes him 14 strokes to go 25 meters. So he'll swim those 14 strokes as fast as he can, then rest for 30 seconds or so and then he'll repeat this pattern for as long as he is able to be in the chilled water.
If snagging the coveted title of being one of the top swimmers in the world wasn't a large enough goal for Johnston, he also has his eyes set on competing in several international open water swims assuming they are not canceled due to the coronavirus outbreak.
The events are located in Mallorca, Ibiza and Sweden. With some of these less than two months away, Johnston is having to push his endurance swimming in Flathead Lake as well.
According to Johnston's wife Dana, Mark's aspirations for his athletic career never cease to amaze her, and his "stick-to-it-ness" is unwavering.
"If you're a world-class athlete, you prioritize your sport. He's super purposeful in all of his training and everything he does whether he has set a goal for himself or for other people," Dana said. "It's just who he is and what he does. He's always been this way."
Mark has managed to remain humble about his passion despite ranking as a top five and top 10 swimmer in the United States consistently throughout his 50s, and from accomplishing feats like one last summer when he broke the record for the fastest 26 kilometer swim in Switzerland's Lake Zurich for people ages 50 and over.
He broke the previous record by about 30 minutes.
"If you're in competitive athletics, you are always raising the bar for yourself," Mark said. "What can start as a hobby can move quickly into trying for bigger and better."
And even after all of his victories in international and domestic waters, he hasn't lost sight of how precious Flathead Lake and other local bodies of water are to him and the countless others who spend time in them. One thing he is looking forward to most this year, perhaps more than some swim events, is continuing his citizen science duties by gathering water quality samples. He says if all goes according to plan, he and others will be gathering samples from 14 lakes in Montana this summer.
"I'm here all the time. I live in this lake," Johnston said. "I have to do my part to try and protect it so other people can enjoy it, too."
Reporter Kianna Gardner may be reached at 758-4407 or kgardner@dailyinterlake.com.
---