Youth wrestler Brynn Courville earns triple crown
by
Whitney England
Daily Inter Lake
|
March 26, 2020 9:47 AM
Montana youth wrestler Brynn Courville is tough.
She has been wrestling her four older brothers since she was six years old, and it has prepared her for any opponent that comes her way on the mat.
"And believe it or not, she's the toughest (of the family)," her father and coach, Cal Courville said about his daughter.
In 2019 Brynn won a Montana wrestling triple crown award in the girls 12-and-under division, 95-pound weight class and last month she finally received her trophy.
Winning a triple crown means she won the state championships in all three wrestling styles. Courville took first at the Montana AAU folkstyle state tournament, as well as the USAW freestyle and greco state championships.
"Last year she made it a goal to win state, and there is another big tournament, the Montana Open," Cal said. "And that was her goal, she really worked hard for that."
Brynn said she was glad to get the award, as well as win the Montana Open wrestling meet, since those were two aspirations she wanted to achieve for herself. But she explained getting those trophies, only makes her want to do it again.
Those awards did not come easy either. Brynn spends 12-15 hours a week practicing from December to April, and she does not take practice lightly.
"To be good you have to practice your moves, to be good you have to condition hard," Brynn said. "That's what makes you tough. The way you practice is the way you wrestle on the mat."
That is Brynn's general philosophy, but she said in order to win the triple crown honor she had to give it everything she had in practice while also eating healthy to make her weight class.
"I had to work extra hard," Brynn said. "I had to run extra... whatever my dad said to do in conditioning, I did it harder and I'd do extra of it."
Brynn has been wrestling with her father as her coach and her brothers as her teammates on the team they call the Timberjacks for six years. Since they live in a rural area near Dixon, her father Cal decided to coach his children himself.
Cal wrestled from first grade all the way through high school and was a two-time state champion, so he knew he had the skills necessary to coach his kids. He said they tried to go to Ronan from time to time, but found it was easier and more efficient to roll out their own wrestling mat in the living room.
"I had enough background myself that I was able to get the job done," Cal explained.
He also said to compete in wrestling you do not have to be part of a big team to attend tournaments, and so they were able to form their own team as a family.
USAW and AAU wrestling also have both girls and boys divisions, and girls are allowed to wrestle the boys should they choose to. Brynn wrestles in both divisions often, and Cal said it has made her a better competitor overall.
"They really promote the girls wrestling in both USAW and AAU," Cal said. "To be honest, to wrestle the boys really helped make her competitive."
Cal recalled that when Brynn first began wrestling, she was fairly slow and timid on the mat. However as he kept taking her to bigger tournaments and as her experience grew, she became exceptionally competitive.
He has watched her grow into a great kid as she consistently achieves straight As in school, as well as an ambitious wrestler. He gets choked up just thinking about just how proud he is of her accomplishments.
"Yeah, so much (pride)," Cal said as he held back some tears. "We just work so hard and I get very emotional, it's embarrassing, but I can't help it…"
Brynn loves wrestling because she said it makes her mentally and physically stronger, but she has many other hobbies as well. She enjoys playing softball, hunting with her family and breaking miniature horses. She also expressed someday she would like to be a professional barrel racer.
But in the immediate future she is starting to think about high school.
"Yeah I want to wrestle in high school, and maybe I can get more girls to do it with me so girls wrestling gets bigger in Montana," Brynn said.
Her father also would like to see her continue on and become an even better wrestler in high school.
"That's the plan, hoping maybe she can be a four-time state champion," he said.
Reporter Whitney England may be reached at 758-4419 or wengland@dailyinterlake.com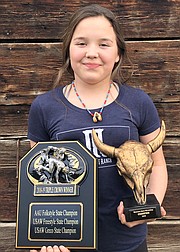 ---