Creativity in the face of a new normal
by
Carolyn Hidy
Lake County Leader
|
May 15, 2020 3:39 PM
What are business owners to do when their entire business model becomes moot in the face of a pandemic?
In the case of Lavender Lori, the answer is to get creative.
Lori Parr has built her business and her brand by connecting closely with customers. For 20 years she has been "Lavender Lori," selling lavender posies, oils, sachets, and other fragrant lovelies at area farmers' markets – up to five markets a week – as well as arts fairs and local businesses.
"Part of my whole set up is that people love to come in close, and squish and smell and then they buy it," Parr said.
But new safety requirements put in place to prevent coronavirus spread limit this kind of close personal contact with customers. And a new requirement to have one person at the stand handle the product, and a second handle the money, is impossible for a single proprietor to meet without hiring a second person. She couldn't see how she could make a living the same way as she had been doing. She had to ask herself, "OK, if I'm not that anymore, then who am I?"
"It was like a big kick in the butt from the universe," she said.
Lori had already started to branch out before the virus hit. In February, she was on a book tour that took her to farm and craft events and conferences throughout the southwest, selling and signing copies of her new book "Lavender Farming: Secrets from a Hard Row Hoed." But even that travel has had to go on the back burner for now. She was scheduled for a Missoula County Extension Flower Growers Conference this spring; that has been postponed until September.
Parr said she spent the first week of March "plenty scared." But then ideas started to "come in on their own."
She lives on the peaceful prairie west of St. Ignatius, with stunning 360-degree views, and the sweet smell of her beloved lavender farm on the breeze. She realized the very land under her feet, and the tiny-house, off-the-grid lifestyle she has developed, were precious resources to share with others. She had not lost everything, but gained even more appreciation for what she did have: "I've got this land, and it's fantastic."
She decided to turn her focus to helping people enjoy the "peaceful, healing" feeling of the place. Whether they are trying to recover from a stress such as cancer or PTSD, learning the art of "back to the land" sustainable living, or enjoying yoga in the fresh air, Lori has much to offer.
Parr is camping out in her one-room, 7x11 "tiny house," and has a second one on the property that she had used as a lavender studio. With a little conversion, the second one became the charming "Sunshine Daydream off-grid cottage," available at hipcamp.com, a site for renting unique and rustic camping sites. She also lists her open land for camping as "Under the Big Sky."
With considerable experience living autonomously with no need for purchased electricity, Parr writes a blog and offers workshops to share her ingenuity. She was interviewed on the popular podcast sustainableworldradio.com, and she offers workshops including such practical country topics as "Making Do/use what you've got," "Farming and gardening in vole or mouse infested territory," and "What is humanure?"
At the top of the hill is a "perfect postage stamp" of lavender beauty, where yoga teachers from around the area are invited to offer classes. Even without the current closure of studios, the fresh air and calming views would likely be popular.
And yes, Lavender Lori still has an abundance of lavender for sale. During harvest season in July, she will offer fresh-cut from-the-field at farmers markets in Bigfork, Missoula, Ronan, Mission, Seeley Lake and Lincoln (see Lavenderlori.com for schedule), and works through Western Montana Growers Co-op to deliver buckets of fresh lavender cities east of the divide in a day. She also looks forward to "spontaneous pop ups" — as a licensed street sales vendor, she picks a place to set up a big copper kettle full of fresh cut lavender bouquets for $5 for an hour or two, and announces the time and day on social media.
"I would be positioned for people to just drive by, not even have to get out of their car if they don't want to," she said.
As Parr says, "We can't go back to what normal was."
So many people have lost so much. But she is showing the way in how to recognize what gifts and resources one does have, and not just adapt, but thrive.
Visit Lavender Lori on Facebook, Instagram, Lavenderlori.com, or email lavenderlori11@gmail.com.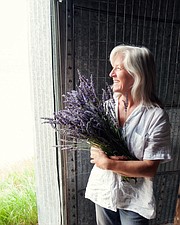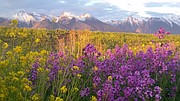 ---