Ronan senior runners, thrower focus on silver lining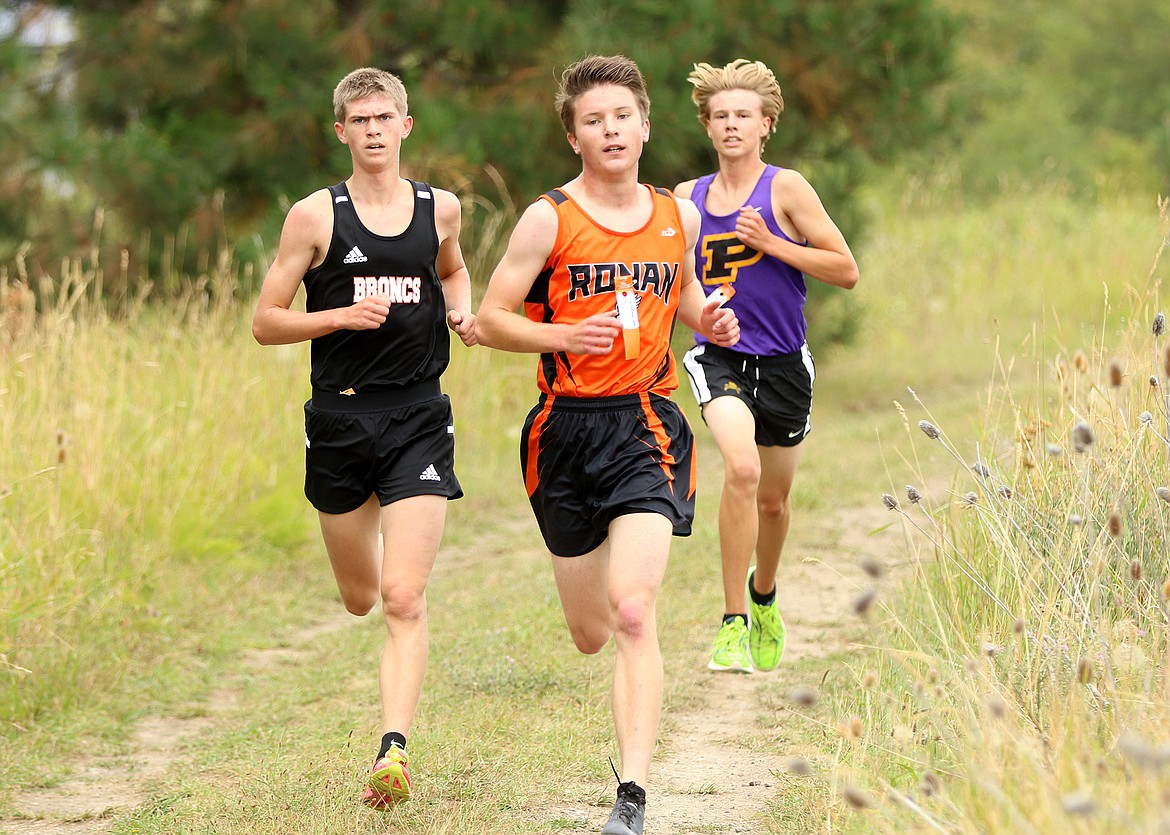 Ronan senior long-distance runner James Normandeau runs in a cross country race. He recently signed with Carroll College in Helena. (File photo)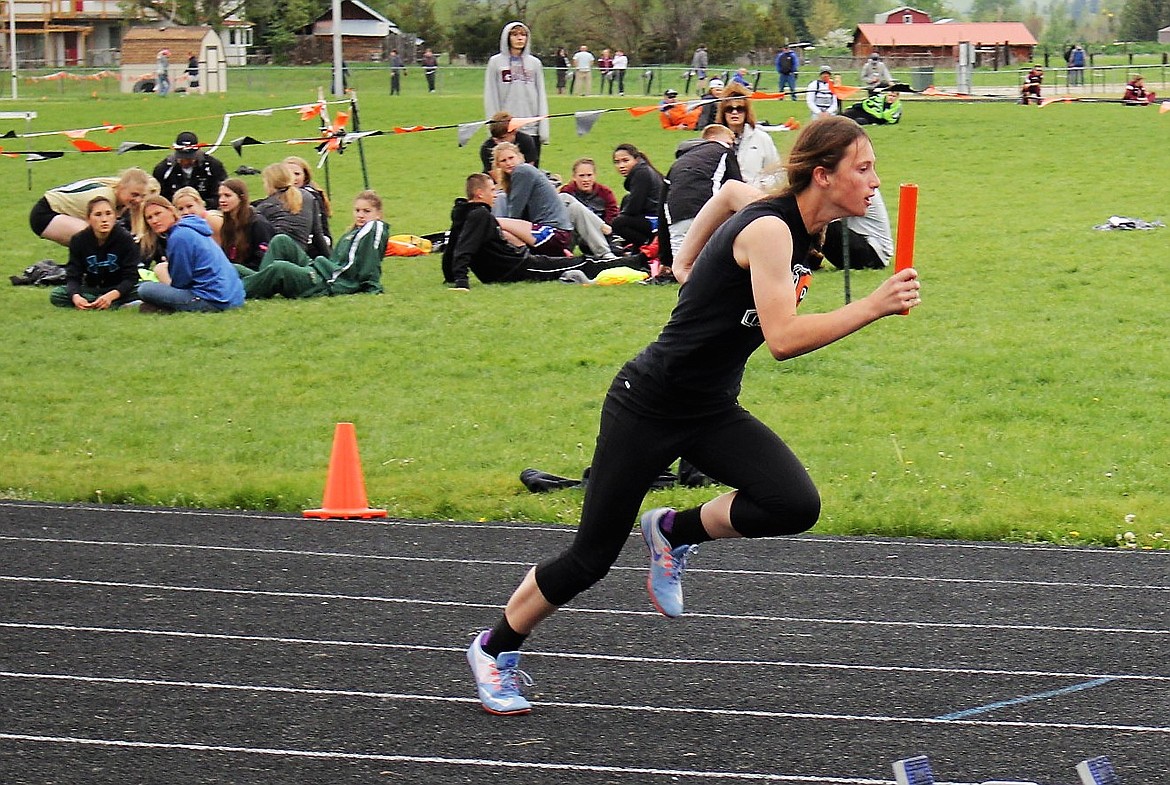 Ronan senior sprinter Kinsley Barney competes in a 400 meter relay race in May 2017. Barney recently committed to Rocky Mountain College. (File photo)
Previous
Next
by
WHITNEY ENGLAND
Lake County Leader
|
May 15, 2020 3:39 PM
The senior class of 2020 is missing out.
They are missing out on important days of in-person instruction before taking final tests, students will likely not have a normal graduation ceremony and the last days of being around their high school peers are rapidly evaporating.
And then add on the disappointment from canceling all school sanctioned spring activities, including sports. The coronavirus pandemic threw a wrench in nearly all immediate plans, but it is not stopping three promising Ronan track and field athletes from focusing on their futures.
These athletes have a bright spot to fixate on when it comes to missing their senior track and field season. Earlier this spring, Kinsley Barney, sprinter, James Normandeau, long-distance runner, and Landon Lynch, discus thrower, all committed to colleges and will be immersed in the competition scene again soon.
Ronan track and field coach Brian Labbe started coaching the program when these three kids were freshman and has been with them for the entirety of their high school careers. He has seen the ups and downs, the injuries, the comebacks and the improvements.
"They are three of our captains we had on the team, and it was really disappointing because they were all set to have a really good year to end their high school career on," Labbe said. "It's sad to see it end that way, but kind of a silver lining is it's nice to know that they're going to go on to continue their careers."
Normandeau started running in middle school because his father wanted him to try a fall sport; he knew he did not want to play football, so cross country it was. Little did he know at the time, becoming a runner would eventually pave the way for a scholarship to attend college.
As a freshman, Ronan's final year in Class B, he was an all-state distance runner. Then as the school transitioned to Class A competition he worked harder every year and remained competitive, earning all-conference selections for the last three consecutive years. Last season he placed fourth at state in both the 800 and 1600 meter races.
Coach Labbe said he was poised to be a state title contender for the distance races this track season had it not been cancelled, and Normandeau wanted the season to be his redemption after he passed out near the end of the state cross country championship this past fall.
Normandeau explained he has hypoglycemia and was not aware of this before passing out during that run. He now has to manage it and be consciously thinking about consuming the right amount of food before running.
"I just ran out of energy, they had to give me a bunch of glucose tablets after the race just to get me functioning again. It was scary, it was not fun," Normandeau said. "It's something to think about and something that always needs to be on my mind before races. But it's better than something like an injury because I can prevent it."
Normandeau recently signed with Carroll College and said he chose the school because it felt like home, like he already belonged there. Normandeau expressed that selecting a college was a neat experience as up until now he has been a part of particular teams based on geographic location, but now he was able to choose a program that really stands out to him.
One of the ways Normandeau believes he improved the most over his high school career is in the mental aspect of the sport. He added, "[Running] is more of a brain game than I think we like to appreciate sometimes."
As the senior prepares for a whole new level of competition in college, that mental toughness should be a factor in his potential success. And he is looking forward the most to competing against some of the best runners in the country.
Normandeau, who is finishing high school with a 4.0 GPA, is planning to study pre-med and continue his love of music, especially playing the saxophone.
Kinsley Barney is another runner out of Ronan with a thrilling future ahead. Although missing her senior track season was not ideal, she is choosing to focus on taking the next step in her running career after committing to Rocky Mountain College in March.
"I was definitely looking forward to it, you know it's like the final year," Barney said. "I thought I was going to peak and everything. Having it taken away is really hard, but I was fortunate enough to get signed to Rocky…"
Just after schools across Montana shut down due to the coronavirus pandemic, she got the life-changing call from the college offering her a scholarship and a spot on the school's track and field team. Although the school had visited Ronan earlier in the year and she had talked with them at that time, Barney was necessarily expecting the offer.
"I thought getting signed or anything like that would depend on this season and Rocky was there, I'm so happy," she explained. "[Rocky Mountain College] just has this whole Montana attitude and I really liked that."
Barney is enthusiastic about this step up in competition, and the ability to keep running - an activity she truly loves. She started running in 7th grade and hasn't stopped since. Barney expressed that track season quickly became her favorite time of year. And as she explained why she loves the sport, she could not name just one reason.
"When you're running you kind of like almost black out because you're going so fast that it's hard to think, you just kind of do," Barney said. "It's the adrenaline, it's the teamwork when you're on a relay and everyone is shouting, it's just great."
The Ronan athlete also enjoys riding horses, hanging with her dog outside and reading, with her favorite subject in school being AP Literature. But running will always hold strong as one of her largest passions.
Barney did well racing even as a freshman making the finals in the 100 meter at the state championships. She showed a lot of raw talent, but Coach Labbe said every year she's built that talent into consistent success. Last year she placed in the top five at state in both the 100 and 200, and also anchored the first Ronan girls 4X100 relay team to place in over 10 years.
"Even from her freshman year she has been a great worker, probably one of the easiest kids to coach, great attitude and she's just done nothing but improve every year," Labbe said. "...She's one of the most dedicated girl [weight] lifters in the offseason, hopefully she's paved that road for the girls behind her."
Labbe also mentioned Landon Lynch, a discus thrower for Ronan, is dedicated to weight lifting for improving his strength each offseason. Lynch has been dedicated to improving all four years of high school and was gearing up to have a great season.
"He's probably one of our most dedicated workers in the offseason," Labbe said. "Just the progress he showed throughout the years, he's a very coachable kid and was willing to change things up when we asked him to."
Lynch had a number of tough competitors in Class A throwing competitions, and was hoping to reach his full potential this season. Last year he made state and threw a personal best of 138-3 to take seventh place.
Lynch also enjoys being in the great outdoors through hiking, fishing and hunting. As far a school goes, he is interested in science and biology.
Earlier this spring Rocky Mountain College recruited Lynch for their track and field team and he accepted when he signed with the school about a week before coronavirus closures began. Lynch said he is competitive by nature and is looking forward to continuing throwing discus in college.
"I think that's the one thing I'm able to look forward to since I got that last senior season taken away, I can look forward to being able to play in college and participate in that," Lynch said.
That is one sentiment all three of these track and field stars mentioned; all are grateful to have the reassurance that they will compete again and they all are feeling sympathetic toward their teammates who may not ever have that chance again.
"I'm sad I don't get to finish out the season with the coaches I've had for so long, but a lot of my friends, they're done. They don't get the chance to compete again," Normandeau said. "Losing a season isn't the end of the world, but I feel bad for a lot of people where it's the bitter end."
Despite an unfortunate end, all three of these athletes will graduate from Ronan with an abundance of experiences to look forward to and anticipating college athletics makes losing their senior track and field season just a little more manageable.
Reporter Whitney England may be reached at 758-4419 or wengland@dailyinterlake.com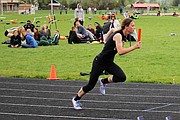 ---