Ronan senior uses grandmothers' legacy to lead through kindness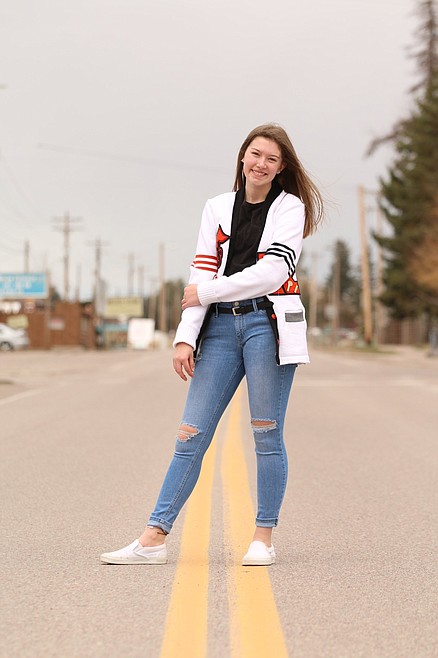 Ronan High School senior and student body president Brooklyn Kenelty. She plans to attend Carroll College in Helena next fall. (Teagan Gray photo)
by
Whitney England
Daily Inter Lake
|
May 22, 2020 8:24 AM
Brooklyn Kenelty is driven, focused and competitive by nature; but she is equally goofy and fun-loving.
Combining these traits while keeping kindness at the center of her heart naturally transformed her into a leader throughout her high school years. Whether it's rising to the occasion after being selected as the libero — a back row defensive leader — on the volleyball court or becoming student body president in a daunting campaign race, Kenelty has embraced her personal growth.
Well before Kenelty entered high school, she lost both of her grandmothers at a very young age. After their passing, one in 2009 and the other a few years later, she found it challenging to continue on in her life and complete the normal everyday tasks. She missed them dearly, but had to find a way to forge on.
"There are many different obstacles that I had to face really young," Kenelty said. "I think it built me and my strength, and my mental toughness; having to get over that, then still continue on through school after having such big losses so young."
Memories of both her grandmothers are still very fresh and alive in her mind. She remembers one of her grandmas was organized, and enjoyed keeping things beautiful and tidy. Kenelty said from time spent with both grandmothers she learned many life skills that she still utilizes today. Both were kind and loved serving their fellow community members.
"I remember their kindness and generous hearts," Kenelty said. "With all the community service that I try to do, it's because of what they did for their communities.
Although her time with these uplifting women was short, Kenelty uses their legacy as inspiration for her own life.
One of her grandmothers was a teacher, and ever since fifth grade Kenelty has known she wanted to be an elementary educator.
"My one grandma was in education and she loved being a teacher," Kenelty said. "So I think that's why I have it in my mind that I'm definitely going to teach because her love for it, I think sparked my love for it."
In fifth grade she was just a kid herself, but undoubtedly loved being around younger children. She babysat and volunteered in various ways to help young kids. She said she enjoys seeing their minds work, and their happy personalities equipt with endless smiles and hugs make your day every time.
"As I've grown up I've had an even deeper passion for teaching young minds and helping them grow just like how my teachers helped me," she explained.
In her senior year she had the opportunity to participate in a high school sanctioned internship program and volunteered at K. William Harvey Elementary School. This learning opportunity involved a lot of hands-on experience working side-by-side with teachers at the school, combined with some reflective learning in the high school classroom.
Through her internship she was able to experience a teacher's perspective for the first time and even taught a few lessons herself. She loved the feeling of teaching and the ability to fully be herself even in front of a classroom of students. This experience completely solidified her initial desire to become an elementary teacher.
Opening herself up and letting her personality shine through in front of a full classroom showed courage, but it is not the only way she's stepped out of her comfort zone in high school.
This last year as a senior, she set her sights on running for student body president at Ronan High School. The president at the time was James Normandeau, who had been the president of their class since sixth grade, and it was an intimidating task to run against him.
But she had it set in her mind and took the initiative to put her name on the ballot. Kenelty wanted to become president because she desired to seek out people's true concerns and do her part to help voice them.
"Running for this role, I was just ready for change," she said. "Ready to have multiple voices heard, my voice heard."
Kenelty did not campaign until the final two weeks, before that she just simply talked to her fellow classmates and showed them that she was interested in hearing from them. Being involved in multiple groups within the high school also helped get her name out there. And she said just being kind and considerate went a long way to get enough votes to win.
"After I won people started coming to me with more concerns, and that was really cool because I had never really heard them voice their concerns to me," Kenelty said. "Being in that leadership role, I felt like I had more control over (changes)."
She started out as secretary in student council freshman year and progressed through every other position before eventually becoming president.
Although a leader as student body president, Kenelty also had another opportunity to embrace a leadership role in high school.
The Ronan senior has had a passion for volleyball all throughout her youth and she continued that love playing for the Maidens volleyball team all four years of high school. Then as both a junior and senior she was selected to be the team's libero, which is a back row defensive specialist.
"I've grown because I got to be our libero for the past two years and that put me in a leadership role that I may not have been ready for but really grew into," she said. "So it really made me step out of my box, to be louder."
Kenelty also plays softball, which is not her favorite sport but gives her constant learning opportunities while keeping her in shape. She said the best thing about being a student athlete is the sense of community. "You kind of get a second family, they're always there in the hallway supporting you," she added.
In addition to sports and student council, throughout high school Kenelty has participated in numerous activities all while maintaining a 4.0 GPA and a spot on the honor roll. She was involved in 4H, the Ronan Beautification Committee, yearbook staff, Make it with Wool competitions, National Honors Society and volunteering for the Boys and Girls Club via school groups.
Being a part of the yearbook committee her first two years of high school spiked her interest in photography, which is now a burning passion. And through 4H, she started sewing and eventually competed in Make it with Wool. Sewing has become a skill that she is proud to have established and anticipates it being useful for the rest of her life.
"The love and passion I have for sewing now is growing so much," Kenelty said. "Making clothes that I can actually wear and model has made me more confident with myself and my abilities that I've gained."
Kenelty's senior year is coming to a close, and its an unexpected end with the school finishing out the year online due to COVID-19. However she is looking on the positive side.
With school closures she's been able to enjoy spending more time outside paddle boarding and hiking, two more pastimes she loves. Also since school moved to a virtual format, she has found a new sense of time management and is actually procrastinating less; both things that she believes will help her as she moves on to college next year.
In the fall Kenelty plans to move to Helena to attend Carroll College and major in elementary education, with possible minors in music and art education. She's received several scholarships, including an academic scholarship from the school.
Although she will miss her family, since she considers herself, her parents and younger brother a close knit unit and always adventuring together, she chose Carroll College because it reminded her of home.
This Montana girl does not want to leave the state, and for good reason.
"It is just too beautiful to leave," she said.
Numerous adventures await Kenelty as she continues on in the whispering footsteps of her grandmothers, and if her accomplishments throughout high school are any indication she has much to offer the world.
---