Reach Higher Montana launches annual Stick with Scholarships campaign
|
November 6, 2020 2:00 PM
November is National Scholarship Month, and nonprofit Reach Higher Montana is celebrating all month long with its annual Stick with Scholarships campaign.
The campaign encourages students to place a student-designed Reach Higher Montana sticker on an appropriate surface, such as a water bottle or book cover, then snap a photo and share it on Facebook or Instagram, tag us and follow our page. All participating students will be entered into a random drawing for four $500 scholarships.
All high school counselors have received a supply of stickers to share with students, and anyone who did not receive a sticker can contact Reach Higher Montana to request more (info@reachhighermontana.org).
The stickers for this year's campaign are the winning designs from last spring's Design-A-Sticker, Win-A-Scholarship campaign coordinated by Reach Higher Montana. Students from Polson, Bigfork, Billings, Missoula, and Three Forks designed this year's stickers, each receiving a scholarship award for their efforts. The winning sticker designs were selected from more than 160 designs submitted by Montana students.
The Stick with Scholarships campaign is part of Reach Higher Montana's efforts to help students access resources to continue their education. The Reach Higher Montana website provides access to a list of hundreds of scholarships for Montana students, and the organization posts new scholarship opportunities on its Facebook and Instagram pages every Thursday.
For more information, visit Reach Higher Montana's website, www.ReachHigherMontana.org, or follow them on Facebook.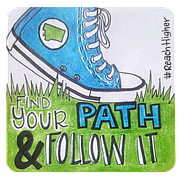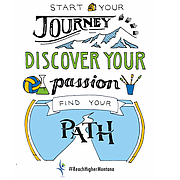 ---