Home sweet home for Charlo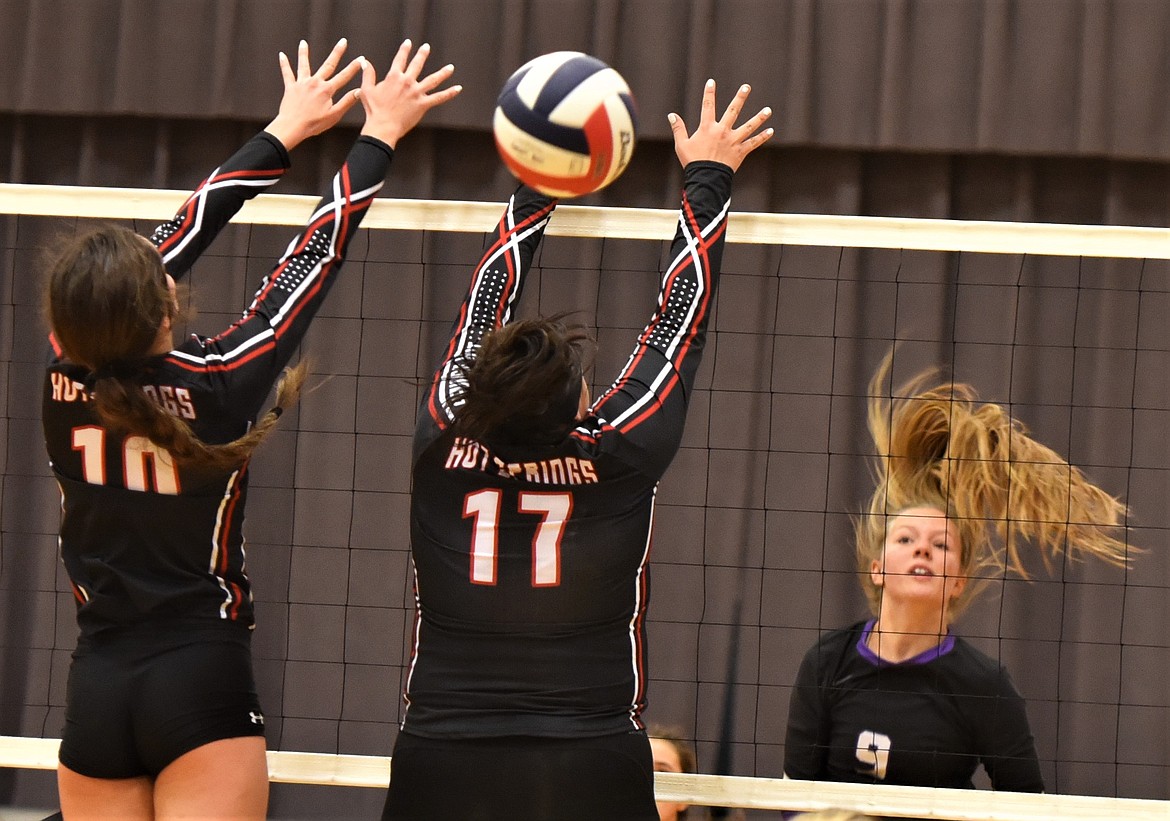 Charlo senior Carlee Fryberger watches her shot go by Lizzy Fisher (17) and Lily Winn (10) on Saturday night in Charlo. (Scot Heisel/Lake County Leader)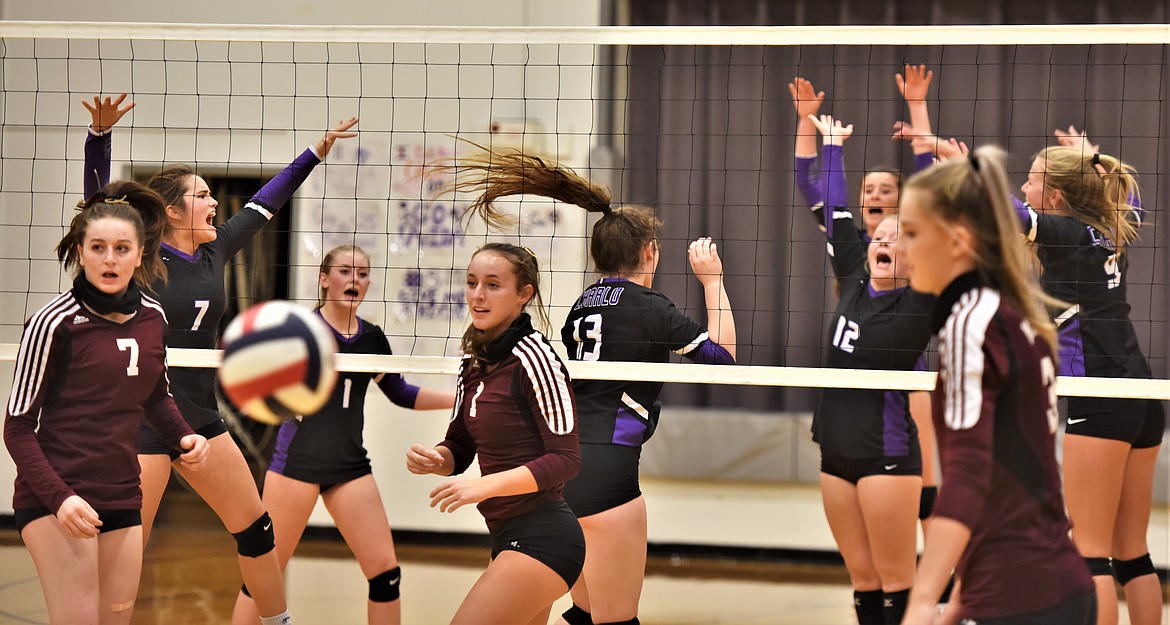 The Lady Pirates celebrate after winning a point agasinst Manhattan Christian on Thursday night in Charlo. (Scot Heisel/Lake County Leader)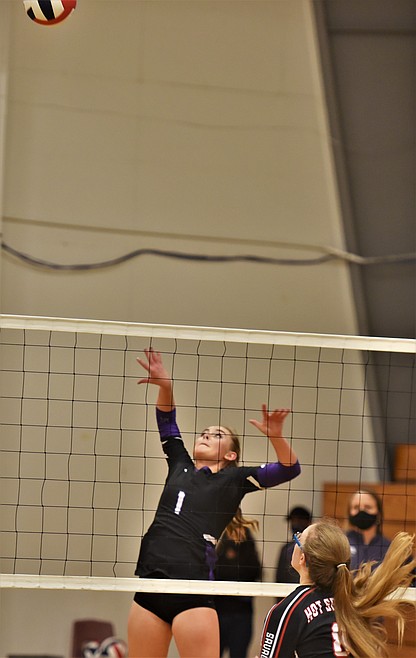 Junior Kassidi Cox rises up to strike the ball against Hot Springs. (Scot Heisel/Lake County Leader)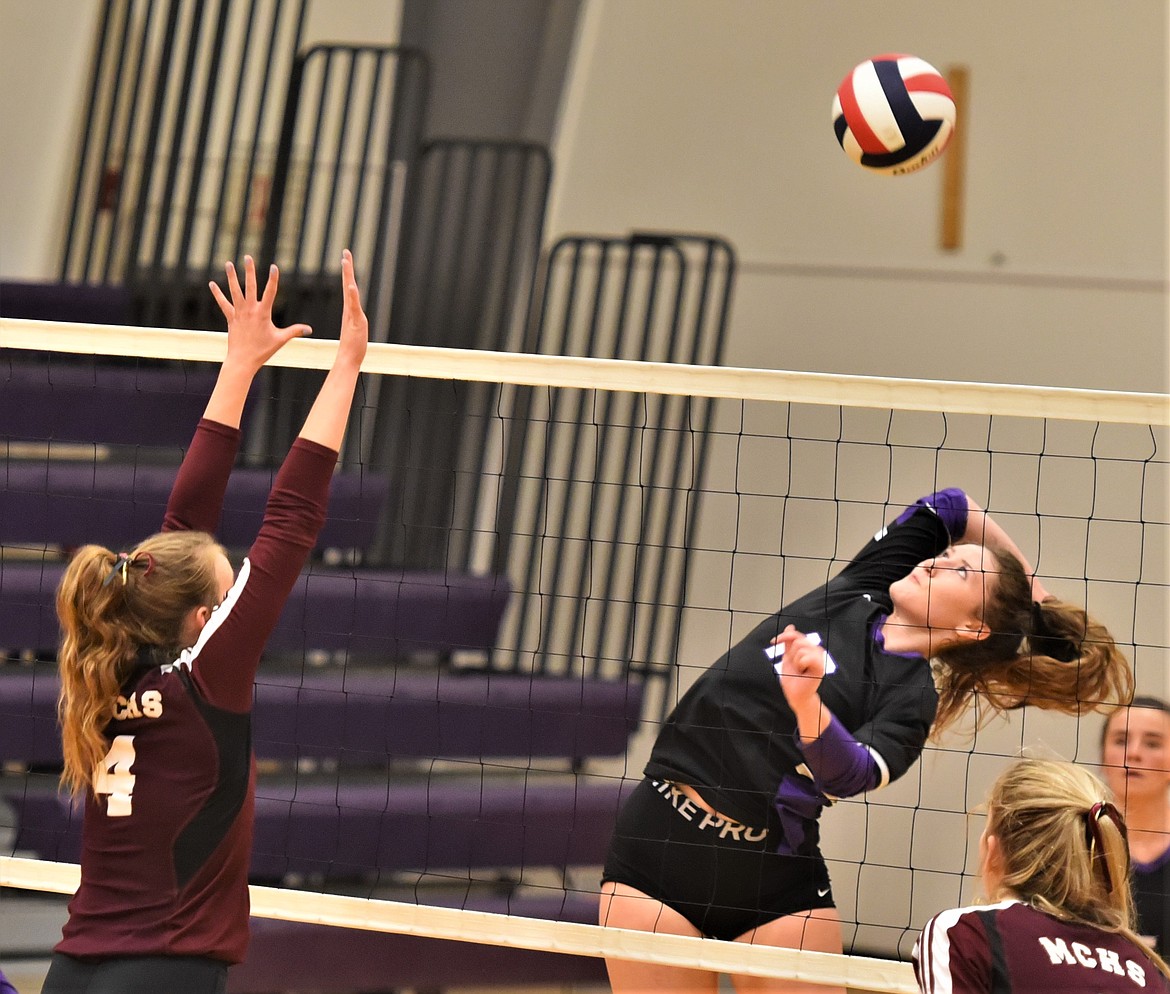 MollyKate Sullivan takes a shot against Manhattan Christian on Thursday night in Charlo. (Scot Heisel/Lake County Leader)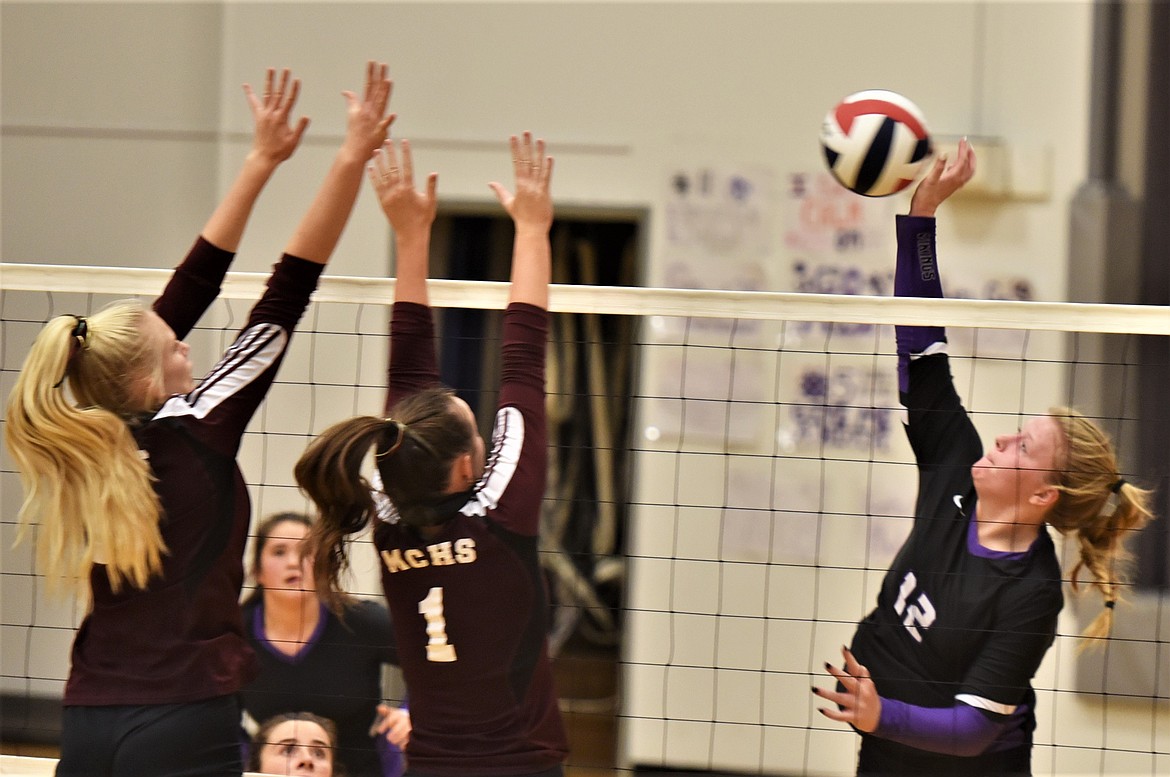 Connor Fryberger takes a shot against Manhattan Christian. (Scot Heisel/Lake County Leader)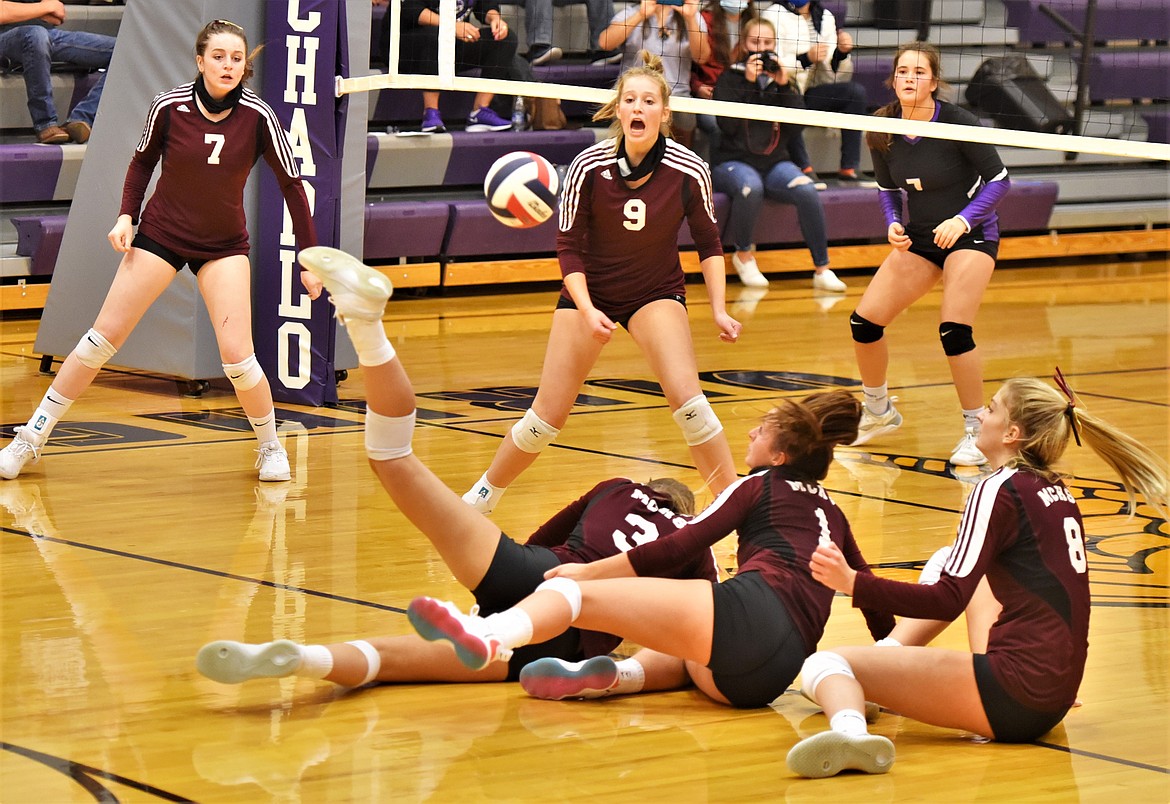 Manhattan Christian players hit the floor Thursday night in Charlo. (Scot Heisel/Lake County Leader)
Previous
Next
|
November 9, 2020 12:05 PM
After sweeping Shields Valley in their opening match of the Western C divisional tournament on Nov. 3, the Charlo Lady Vikings earned themselves a showdown with the defending state champion Eagles of Manhattan Christian at home on Thursday night.
The match was bookended by a pair of lopsided sets in favor of the Eagles, but Charlo showed its prowess in the two middle sets. The Lady Vikings' back line was strong, digging out more shots than not and keeping crucial points alive. And they had to be good because the Eagles really bring the heat.
Manhattan Christian features a trio of heavy-hitting 6-footers — juniors Hailey VanDyken and Kiersten VanKirk, and Kiersten's "little" sister, freshman Katelyn VanKirk.
The Eagles came into the match undefeated and having lost just three sets all season, including two in their season-opening match.
After losing the first set 25-10, Charlo had a better time in the second but ultimately fell 25-20. The Lady Vikings' true victory of the night came in the third set. After stumbling to an early four-point deficit, Charlo climbed back into it, thanks it part to consecutive aces by junior Kassidi Cox, and pulled to within two at 11-9.
The teams battled from there, with senior Carlee Fryberger stringing together some kills and other Lady Viking shots finding the floor in all the right places. After a 16-16 tie, neither team led by more than two points the rest of the set. Fryberger landed four kills down the stretch to propel Charlo to a 26-24 win.
The Lady Vikings savored the moment.
Then the Eagles came back with a vengeance and seized the final set, 25-6.
"We haven't seen a blocker or a hitter like that almost all season long, and so for them to be able to battle and take a game from the returning state champion -- heck yeah," said head coach Rhondell Volinkaty after the match. "We adjusted for that all week long. They can hit the ball and they hit it down.I couldn't be prouder."
Charlo recorded 31 kills, 18 of them from Fryberger. Connor Fryberger had 19 of Charlo's 29 assists to go with nine digs. Cox hit four of the Lady Vikings' seven aces on the night.
The Eagles recorded 46 kills, including 20 from Kiersten VanKirk and 15 from Katelyn VanKirk
The loss left Charlo needing two wins to get to state.
Hello, old friend
After the semifinal loss to Manhattan Christian, Charlo took their home court again Saturday night for a loser-out match against conference rival Hot Springs, whom the Lady Vikings swept for the district title a week earlier.
Charlo again had their way with the Savage Heat, winning 25-6, 25-16, 25-14.
Leads early on in each set allowed coach Volinkaty the luxury of playing some younger players and building on her team's depth.
"I was happy to have a chance to get some playing time for some younger players, Volinkaty said afterward. "Tournament time is hard, and it's always good to get those girls some experience."
Kassidi Cox had 11 of Charlo's 33 kills, while Carlee Fryberger added 10. The duo also logged eight digs apiece. Fryberger added a team-high six aces. Connor Fryberger led the team with 20 assists.
Win or go home
Charlo's final test before advancing to the class C state tournament in Malta came Monday night, when they hosted Lone Peak in a 2nd/3rd challenge game. Lone Peak had lost in straight sets to Manhattan Christian in the Western C divisional championship game Saturday, leaving the door open for Charlo.
The Lady Vikings won 25-19, 26-24, 18-25, 25-21 to claim the state berth. No stats for the game were available by press time.
Charlo opens the state tournament against Plentywood at 4 p.m. Thursday.
The trip to state comes in the wake of a two-week coronavirus quarantine that wiped out several of the team's final regular-season matches and nearly derailed their postseason quest.
All state volleyball tournaments originally were scheduled to take place in Bozeman, but the pandemic forced officials to reschedule all three classes for separate sites.
Western C consolation (gm7)
(#1) 14C Charlo def. (#2) 14C Hot Springs 3-0
Charlo (17-2), Hot Springs (14-7)
Charlo def. Hot Springs 25-6, 25-16, 25-14
KILLS – HS8 (Katelyn Christensen 4), C33 (Kassidi Cox 11, Carlee Fryberger 10). ACES – HS5 (Lizzy Fisher 2), C15 (Car.Fryberger 6). ASSISTS – HS4 (Savanna Roosma 2), C30 (Connor Fryberger 20). BLOCKS – HS6 (K.Christensen 4), C2 (MollyKate Sullivan 2). DIGS – HS24 (K.Christensen 9), C41 (Kass Cox 8, Car.Fryberger 8). (Sa07Nov20gm7div)
Semifinal (game 5)
(#1) 12C Manhattan Christian def. (#1) 14C Charlo 3-1
Charlo (16-2) , ManhC (23-0)
Manhattan Christian def. Charlo 25-10, 25-20, 24-26, 25-6
KILLS – MC46 (Kiersten VanKirk 20, Katelyn VanKirk 15), C31 (Carlee Fryberger 18). ACES – MC17 (Ka.VanKirk 6, Ki.VanKirk 4), C7 (Kassidi Cox 4). ASSISTS – MC42 (Taylor DeVries 35, Ki.VanKirk 3), C29 (Connor Fryberger 19, Kass Cox 7). BLOCKS – MC13* (Hailey VanDyken 4, Taylor Devries 3), C1 (Car.Fryberger). DIGS – MC67 (Maddie Visser 16, Ka.VanKirk 13, Ki.VanKirk 13), C46 (MollyKate Sullivan 11, Con.Fryberger 9, Car.Fryberger 8). (Th05Nov20gm5div)
Asterisk (*) denotes stat variant(s) where alternate data exists - MH:B8 (VanDyken 5b).
Charlo def. Shields Valley 3-0
Charlo (16-1), Shields Valley (10-8)
Charlo def. Shields Valley 25-21, 25-19, 25-9
KILLS – SV11 (Jaeli Jenkins 9), C27 (Carlee Fryberger 15). ACES – SV9 (Perry Dominick 3), C11 (Kassidi Cox 5). ASSISTS – SV10 (Gwen Collins 10), C23 (Connor Fryberger 13, Kass Cox 10). BLOCKS – SV3 (Josie Boyd, P.Dominick, Morgan Fairchild), C2 (MollyKate Sullivan, Con.Fryberger). DIGS – SV33 (Tyler DeFord 15), C30 (Car.Fryberger 7). (Tu03Nov20gm2div)
Western C challenge (gm9)
(#1) 14C Charlo def. (#3) 12C Lone Peak 3-1
Charlo (18-2), Lone Peak (15-4)
Charlo def. Lone Peak 25-19, 26-24, 18-25, 25-21
KILLS – LP27 (Hannah Driesbach 9), C41 (Kassidi Cox 17, Carlee Fryberger 13). ACES – LP13 (Maddie Cone 5 ), C10 (Car.Fryberger 4). ASSISTS – LP26 (Ivy Hicks 26), C39 (Connor Fryberger 29, Kass Cox 9). BLOCKS LP7 (JJ Nardhal 4), C4 (Hayleigh Smith 2). DIGS – LP50 (Chloe Hammond 22), C78 (Car.Fryberger 19, Con.Fryberger 15, MollyKate.Sullivan 13, Katelyn Young 11). (M09Nov20gm9div)
---