Lady Pirates hold off Ronan for trip to state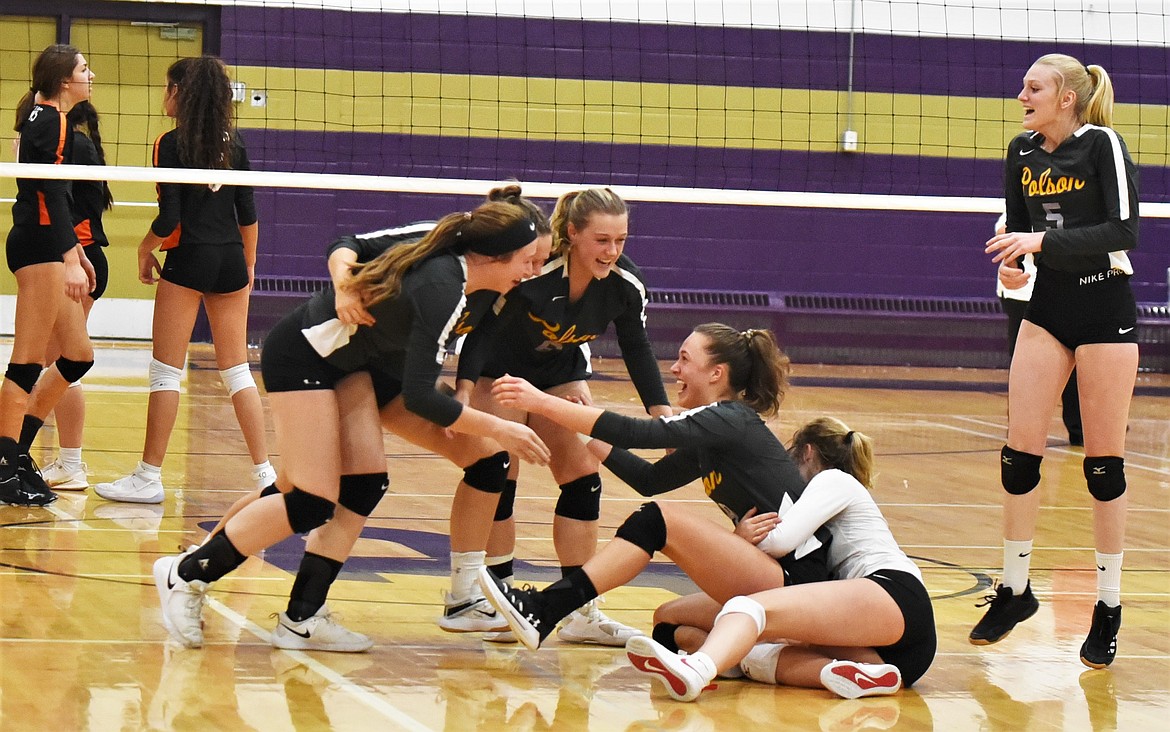 The Lady Pirates celebrate after clinching a trip to state with a four-set win over Ronan at home on Friday. (Scot Heisel/Lake County Leader)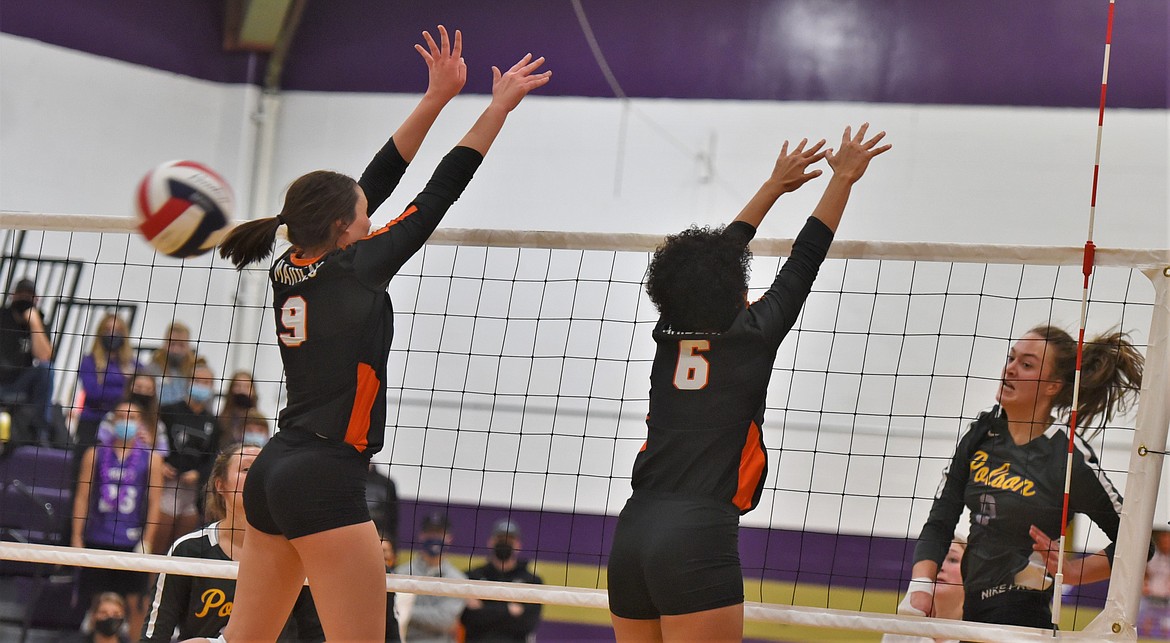 Polson's Maggie Todd blasts one by Ronan defenders Madeline McCrea (9) and Adrianna Tatukivei (6). (Scot Heisel/Lake County Leader)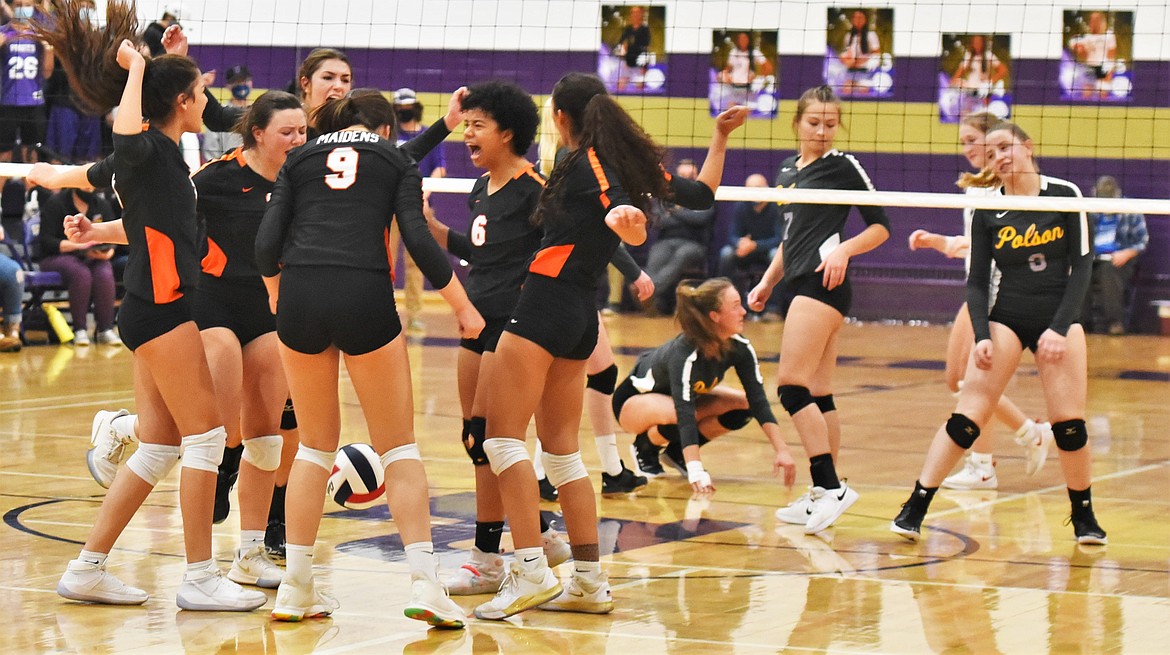 The Maidens celebrate after winning a point Friday night in Polson. (Scot Heisel/Lake County Leader)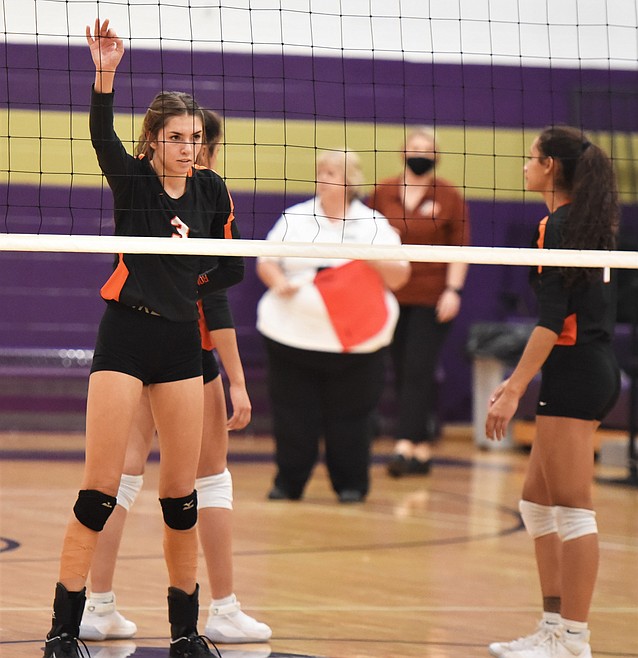 Ronan's Olivia Clairmont signals her teammates prior to a serve Friday night in Polson. (Scot Heisel/Lake County Leader)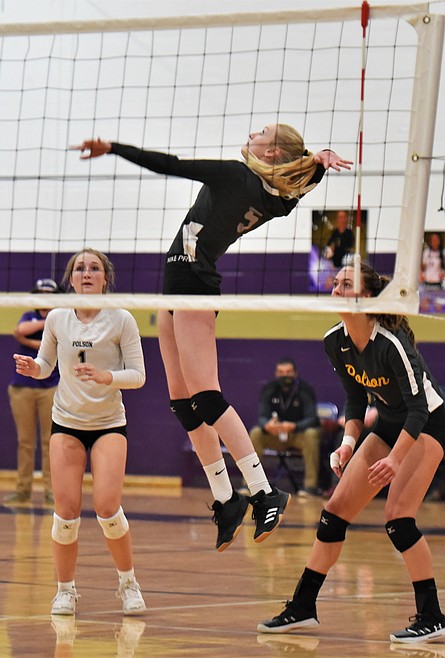 Hallie Moss rises for a big hit against Ronan. (Scot Heisel/Lake County Leader)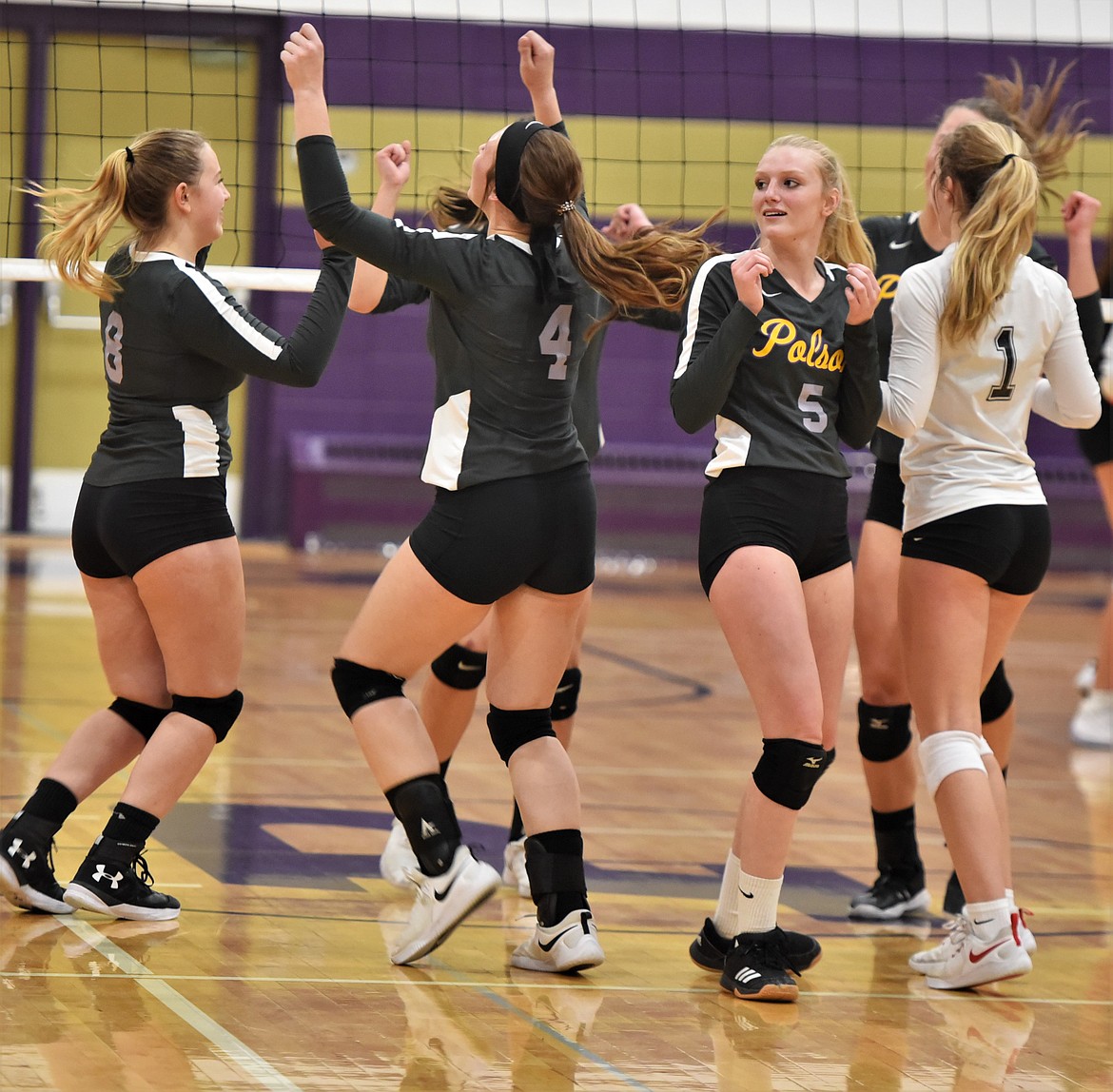 Polson kept things light with a little dancing during a break. (Scot Heisel/Lake County Leader)
Previous
Next
by
SCOT HEISEL
Lake County Leader
|
November 9, 2020 12:30 PM
The Ronan/Polson volleyball rivalry saw one of its most crucial matches in recent memory Friday when the Maidens, fresh off a win at one-loss Corvallis, visited a strong Lady Pirates squad with a trip to the class A state tournament on the line.
Both teams were on a roll heading into the Western A semifinal match. The Maidens were on a two-game win streak following a home win over Libby and the Bitterroot Valley road win the previous night in the opening round of divisional play. Meanwhile, the well-rested Lady Pirates were coming off a five set win over Hamilton the previous night.
The teams had met twice previously during the regular season. Each had come away with one win. Each had won four sets. And each had scored exactly 182 points.
After four hard-fought sets Friday in front of Lake County's largest crowd of this virus-plagued season, the night's celebration fell to Polson as the Lady Pirates won 25-21, 25-22, 24-26, 25-21.
Neither team led by more than two points through the first half of the initial set, which sat tied at 11-all before Polson established a cushion of five to six points and held on to take the set. The Maidens rallied late, helped by three straight kills from junior Olivia Clairmont, but it wasn't enough. Clairmont finished with 10 kills and five blocks for Ronan.
The Maidens bounced back and jumped out to a 6-1 lead in the second set, a lengthy point streak ending on a shot by Ronan junior Rylie Lindquist that landed just wide. Polson clawed back to tie things at nine-all, and the two sides battled point for point to the end. Up 23-21, the Lady Pirates got a boost from a Kobbey Smith shot that fell just in bounds, and Polson was able to slam the door for a two-set lead.
Ronan again pulled out to a 6-1 lead in the third set, but Polson got back on track when Maggie Todd got a point on a block of a Madeline McCrea kill attempt. The two were the top hitters of the match, with Todd logging a team-high 21 kills for Polson and McCrea leading Ronan with 14.
Polson again fought back and tied the match at 19-19. From there the teams tied at 20, 21, 22, 23 and 24. Down 24-23 and facing match point, the Maidens got an ace from Clairmont, and another up 25-24 to get a set back for Ronan.
The Lady Pirates held the kill advantage on the night, 41-30, with Smith contributing 11 and Hallie Moss adding four. Ronan got three from LaReina Cordova and two from Leina Ulutoa, who also recorded 26 assists.
The final set was tight through the first half, with a McCrea kill pulling Ronan to within a point at 13-12. Polson pulled ahead again on a string of kills, two from Todd and one each from Moss and Liz Tolley.
Polson held a 22-15 lead, but Ronan reeled off six straight points to bring it to 22-21 before the Lady Pirates closed out the match and the celebration on their home court began.
On defense, Lindquist had 27 digs for the Maidens, while Ara Mercer logged an eye-popping 47 digs for the Lady Pirates. Polson also got 15 digs from Todd, 14 from Smith and 10 from Berkley Ellis.
"Maggy played awesome. Maggy at the net was great," Polson head coach Lizzy Cox said after the match. "And our defense. Ara Mercer, she dug some balls. Everyone matters, but those two girls I think carried the team tonight."
The win secured Polson a top-two finish in the divisional tournament, and after a loss to Columbia Falls on Saturday night (see related story) they head to the class A state tournament, which opens Thursday at Sidney. Polson faces Glendive at 2 p.m. in the opening round.
On Friday, Ronan head coach Lacey Phelan said she was proud of her team, but there's just something about the rivalry that her girls need to overcome.
"I think that this rivalry is in their head. I think we come in waiting for the worst to happen and we're always on our heels. State championship teams can fight through that, so we've got to learn.
"Polson played great," she added, "They dug well, they hit well."
It was the Maidens' third match in three nights, with two on the road, but Phelan didn't think fatigue was a factor.
"I run them into the ground. They're in shape," she said.
The Maidens bounced back with a road win Saturday (see related story) to secure their own trip to Sidney, where they'll take on Billings Central in the first round of the state tournament at 4 p.m. Thursday.
Western A semifinal
Polson def. Ronan 25-21, 25-22, 24-26, 25-21
KILLS – R31 (Madeline McCrea 14, Olivia Clairmont 10, LaReina Cordova 3, Adrianna Tutukivei 2, Leina, Ry), P40 (Maggie Todd 21, Kobb 11, Hallie 4, Ara 2, Liz Tolley, Mckenna Hanson). ACES – R6 (Liv 2, Ry, Leina, MM, Adri), P9 (Chloe DuCharme 3, Kobb 3, Hallie 2, Mags). ASSISTS – R (Leina Ulutoa 26), P35 (Berkley Ellis 18, Hallie Moss 17). BLOCKS – R10 (Madeline McCrea 2BS6BA, Olivia Clairmont 5BS), P6 (Mags 2, Hallie, Liz, Kenna, Grace Simonich). DIGS – R (Rylie Lindquist 27), P98 (Ara Mercer 47, Mags 15, Kobb14, Berk 10, Kenna 7, Hallie 4, Grace).
---