Football: Chiefs make strides, aim to build toward the future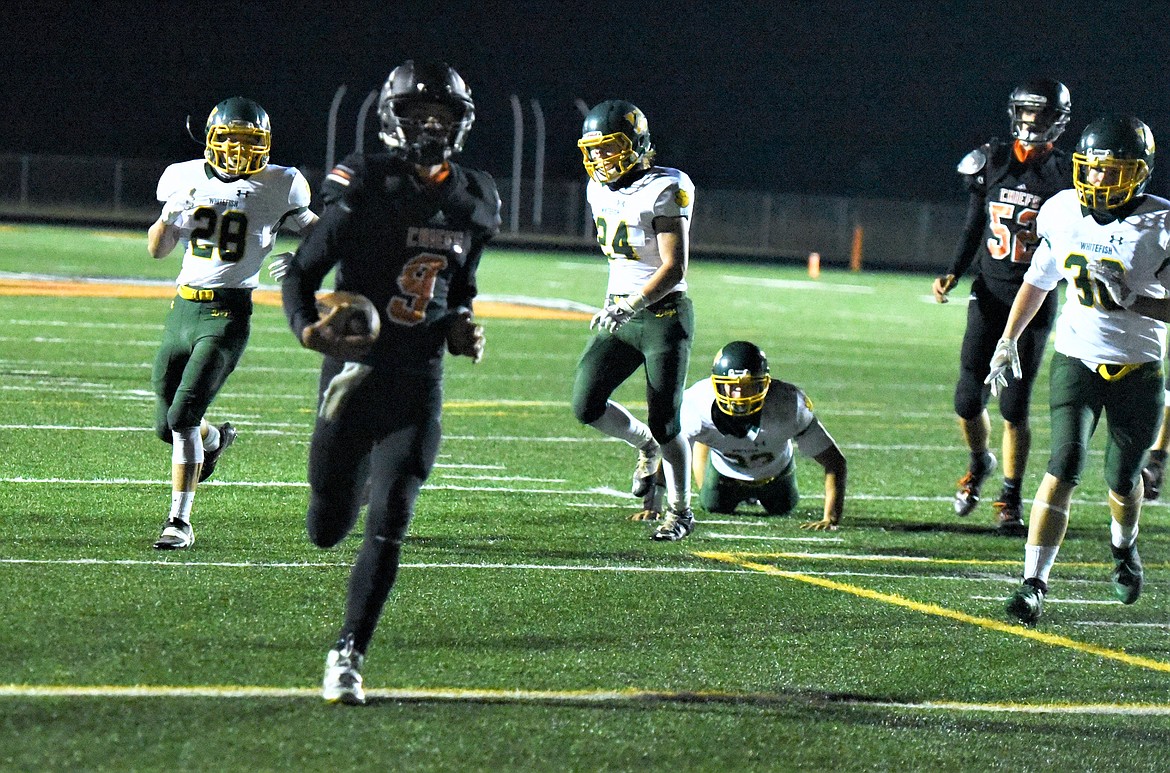 Daniel Kelsch scores the Chiefs' first touchdown on a quarerback keeper in the third quarter. (Scot Heisel/Lake County Leader)
Scot Heisel/Lake County Leader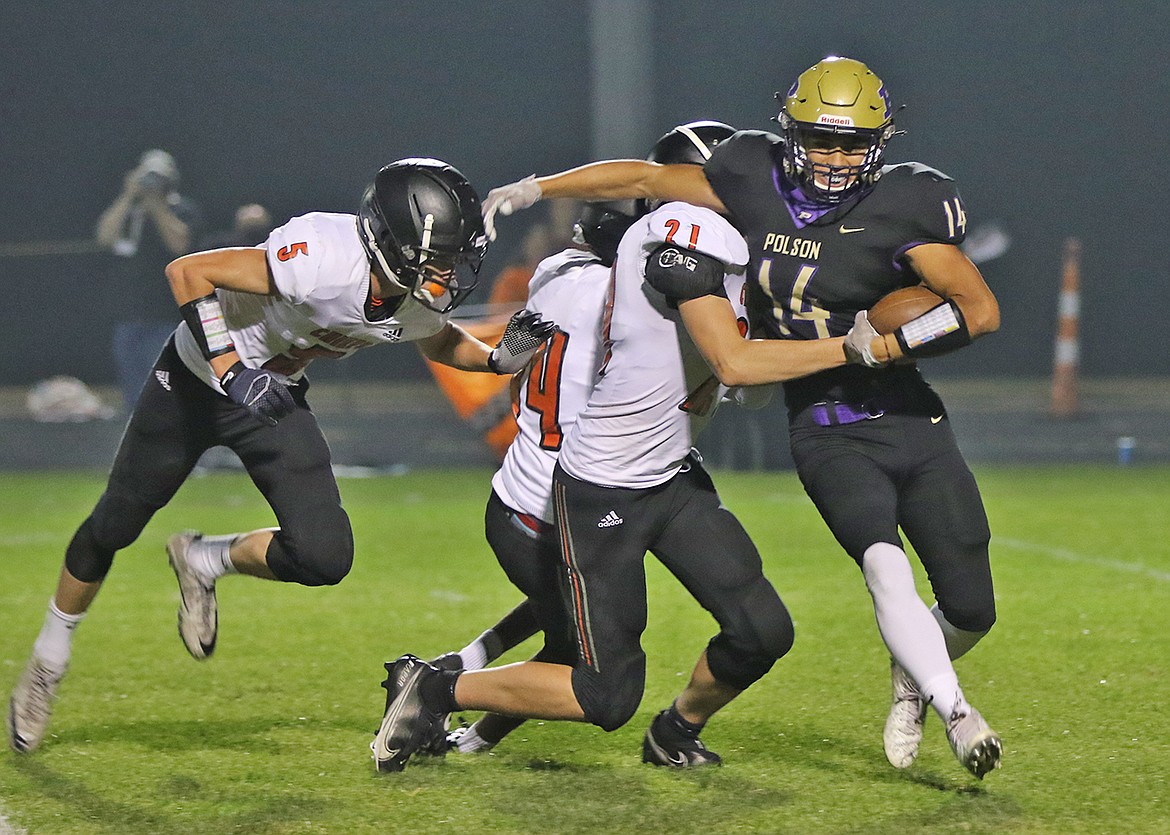 Ronan defenders Payton Cates (21), Trapper McAllister (5) and Owen Blixt Pirates' converge on the Pirates' Jony Perez (14). (Bob Gunderson)
Previous
Next
by
John Heglie, special for the Leader
|
November 17, 2020 2:15 PM
The Ronan Chiefs football program saw measurable improvement this year over preceding seasons. They increased their win total to a large extent on the strength of making incremental adjustments in the execution of basic fundamentals. The team generated over 2500 yards in total offense while accruing more than 3000 all purpose yards.
Senior quarterback Daniel Kelsch had a wide array of targets to choose from that extended beyond a half dozen who caught more than a hundred yards each. His main outlet was receiver Trapper McAllister, who caught close to fifty passes for almost 600 yards.
Kelsch was the team leading ground gainer for the Chiefs this past season. But rushers Bruin Largent and Daniel Bishop both attained century club credentials from the backfield to supplement his scambling and quarterback keepers.
While this quartet of seniors graduate, the program hopes to build upon their legacy over the course of upcoming seasons.
Kelsch wraps up his prep career having surpassed 3000 yards of total offense. Both McAllister and Bishop surpassed the millenial mark for cumulative prep career all purpose yardage, while Largent rushed for over 500 yards over the course of two seasons.
On defense, seasoned seniors McAllister, the doubled D dual Daniels of Kelsch along with Bishop, Largent, Jayden Rodda, Jessie LittleBoy, the Dylan duo of Kelch along with Davis and Jeremy Uhrich combined for at least 15 interceptions, ten fumble recoveries, a half dozen sacks, around two dozen tackles for loss as well as collaborated on hundreds of solo tackles and tackle assists.
Chiefs head grid coach Matt Detwiler and his coaching staff aim to use this season to build toward a future where they can not just elevate the level of their competitiveness, but also start to push some of the more established programs around the state.
[fine sports font agate for stat specs below]
2020 Ronan Chiefs FB stat pack (3-6) (2019:1-8; 2018:1-7; 2017:2-6)
RUSH – 258-969 (D.Kelsch 129-462, Bruin Largent 57-197, Daniel Bishop 33-148, T.McAllister 19-96, Tristan Fisher 9-41, C.Cornwell 2-10, Mason Clairmont 2-8, Jay.Rodda 2-6, C.Cheff 2-3, Trenton Burland 2-2, Ted Coffman 1-(-4)).
PASS – 119-248-1540-16 (Daniel Kelsch 112-234-1419-16, C.Cheff 6-13-87, D.Bishop 1-1-34).
RECEIVE –119-1541 (Trapper McAllister 47-587, Girma Detwiler 12-199, Colter Cornwell 10-194, Caleb Cheff 11-190, D.Bishop 14-158, B.Largent 17-127, Jayden Rodda 4-39, James Kenelty 4-47).
KR – 29-543 (C.Cornwell 7-193, C.Cheff 5-142, J.Kenelty 7-87, D.Bishop 5-71, T.McAllister 3-40, T.Burland 1-10, Jesse Richey 1-0). PR – 13-59 (C.Cheff 11-32, C.Cornwell 2-27).
14INT (D.Kelsch 4, C.Cheff 3, T.McAllister 3, C.Cornwell 2, Jay.Rodda 2). 2PD (T.McAllister 2). 12FR (Payton Cates 3, D.Bishop 2, T.Fisher 2, D.Kelsch, J.Kenelty, Dylan Kelch, Jasen Rodda, Max Morency). 4FF (P.Cates 3, D.Kelch). 7SK (P.Cates 2, D.Kelch 2, D.Bishop, T.Burland, D.Kelsch). 19TFL (D.Bishop 4, D.Kelsch 3, D.Kelch 3, T.McAllister 2, C.Cornwell 2, P.Cates, T.Burland, T.Fisher, Jas.Rodda, Jay.Rodda). TKL/AST: *159t326a (T.McAllister 35t29a, Da.Kelsch 25t39a, C.Cheff 15t48a, D.Bishop 18t30a, T.Fisher 14t38a, P.Cates 6t26a, Jasen Rodda 6t26a, Dy.Kelch 8t16a, Jay.Rodda 5t17a, C.Cornwell 10t6a, J.Kenelty 5t9a, B.Largent 2t9a, Jesse LittleBoy 2t6a, Lathan Anderson 1t6a, Dylan Davis 1t6a, M.Clairmont 2t2a, G.Detwiler 2t1a, Hunter Learn 4a, T.Burland 1t1a, M.Morency 3a, Robbie McCrea 3a, Ted Coffman 1t, Coleton Sherman 1a).
Asterisk (*) denotes stat variant(s) where alternate data exists - TKL/AST:R(164t319a): MaxPreps Rodda conflation w/ duplicate #85 entries
Cumulative prep career (2020-17)
Daniel Kelsch (Pass: 139-312-1793-23; Rush: 204-786; Rec: *38-448; KR: 3-15; DEF: 5INT, 2FF, 4FR, 2SK, 4TFL, 67t61a = 3027ty), Bruin Largent (Rush: 125-515; Rec: 21-143; KR: 1-10; DEF: 1FR, 1FF,1SK, 3TFL, 17t36a), Daniel Bishop (Rush: 108-500; Pass: 1-1-34; Rec: 28-311;KR: 109-310; PR: 12-72; DEF: 2INT, 2FR, 3SK, 6TFL, 72t81a = 1193apy), Trapper McAllister (Rec: 54-682; Rush: 44-168; KR: 36-506; PR: 7-25; DEF: 5INT, 2PD, 1FR, 1FF, 4TFL, 67t61a = 1381apy), Jayden Rodda (REC: 4-39; RUSH: 2-6; KR: 4-41; DEF: 1INT, 2TFL, 13t26a), Dylan Kelch (DEF: 1INT, 1FR, 1FF, 2SK, 4TFL, 15t20a), Jessie LittleBoy (DEF: 1FR, 1FF, 12t31a), Dylan Davis (DEF: 1INT, 1t10a).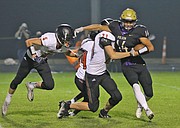 ---