Soccer: Lady Pirates' battled through difficult season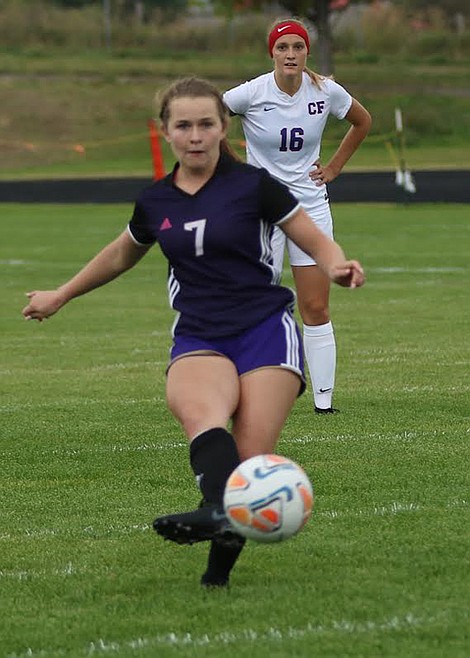 Polson's Sophia Moderie returns to help lead the Lady Pirates in 2020. (Bob Gunderson file photo)
by
John Heglie, special for the Leader
|
November 17, 2020 11:30 AM
Polson Lady Pirate girls soccer held great expectations for 2020. The senior seasoned squad had accrued both skill and experience that would culminate in their final prep hurrah. The last team to amass this many seniors was the 2016 Lady Pirates that almost succeeded in bringing the first ever championship to Polson when they tied then multi-season defending champion Billings Central in regulation of the State A semifinal, then held them scoreless through two ensuing overtime periods to force a shootout. The Lady Rams would barely edge Polson on penalty kicks 3-2 to advance to yet another final, but not before they had been battled to the brink of elimination in ways few western teams had pushed them.
Polson preseason preparations didn't quite materialize according to plan. Valuable offseason spring soccer competition ordinarily plays a vital role in honing their edge for Fall competition. But virus pandemic precautions cut that season short. The typical two weeks of Fall season nonconference competition was likewise affected when it was cut in half, further altering their planned trajectory to reach a crescendo at the optimal time.
Consequently, it wasn't that surprising that the team seemed to start the season a little flat, further exacerbated by nagging injuries. But team LP continued to make adjustments despite some ebb and flow, gearing itself up as the weeks progressed. But as the regular schedule was winding down to its close, the unimaginable waylaid their expectations to reach their peak. Contact tracing virus precautions would sideline the squad under quarantine just before its homecoming match with Bigfork, a crucial match whose outcome held playoff berth implications for both squads. The team would never get a chance to see whether they could attain their potential. Their opponent would advance to the postseason in their stead by default rather than dispatched by defeat. The turn of events would have been a distasteful dose of medicine for any team, but even more so for a senior laden roster whose career has culminated.
Its hard to imagine which scenario might be worse. Denied a chance to play a game with playoff berth implications, or qualify for the postseason only to thereafter be forced to forfeit your berth because you can't field a team with enough players on account of either contact tracing quarantine precautions or CoViD cases themselves like Loyola-Sacred Heart.

The Lady Pirates graduate nine: defenders Grace Hobbs along with Chloe Matt, midfielders Lilly Armstrong, Ali Hupka, Sarah Kinzle as well as Paige Mergenthaler, forwards Autumn Burland along with Kyla Heiser and goalkeeper Megan Rost. These nine accounted for half the offensive firepower this past season.
---