Soccer: Polson players earn postseason accolades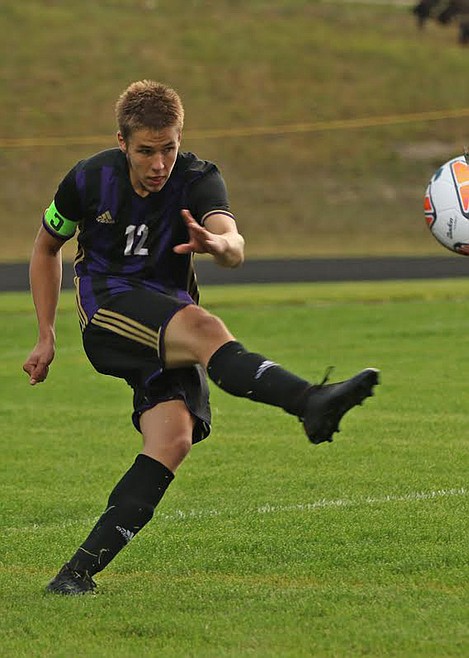 Polson's Austin Luper is one of the Pirate's key returnees for the 2020 season. (Bob Gunderson file photo)
by
John Heglie, special for the Leader
|
November 17, 2020 12:00 PM
Mission Valley area soccer reaped a half dozen players acknowledged for their proficiency on the pitch this past season. The Polson soccer program saw a pair of Pirate boys and a quartet of Lady Pirate girls named to the all-conference honors list.
All-state senior defender Austin Luper amplified the defense, short circuiting opponent power plays attempting to penetrate Pirate fortifications. Luper was also more than capable of flipping the switch to an electrifying presence on offense with jolts from his boot upon the opposing goal. Eighth among the list of first-teamers, Luper was first in line as recipient of bonus all-state distributions when two conference teams made the semifinals. This was the second postseason acknowledgement for Luper, a second-team pick last season.
All-conference honorable mention junior forward Kaden Nelson has been the leading scorer for the Pirates the past two seasons. Nelson stratified among the top ten statewide for points per match among Class A competition.
The Lady Pirates placed a quartet on the postseason accolades list.
The lockdown intervention of defender Grace Hobbs earned her all-conference second-team recognition for her suffocating defense. Hobbs exemplified cross disciplinary application of geometry to real life situations, applying appropriate angles of intercept that would hobble opponent scoring attempts by clearing the ball out of harms way.
Also earning second-team recognition is sophomore midfielder Tia Mercer, who tied tenth among the the top ten list of statewide Class A scorers for points per match. Mercer emerged as the team leading scorer after she erupted for a double brace (4g) along with five assists that factored into the lions share of the shutout win over Libby. That performance invoked the essence of "That's the T" with associated gesture which USWNT's Alex Morgan employed after a decisive header goal against England in the 2019 World Cup semifinal.
The footwork finesse of junior forward Sophia Moderie earned her a second-team nod among the all-conference list. This was the third postseason honor for Moderie, an all-state selection last season.
Also named to the second team was senior forward Autumn Burland. As third leading scorer for the Lady Pirates, Burland also stratified within the top twenty among statewide Class A scorers. This is the second all-conference accolade for Burland, likewise a second-team selection last season.
Girls
(2nd-team): Grace Hobbs, Sophia Moderie, Tia Mercer; (honorable mention): Autumn Burland.
Boys
(All-state/first-team): Austin Luper; (honorable mention): Kaden Nelson
---