Soccer: Pirates showed big improvement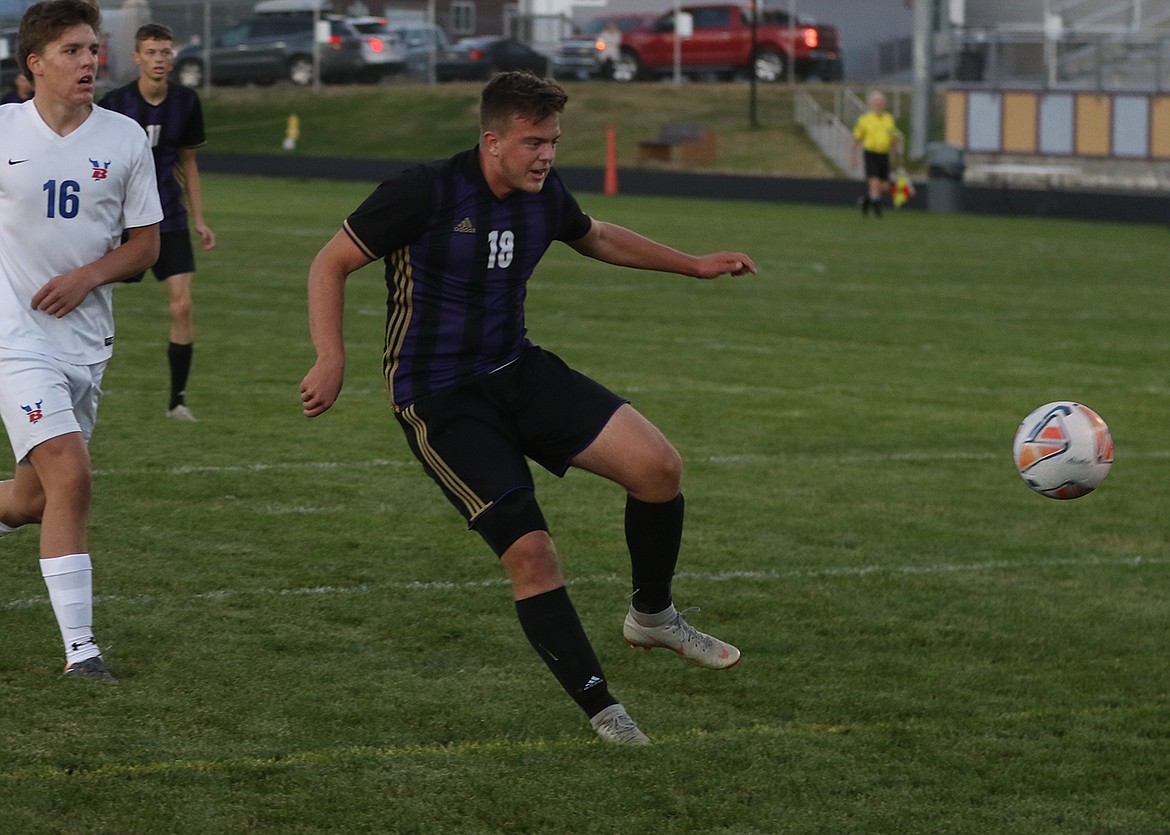 Kaden Nelson drives a goal-scoring strike against Bigfork. (Bob Gunderson)
by
by John Heglie, special for the Leader
|
November 17, 2020 11:45 AM
The fall 2020 Polson Pirate boys soccer season could be encapsulated under the double A rubric of adaptation and adjustment.
The season began with several unknowns, some of greater significance than others. The uncertainties about playing during a pandemic posed the challenge of navigating through uncharted territory. Adjusting to new role distribution would bear some impact, though only two vacancies would need to be addressed from preceding season graduations. Perhaps one of the more significant changes would be reorienting to coaching style modifications introduced by new coach Paul Patterson that would differ from those of the five year tenure of predecessor Adam Fansher.
But the Pirates managed to navigate their way through these obstacles while almost punching their ticket back to the postseason had windy weather not provided their opponent with the functional equivalent of a twelfth player. The progress and growth among some of the players from the start of the season to its conclusion in some cases bordered close to exponential. Segments of second half competition exhibited a caliber and quality comparable to some of the best teams throughout the state. Continuity throughout the entire course of the contest was all that was really lacking. But it is tough to make headway in a conference that features two teams that compete against one another for the state championship.
The 2020 Pirates graduate a half dozen that include defenders Austin Luper along with Zevan Walker, midfielders Elijah Taylor, Keith Erickson as well as Landin Zimmerer and keeper Tristan Clifford.
2020 Polson Pirates (2-5-1, 2-7-1) (+19/-36)
Fall2020bsc (19g21a) – Kaden Nelson 11g1a, Keith Erickson 3g4a, Elijah Taylor 2g5a, Landon Becker 1g2a, Ashten Nelson 1g1a, Anthony Lichtenberg 1g, Austin Luper 2a, Braedon Iliff 2a, Cade Lanier 2a, Tristan Snyder 1a, Zevan Walker 1a.
bscMHSA cumulative prep career – Kaden Nelson 21g4a(>66s44h), Elijah Taylor 4g6a, Tray Lichtenberg 1g5a, Landon Becker 1g4a, Austin Luper 2g2a, Cade Lanier 1g2a, Tristan Clifford 2g(>69s5k25h), Zevan Walker 1g1a.
State A boys soccer playoffs
Championship (Sa31Oct20)
(1N) Whitefish 3, (2N) C-Falls 0
Semifinals (Sa24Oct20)
Whitefish 6, Corvallis 0
C-Falls 2, BlgsC 1
Quarterfinals (16-17Oct20)
C-Falls 2, Frenchtown 1
BlgsC 3, Bigfork 1
Whitefish 3, Lone Peak 0
Corvallis 3, Park 2 (SO 5-4)
play-in
Corvallis 4, Loyola 1
2020 Northern A boys soccer
Whitefish (7-0-1, 13-0-1)
C-Falls (6-1-1, 11-2-1)
Bigfork (3-4-1, 3-7-2)
Polson (2-5-1, 2-7-1)
Libby (0-8, 0-10)
---