Polson's Trevor Lake signs to play football for UM-Western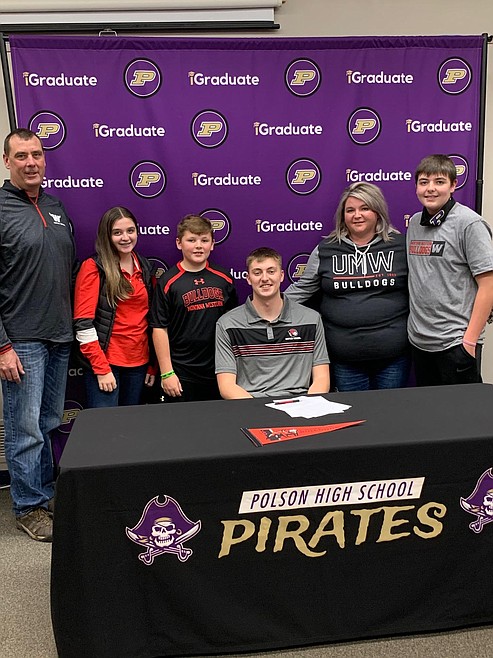 Polson High School senior Trevor Lake signed a letter of intent to play football with the UM-Western Bulldogs at Dillon. Pictured, left to right, are Tim Lake, Madison Lake, Ryan Lake, Trevor Lake, Chanel Lake, Chris Lake and Pirates head coach Kaden Glinsmann. (courtesy of Betsy Wade)
by
John Heglie, special for the Leader
|
November 18, 2020 4:00 AM
Trevor Lake set one of the stepping stones of his future in place by signing a letter of intent to attend the University of Montana-Western in Dillon. He will be extending his prep athletic career to the collegiate level playing football for the Bulldogs.
A multi-sport athlete, Lake competed in basketball and baseball along with football over the course of his high school tenure.
During the past two grid seasons competing at the varsity level, his imposing 6-5 frame forced the alteration of multiple pass trajectories during blitzes, while casting a large shadow during coverage of receivers encroaching upon the secondary.
This winter, he will culminate his fourth year of basketball where his on court contributions helped the Pirates advance to the State A tournament last season.
During the spring and early summer months, Lake has played baseball with the Mission Valley Mariners, where he pitches as well as covers both infield and outfield.
Lake briefly entertained the prospect of playing baseball at the college level, but his passion for football would prevail. Programs at Montana State, University of Washington and Central Washington were considered. But the "Experience One" block scheduling at UMW of one course at a time, curriculum offerings with a degree major in mathematics education along with minor in coaching, coupled with a chance to play football with a quality program tilted the balance in favor of Dillon.
Lake acknowledges many influential role models who have helped shaped his decision. Among them include Polson High math teacher Polly Dupuis along with coaches Randy Kelley as well as Brad Fisher. Lake said, "I'm thankful for the people who have been supportive. I look forward to the next stage of my life which will included playing football for the Bulldogs." At this juncture, Lake intends to pursue a career in teaching with a focus upon math instruction that that includes coaching upon graduation.
---