COVID-19 shows no signs of slowing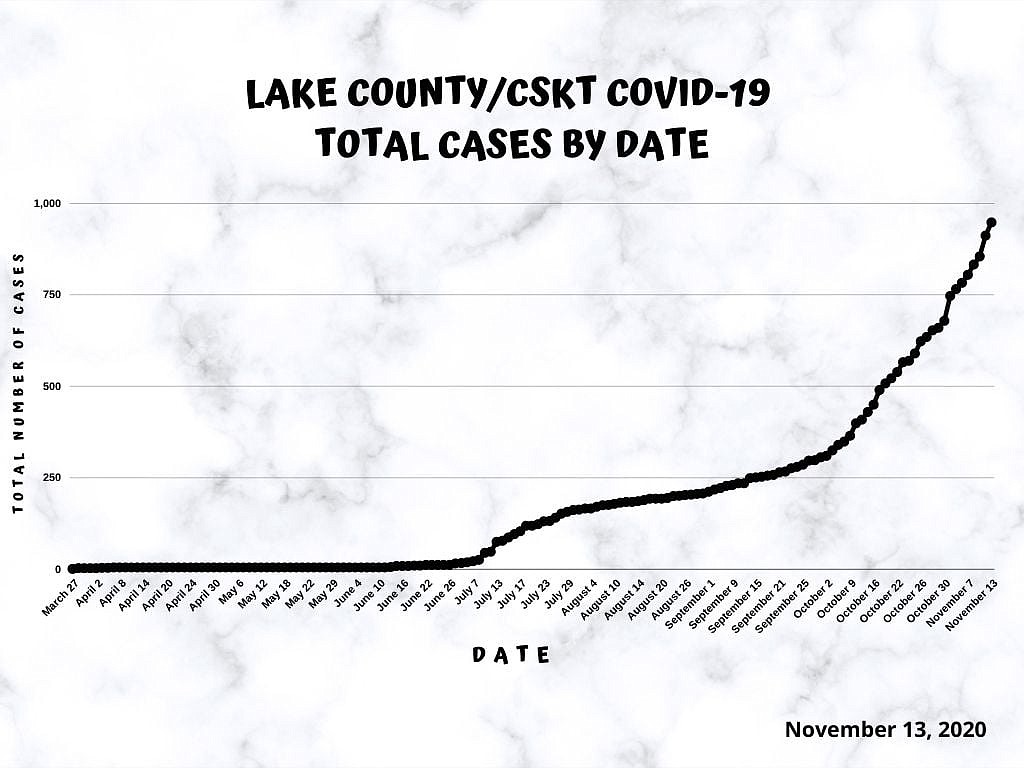 Total cases by date in Lake County through Nov. 13 (Lake County Public Health)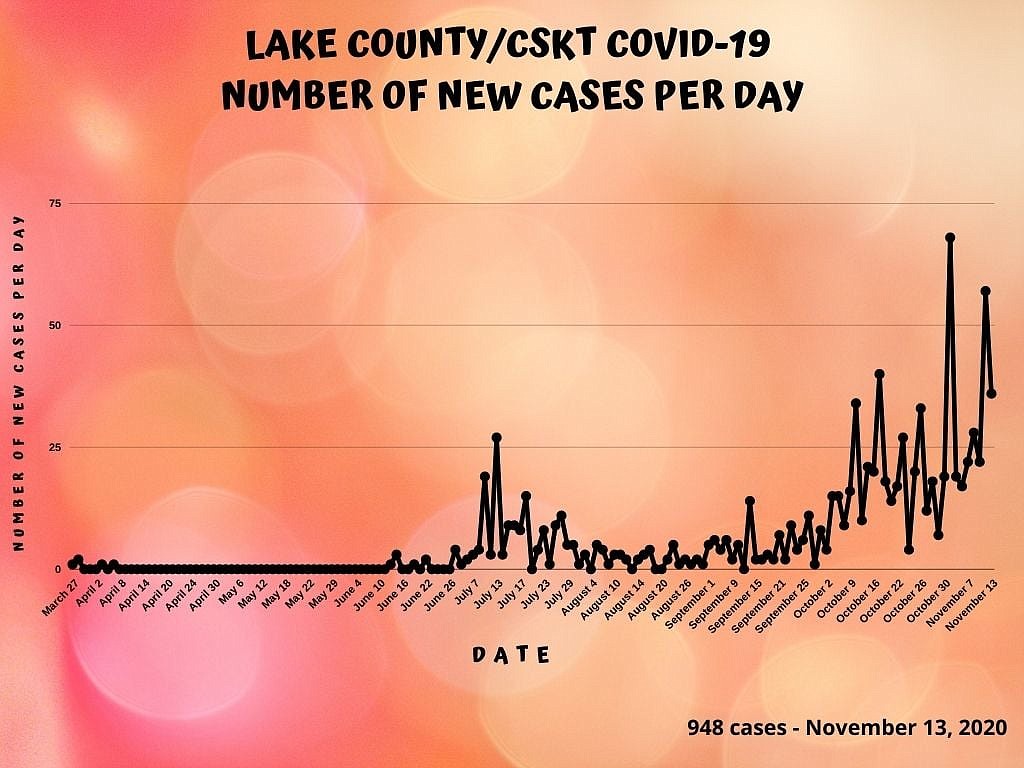 New cases by day. (Lake County Public Health)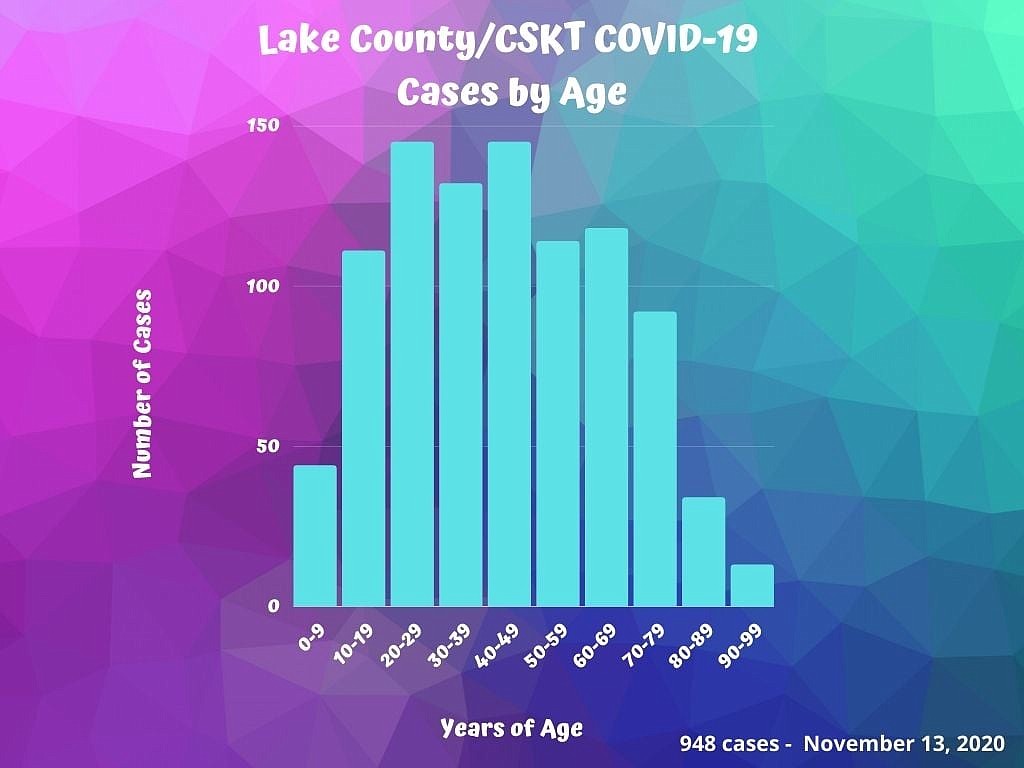 Cases by age group. (Lake County Public Health)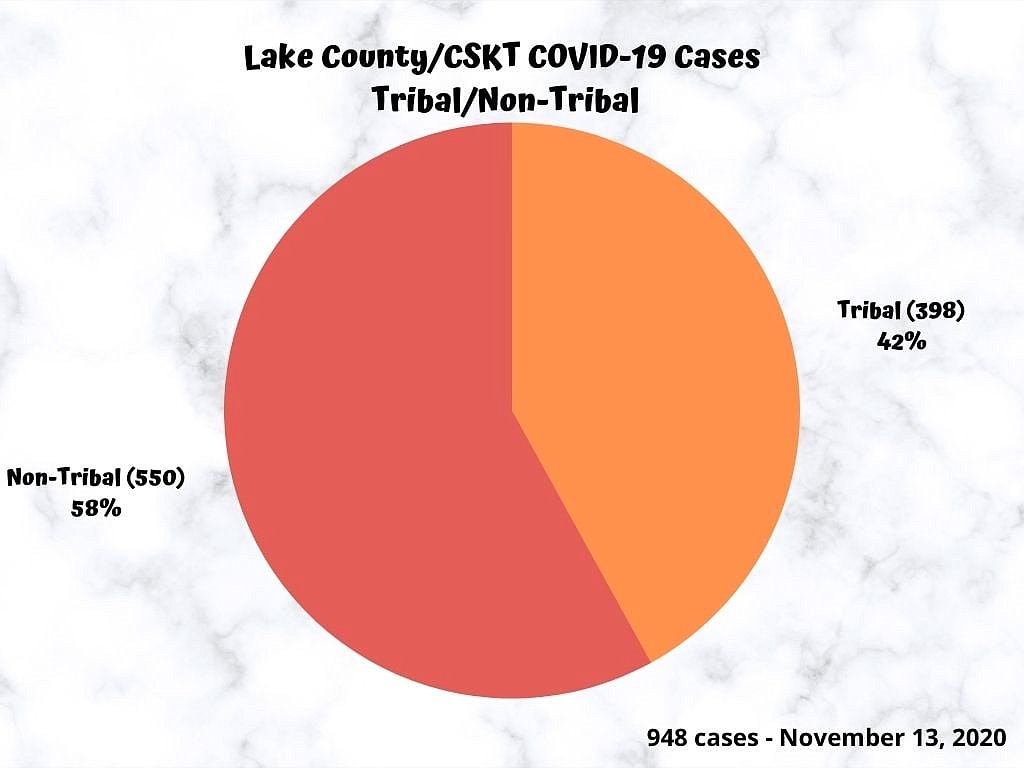 Cases among tribal residents vs. non-tribal. The 2010 census reported 22 percent of the county's population as Native American. (Lake County Public Health)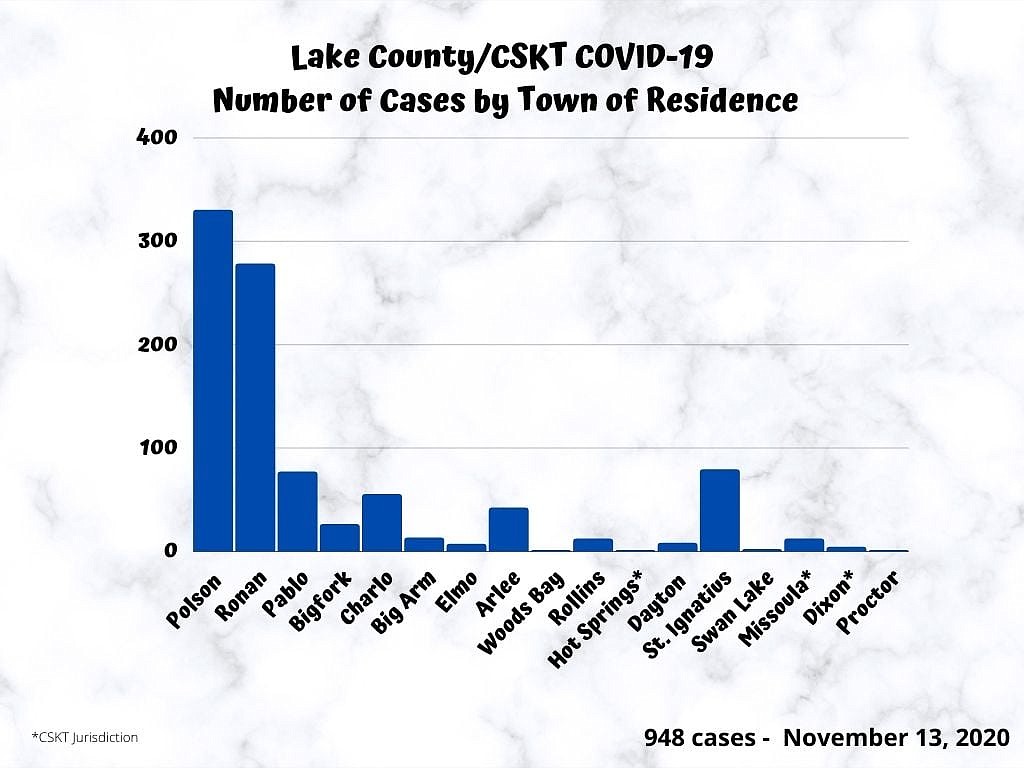 Cases by town. (Lake County Public Health)
Previous
Next
by
SCOT HEISEL
Lake County Leader
|
November 18, 2020 7:15 AM
The spread of COVID-19 throughout Lake County continues at a stiff pace, with 60 new cases being identified over the weekend and 160 new cases emerging the week of Nov. 9-16. The county's death toll rose by three last week, to a total of 10. County officials on Friday announced the death of a man in his 90s. That was followed by news of the virus-related death of a woman in her 50s on Monday and a man in his 90s Tuesday.
Nine of the county's 10 deaths were announced between Oct. 16 and Nov. 17, with five coming in October and four this month as of Tuesday morning. Additional details on the deaths are being withheld to protect the privacy of patients and their families.
Emily Colomeda, health services director at Lake County Public Health, said earlier this month that some of the deaths were part of an outbreak, but most are unrelated. On Monday she said Lake County has no assisted-living facilities with a known outbreak. Such facilities have proven to be particularly vulnerable to outbreaks. The Daily Inter Lake in Kalispell on Nov. 9 reported 40 confirmed cases at Kalispell Regional Healthcare's Brendan House.
The continued rise in cases has pushed the county's ability to conduct proper contact tracing to its limit and has forced officials to expand their efforts.
"We have brought on more staff to assist with contact tracing, and it has helped to ease some of the burden on the nurses to conduct follow-up with close contacts," Colomeda said Monday. "With the rise in cases, we haven't really changed our protocols, only that all staff involved with case investigation and contact tracing have been consistently working weekends. Doing so helps us keep up with the caseload; I just don't know how much longer we can keep up this pace."
On Saturday, after Montana crossed the 500-death threshold, Gov. Steve Bullock issued the following statement:
"More than 500 Montanans have lost their lives due to COVID-19. Communities across our state are deeply feeling the impact of this virus, now more than we've seen before, and families are facing a holiday season without the ones they love most. COVID-19 is projected to be near the top in leading causes of death in Montana this year. It is within our power to save lives. If Montanans mask up, follow public health requirements, and stay home as much as possible, we can save hundreds of lives. Let's prove we value the health of our community and our frontline workers who go to work in crowded hospitals day and night to care for us."
Through Tuesday 49,398 cases had been confirmed in Montana, with 543 coronavirus-related deaths. Statewide, 1,500 new confirmed cases were reported Tuesday.
The latest data for Montana's schools shows an increase of 16 confirmed cases to a total of 74 at Lake County's schools between Nov. 5 and Nov. 12. That includes Salish Kootenai College's eight confirmed cases.
The largest increase came at KW Harvey Elementary in Ronan, the Lake County district that has seen the most cases. The school had six new cases for a total of eight. Six of those eight are among staff members. The state report shows 23 cases in the Ronan School District. Seven of those are at Ronan Middle School, where district officials on Nov. 11 announced two weeks of remote learning only for all seventh-graders.
Pablo Elementary's total cases increased by four to six over the same period.
Charlo High School also had a minor outbreak that forced a two-week quarantine for the entire football team and coaches following its final regular-season game against Mission High School. Principal Jon Gustafson said that particular quarantine has been lifted and the school currently has 12 other students out on quarantine.
"But those are all cases where a student was infected outside of school by a family member," he said, adding that he expects all students will be able to return after the Thanksgiving holiday.
Polson High School had a similar situation with a single positive case prompting a quarantine for 26 students. On Nov. 9 a total of 38 students were being isolated. By Monday that number had been reduced to 12 students and two staff members, one of which was awaiting test results and hadn't actually been confirmed.
"Under all these unique circumstances and challenges, students and staff are showing amazing resiliency," Principal Andy Fors said. "We find solutions and move forward."
The latest state report, due to be updated Friday, shows five confirmed cases in the entire Polson School District. The Arlee and St. Ignatius districts have seven each.
Fors said that while the upcoming holiday breaks may bring relief, it's no certainty.
"It's so hard in this environment to make predictions. Following extended absences, we are seeing a bit of an uptick."
For Colomeda and the county's health workers, the upcoming holidays represent even more potential stress for a system that is already overtaxed.
"The increase in hospitalizations and the burden on our health care system is increasingly concerning," Colomeda said. "We are apprehensive about the holidays coming up and what the impact of large family gatherings will have on an already critical situation. We really hope people stay home this holiday season."
Nationally, at least 246,000 Americans had died of complications related to the virus as of Tuesday, according to The Washington Post's coronavirus tracker. More than 11.2 million cases have been confirmed nationally. Montana ranks third in the nation in highest daily reported deaths per capita, with 1.15 deaths per 100,000 people, according to the tracker. Only North Dakota and South Dakota have higher per capita death rates.
There also have been recent reports of breakthroughs in vaccine development. Pfizer recently announced a vaccine that has shown 90% effectiveness in preventing infection, and this week drugmaker Moderna announced a version that is 95% effective. Initial doses of the vaccines are expected to be administered to frontline workers and those at high risk as early as next month.
In the meantime, officials continue to call for concerted action to stem the spread.
"We understand that people are tired of the restrictions, but we also want to reiterate that sometimes we must do what's right to protect others," Colomeda said Monday. "Yes, you may be healthy and fit, and maybe you aren't worried about your ability to recover from COVID; but when you consider that a person can be contagious two days before their symptoms begin (or not symptomatic at all), you may be unknowingly exposing countless others especially if you think wearing a mask is a joke, or if you have no regard for physical distancing or minimizing crowd size. Those 'countless others' may not recover well if they end up testing positive for COVID or they may experience long-term, ongoing symptoms."
---