Animal rescues have holiday wish lists, too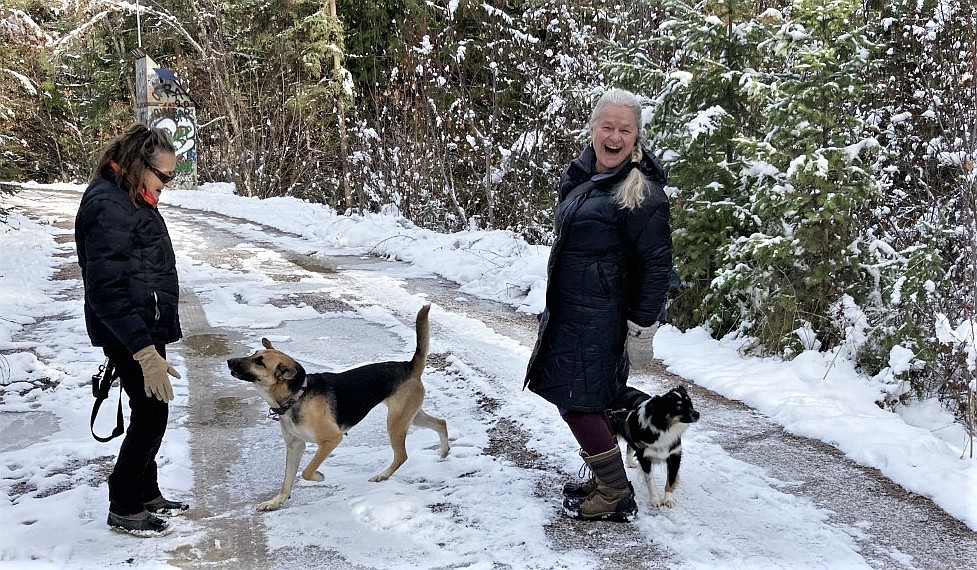 Recently adopted Bella, left, and Midgie enjoy new adventures with their new humans, Tamara Schane, left, and Irene Pritsak of St. Ignatius. Foster homes and donations are always needed for local rescue organizations Mission Valley Animal Shelter and Life Savers Animal Rescue. (Carolyn Hidy/Lake County Leader)
by
CAROLYN HIDY
Lake County Leader
|
November 19, 2020 12:45 AM
Throughout this year of disrupted lives and sometimes social-distance-induced loneliness, animal adoptions have continued to help bring companionship and comfort in Lake County.
Life Savers Animal Rescue (LSAR) and Mission Valley Animal Shelter work diligently to rescue lost or abandoned animals and help connect them with loving new families. They have nimbly adapted their systems to ensure COVID-19 protections, with outdoor meet-and-greets arranged for approved adoption applicants.
Members of both organizations maintain a "wish list" on their websites to let people know how they can help these nonprofits keep up with the needs of the animals they rescue. Tax-deductible cash donations are always welcome, and can be targeted toward specific programs if desired, such as purchasing spay and neuter certificates to help make those procedures affordable for low-income pet owners throughout Lake County.
The animal shelter is on the lookout particularly for donations of any type of pet food, dry or wet, any size, any brand. They will use what they can and donate the rest to pet owners as needed. They always need non-fitted sheets for bedding, but cannot use quilted, knitted/crocheted, or stuffed items, including pillows. Supplies that are always welcomed as donations are listed at missionvalleyanimalshelter.org in the FAQ section on their home menu.
LSAR maintains a "current needs" link under their "Contact Us" menu at lsar.org. As a fostering organization rather than a shelter, they say they need foster homes more than anything.
"We can only help as many animals as we can house, and without a 'facility' we're limited," states a message on the LSAR website. "We rely on our foster homes to provide loving in-home care to the animals while we provide all the necessary supplies including food, toys, litter boxes, medication, etc. Getting to know the animals and helping find the right forever home for them is one of the most rewarding things about rescue."
LSAR also appreciates donations of pet food and supplies, including cat litter, scratching posts, carrying crates, and even printer cartridges for their Brother LC20E to print animals' photos.
Contact Mission Valley Animal Shelter at 883-5312 or Life Savers Animal Rescue at 676-4200 to find out current specific needs, to volunteer or to adopt an animal.
---