Biz Buzz: The Lake Bar's new menu hits the spot
by
SCOT HEISEL
Lake County Leader
|
November 19, 2020 12:20 AM
Even during a pandemic Lake County's business scene is a dynamic ecosystem, with many moving parts and constant change. With that in mind, this week we introduce an occasional business column we call Biz Buzz, with a quick-hit format that better allows us to get the word out on local small business developments.
The owners of The Lake Bar in Polson made the most of the coronavirus shutdown last spring, pressing ahead with a major remodel before unveiling a new menu. The new look features a lot of distressed brick and there's a cozy, homey feel to the place.
Leading the staff in day-to-day operations are Polson natives Ciara Moran, bar manager, and Gavin Fox, kitchen manager. Fox had worked at The Lake Bar off and on for several years before assuming his new position last summer, at about the same time Moran came aboard and the new menu was introduced.
The food selection includes shareable plates, full-sized salads, sandwiches and burgers, tacos, fish and chips, and steak fingers. There's also a selection of mac and cheese dishes, including steak tips, pulled pork and buffalo bacon bleu combinations that will keep you plenty warm on a cold winter night.
If you're looking for something more substantial, there's also a selection of steak dinners, including prime rib.
There are several Montana brews on tap and a nice list of signature cocktails. For desert, try the bread pudding or a milkshake — traditional or with alcohol.
The Polson Chamber of Commerce and Polson Business Community have teamed up to offer a Small Business Saturday holiday shopping event Nov. 28 that will feature special sales and holiday decor throughout downtown. There also will be a Find Frosty's Hat scavenger event, with a chance to win a prize package from the chamber. Follow the Polson Chamber of Commerce on Facebook or Instagram for updates on the event. If you are involved in a business that would like to participate, email the chamber at chamber@polsonchamber.com as soon as possible.
Also, if you're a potential new chamber member who's been thinking of joining, now is the time. They're offering a discounted membership for first-time members' first year of membership if you sign up by Dec. 14.
The newly opened Ronan Cooperative Brewery at 400 Main St. in Ronan recently announced they'll be closing sales of preferred stock at the end of the year. The purchase of preferred stock has been available to members as a way to raise money for operations. Hundreds of people have already purchased memberships, which cost $250 and make you a part owner in the brewery with a voice in how it is run. One of the perks of membership initially was the option to buy the preferred stock shares that can pay annual interest once the brewery is profitable. Visit ronancoopbrewery.com to learn more about the business model and membership.
MoFi, a nonprofit Community Development Financial Institution that provides loans to individuals, businesses and communities across the Northern Rockies, recently launched a new loan program called Thrive that provides flexible and responsible capital, quickly, to small businesses. Thrive Loans are "a resource for existing small businesses that were profitable before the pandemic and need help to adapt and survive in an uncertain economic climate, but can't access financing right now through traditional institutions like banks and credit unions," according to a recent press release.
Businesses that were profitable in 2019 qualify for loans up to $100,000. There's a simple online application process at www.mofi.org/business-loans, and loans come with free business consulting services.
If you have local business news or developments you'd like to share for Biz Buzz, email Editor Scot Heisel at sheisel@leaderadvertiser.com.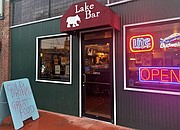 ---