Norma J. McAlear, 87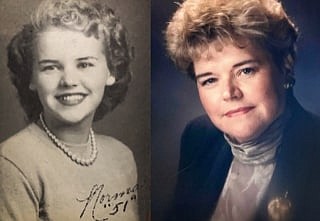 |
October 5, 2020 8:33 AM
The beloved and beautiful Norma Jeanne McAlear passed away Aug. 9, 2020, in Portland, Ore., at age 87. She was born July 19, 1933, in Polson to Rex J. and Myrtle B.I. McAlear (Herreid). She grew up and lived in Polson until the late 1950s, when she moved to Oregon with her then-husband and young children. She was a resident of Hillsboro, Ore.
Norma was the matriarch of the family, and her family was everything to her. She loved and cherished her four children, daughters Rhonda Winger, Lisa Felzman (Joe) and Kimberley Trobough (Tim) and her son, Trenton Winger; and granddaughter, Betsy Trobough.
She was the eldest of her siblings: Keith McAlear, predeceased (Hazel) of Polson, Eunice Thomas (William, predeceased) of Alameda, Calif., and Carole Lovell (Bill) of Missoula. She was also a caring "Aunt Norma" to her nieces and nephews: Doug, Diane (Mike), Kirk, Teresa (Jeff), Zachary, Kristen (John) Katie, and Conor. She also loved to keep up with the "goings on" with all of her cousins, many of whom she grew up with in Montana. Norma was previously married to Ted Winger, who resides in Montana with his wife, Kathryn.
Norma was the ultimate loving mother, and not only to her own kids, but to their friends as well. She enjoyed entertaining, music (especially jazz) and singers, Tony Bennett and Michael Bublé. She was a longtime Portland Trailblazers fan who liked football, track and field, baking, gardening, British television and good humor. She had a distinguishable laugh. Although she was an Oregonian for many years, she loved her home state of Montana, and one of her very favorite places was Glacier National Park.
Norma attended the University of Montana-Western in Dillon and had many opportunities including a full ride scholarship to Whitman College before marriage. Her vast knowledge of fine china, crystal and silver provided expertise to specialty shops and to Princess House Crystal as a regional manager and consultant. She was quite successful in the field, receiving many honors and awards.
Arrangements are to be made at a later date to honor and celebrate Norma Jeanne. She will be greatly missed by her family, friends, neighbors and all those who loved her.
---