Bulldogs roll past rival Warriors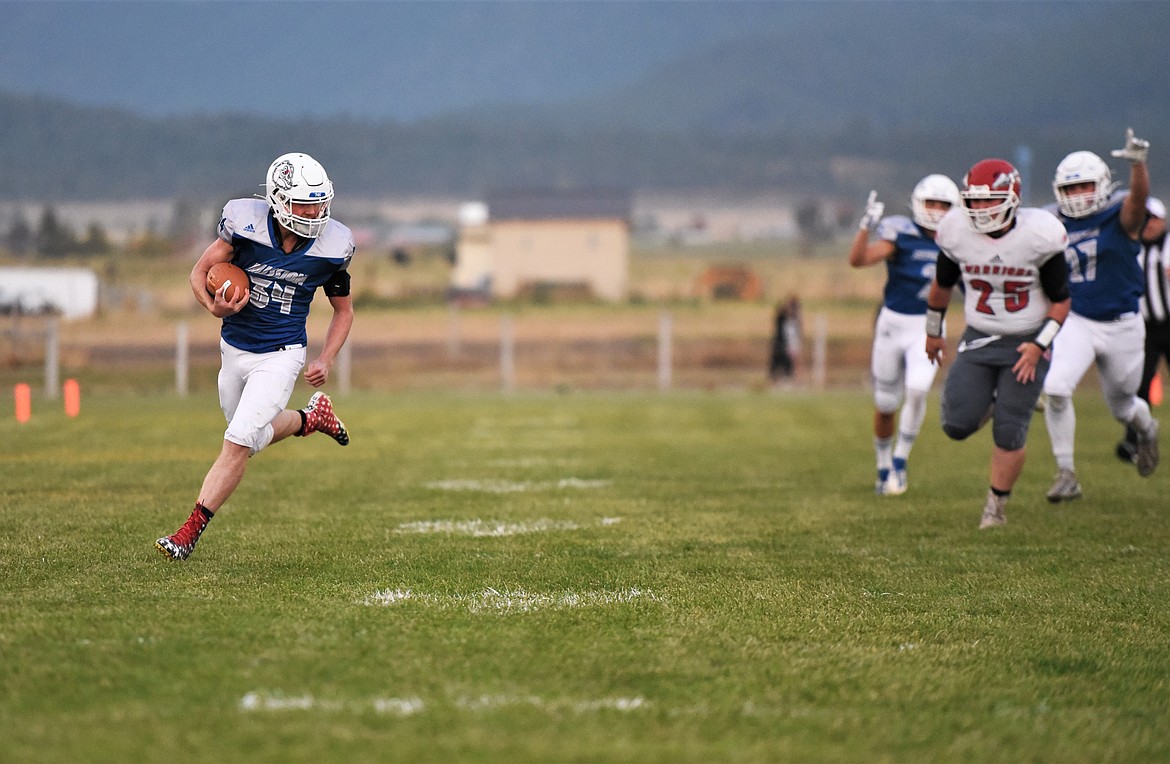 Mission senior Layne Spidel breaks off a big run for the Bulldogs' first score as Arlee senior Noah Coulson (25) gives chase Friday night in St. Ignatius. (Scot Heisel/Lake County Leader)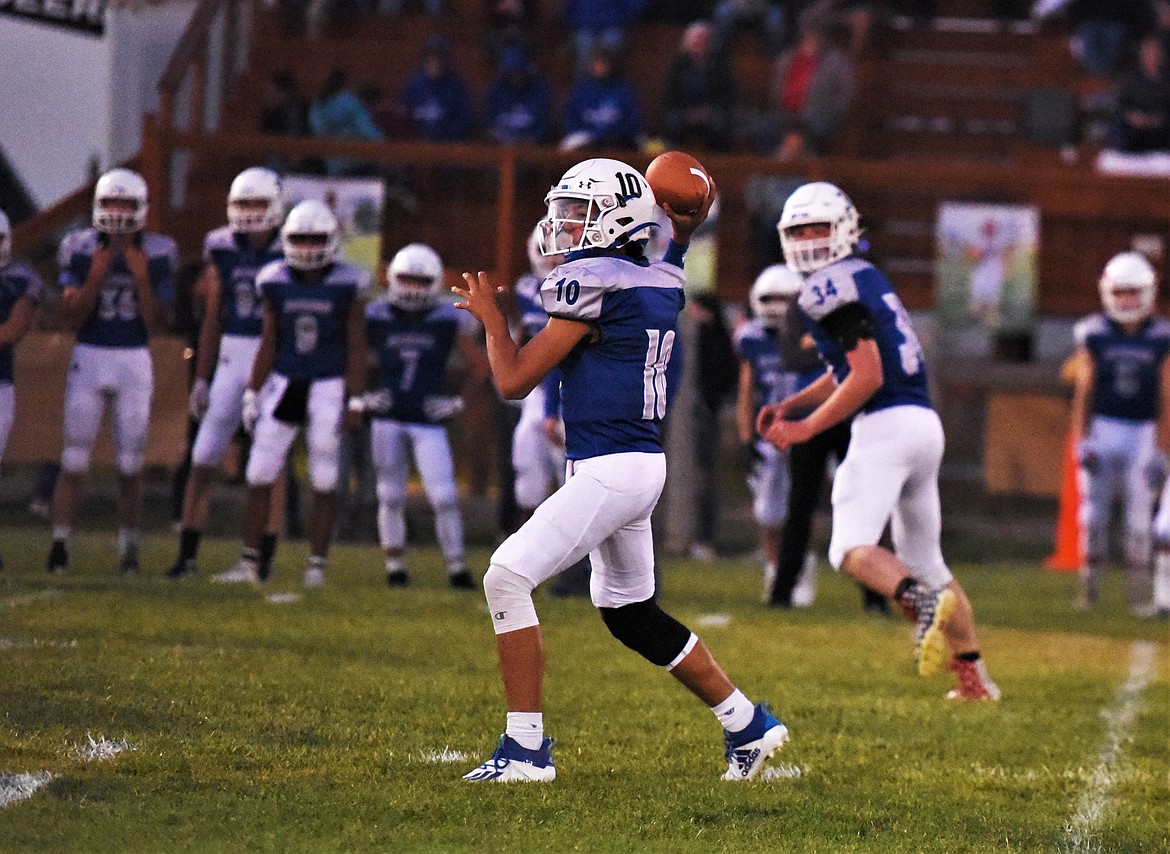 Mission quarterback Kellen McClure fires off a pass as teammate Lane Spidel swings out into the flat. (Scot Heisel/Lake County Leader)
Previous
Next
by
SCOT HEISEL
Lake County Leader
|
October 6, 2020 4:45 PM
ST. IGNATIUS — The Mission Bulldogs found their groove Friday night at home against Lake County rival Arlee, scoring by ground and by air in a 56-6 West Conference matchup.
Bulldogs sophomore QB Kellen McClure threw three touchdown passes and Mission (3-3) rushed for four TDs, including a pair by senior Layne Spidel, who opened the scoring with a 31-yard jaunt to pay dirt just a few minutes after kickoff.
Two early turnovers by Arlee (2-4), a fumble and an interception by Mission's John Komotios, helped the Bulldogs build a big lead early and never look back.
Mission's second touchdown came on a reverse to McClure, who lofted a pass to sophomore Bryce Umphrey in the corner of the end zone. Umphrey later had a big punt return to the Warriors' 6-yard line. That led to the Bulldogs' fourth score of the first quarter, a short pass from McClure to sophomore Canyon Sargent.
The Warriors opened the second half down 44-0 and responded with a long drive from their own 20 that stalled at the Bulldogs' 13 with a failed option play on fourth and 8.
Arlee's lone touchdown came in the fourth, with freshman Kendall O'Neill subbing in at quarterback for starter Noah Coulson. O'Neill found Micah Johnson in the end zone for a 24-yard TD. It was a circus catch for Johnson, who pulled the ball down behind tight coverage from the Mission secondary and managed to hang on all the way to the ground.
O'Neill also contributed a pair of first-half interceptions on defense.
Arlee had 12 players suited up for the game, and a string of injuries left them without reserves in the fourth quarter. Those injured included freshman Jace Arca (leg), sophomore Charley Crawford (torso) and senior Noah Coulson (arm).
The Bulldogs evened their record at 3-3 after opening the season with three losses to teams consistently ranked in the top 10 in the state. They'll visit Plains (2-2) for an afternoon game Saturday, then wrap up the regular season at home against Troy (0-6) and on the road at Charlo (4-2).
The Warriors are scheduled to host the Clark Fork co-op of Superior/Alberton (4-2) on Friday, then travel to Seeley-Swan (1-4) to finish the season.
Prior to Friday's game, both teams took a moment to honor the memory of longtime Warriors and Bulldogs fan Pat Espinoza, who passed away Sept. 27. An obituary for Espinoza was published in the Oct. 1 issue of Char-Koosta News.
Arlee 0 - 0 - 0 - 6 - 6
Mission 28 - 16 - 6 - 6 - 56
MIS - Layne Spidel 31-yard run (Conv. failed)
MIS - Kellen McClure 17-yard pass to Bryce Umphrey (McClure pass to John Komotios)
MIS - Spidel 8-yard run (Conv. failed)
MIS - McClure 5-yard pass to Canyon Sargent (Umphrey run)
MIS - McClure 34-yard pass to Umphrey (Javon Bolen run)
MIS - Bolen 31-yard run (McClure pass to Cedrick McDonald)
MIS - Sargent 20-yard pass to McDonald (Conv. failed)
ARL - Kendall O'Neill 24-yard pass to Micah Johnson (Conv. failed)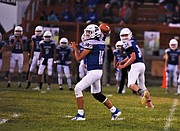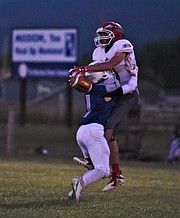 ---