Vikings light up the scoreboard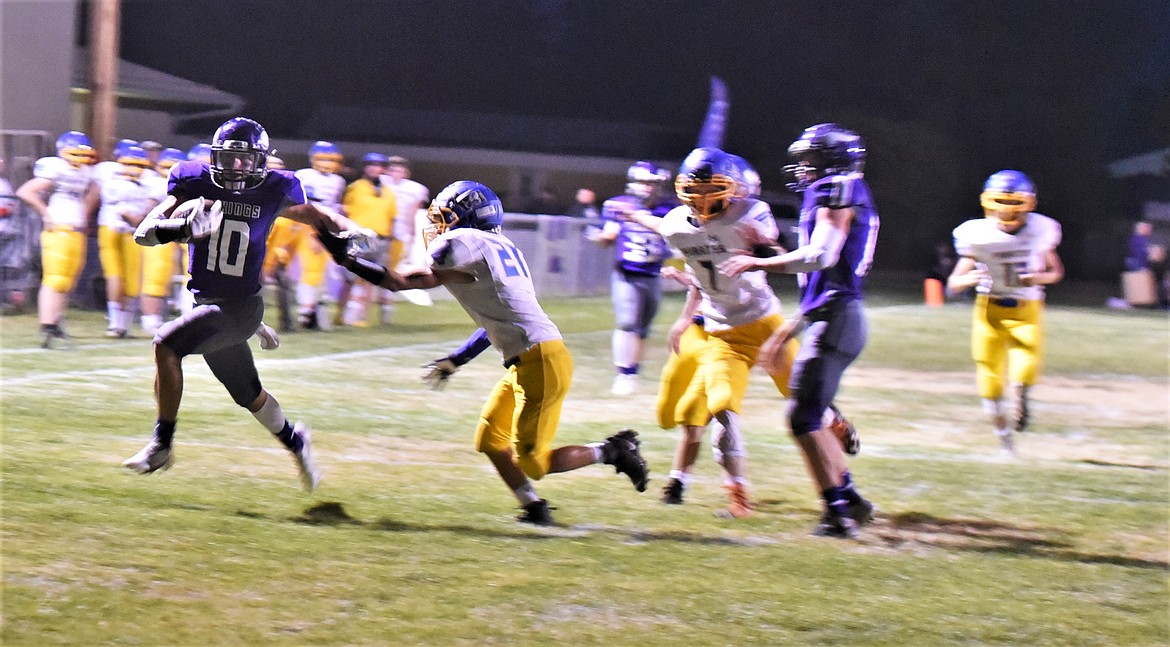 Roper Edwards (10) pulls away for a first-half score against Victor on a pass from Coyle Nagy. (Scot Heisel/Lake County Leader)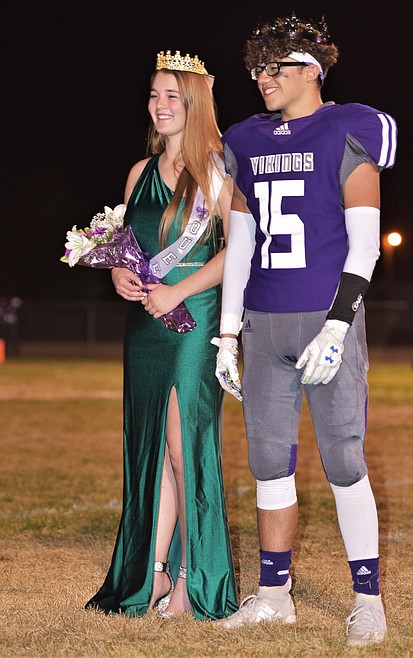 Charlo High School 2020 Homecoming Queen Aryal Love and King Phil Marquez. (Scot Heisel/Lake County Leader)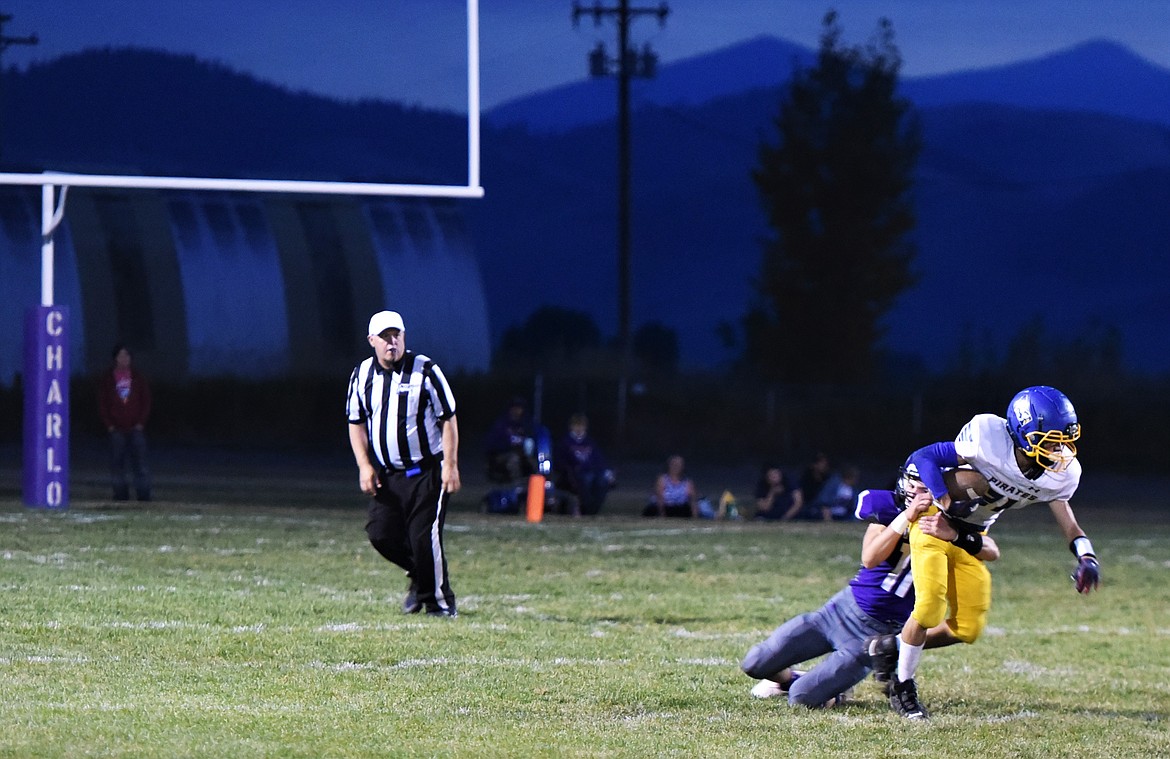 Coyle Nagy (11) tackles Victor's Robert Crosbie. (Scot Heisel/Lake County Leader)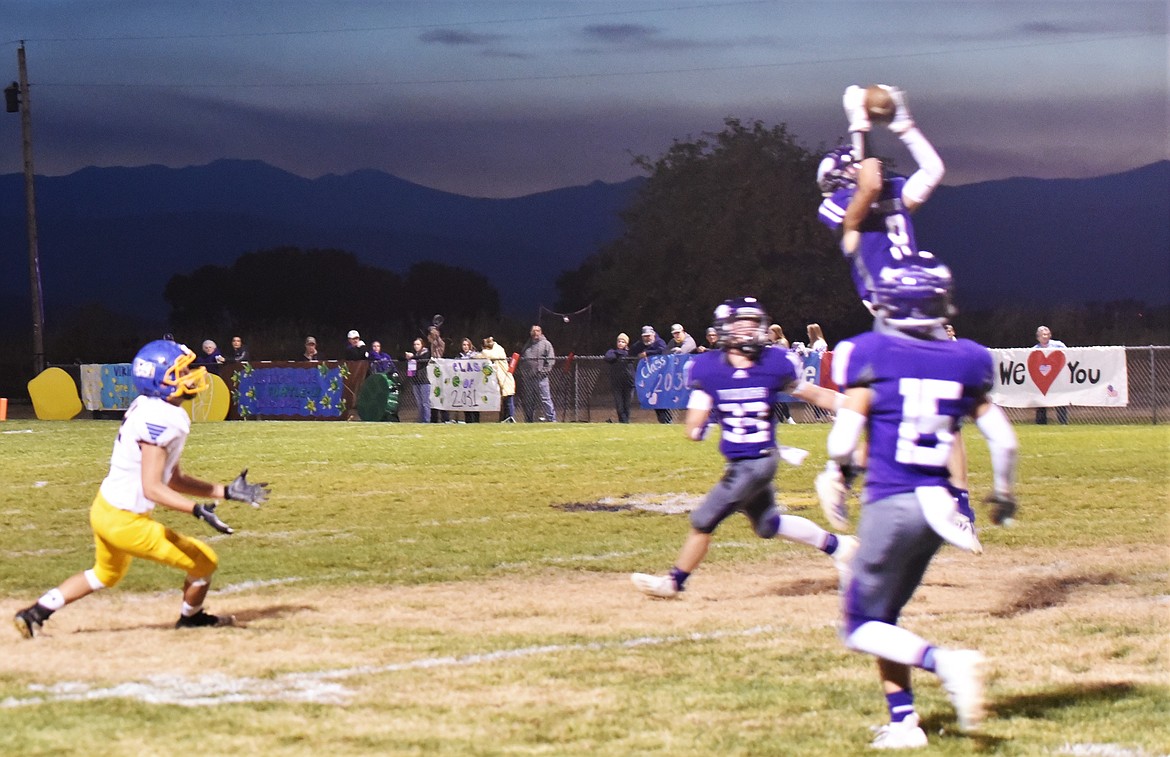 Braydon Zempel (8) rises for one of his two interceptions in front of teammates Tucker Love (33) and Phil Marquez (15). (Scot Heisel/Lake County Leader)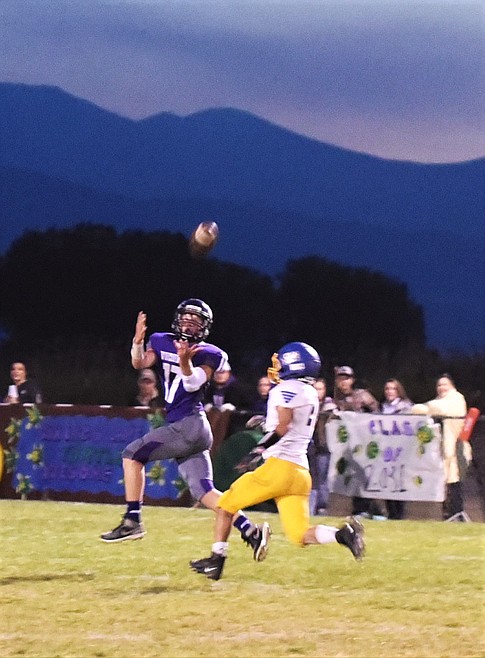 Dawson DuMont prepares to pull down a deep pass from Coyle Nagy. (Scot Heisel/Lake County Leader)
Previous
Next
by
SCOT HEISEL
Lake County Leader
|
October 10, 2020 8:00 AM
CHARLO — A week after taking their first loss of the season, the Charlo Vikings bounced back in a big way with a monster win over visiting Victor in an 8-man West Conference clash Friday night.
Junior quarterback Coyle Nagy tossed three touchdown passes and ran for two more scores as the Vikings (5-1) built a 43-0 halftime lead en route to a 69-6 win over the Pirates (1-6).
While the offense was nearly unstoppable for most of the night, the defense held its own, collecting seven turnovers and holding Victor to its own half of the field most of the night.
Junior defensive back Braydon Zempel led the defensive charge with four tackles and two interceptions, the second a pick-6 to put Charlo up 63-6 late in the third quarter.
The Vikings also got interceptions from Philip Marquez, Anthony Castro and Tucker Love — also a pick-6, in the first. Charlo's defense also got fumble recoveries from Love and Nathan Clark, who led the team with six tackles. Dawson DuMont contributed four tackles, including a sack.
On offense, Love also rushed for 33 yards and two touchdowns and added 19 receiving yards. Nagy tossed one TD pass to Roper Edwards, who finished with 59 yards on three catches. Nagy's two other TD passes went to Zempel.
The game was interrupted when one of four light towers, the one with an osprey nest on top, lost power with just under eight minutes remaining in the second quarter. The teams were sent to the locker rooms for a premature halftime and homecoming festivities began while staff worked on the lights.
Couples from each grade level were announced as candidates for king and queen, with seniors Phil Marquez and Aryal Love ultimately taking the honors.
Play resumed after a half-hour delay, and teams were given a 5-minute break prior to the beginning of the third quarter.
Despite the big win, the Vikings were knocked out of the 406MTSports.com top 10 rankings. Charlo was ranked No. 9 in the state coming off a 46-0 loss to No. 2 Drummond-Philipsburg the previous week. Upset wins over ranked teams vaulted Chinook and Park City into the top 10 and pushed Charlo out.
The Vikings are set to play at No. 3 Thompson Falls (7-0) on Friday before hosting Mission (4-3) to cap the regular season.
Vikings 69, Pirates 6
Victor - 0 - 6 - 0 - 0 - 6
Charlo - 16 - 27 - 20 - 6 - 69
CH: Tucker Love 29-yard INT (Roper Edwards run) 7:42 1Q
CH: Coyle Nagy 20-yard pass to Braydon Zempel (Edwards run) 3:30 1Q
CH: Love 14-yard run (Nagy pass to Love) 10:17 2Q
CH: Nagy 34-yard pass to Edwards (Connor Nittinger kick no good) 8:23 2Q
CH: Nagy 24-yard pass to Zempel (Nittinger kick good) 6:15 2Q
V: Carson Varner 24-yard pass to Canyon Parks (pass failed) 0.32 2Q
CH: Nagy 11-yard run (Nittinger kick no good) 0.07 2Q
CH: Nagy 50-yard run (Nittinger kick blocked) 11:11 3Q
CH: Love 16-yard run (run failed) 8:44 3Q
CH: Zempel 20-yard INT (run good) 5:40 3Q
CH: Keaton Piedalue 28-yard run (pass failed) 0.31 4Q
8-man West standings
Conf. Overall
Thompson Falls 7-0 7-0
Drummond-Philipsburg 5-0 6-0
Charlo 5-1 5-1
Alberton-Superior 4-2 4-2
St. Ignatius 4-3 4-3
Plains 2-3 2-3
Arlee 2-3 2-4
Seeley-Swan 2-4 2-4
Darby 1-5 1-5
Victor 1-6 1-6
Troy 0-6 0-6
---