Devin Braaten, Libertarian candidate for Senate District 47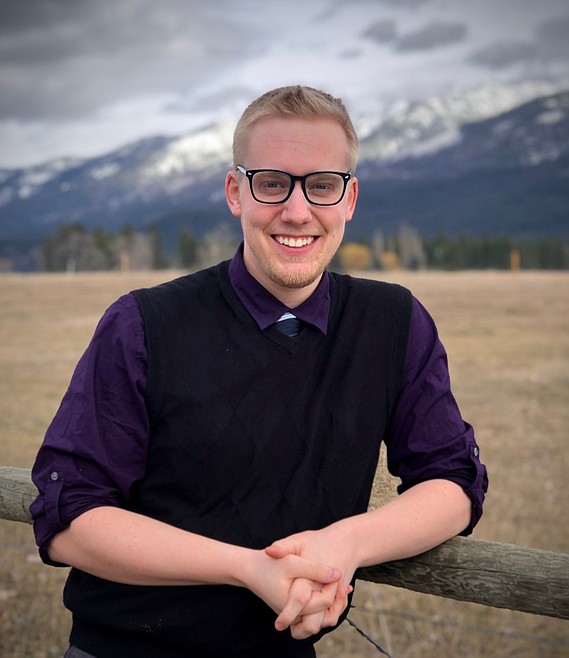 Devin Braaten, Libertarian candidate for Montana Senate District 47.
by
CAROLYN HIDY
Lake County Leader
|
October 11, 2020 12:15 AM
Devin Braaten is tackling the world of politics earlier in life than most. Drawn to the Libertarian Party's emphasis on "personal decisions rather than government-mandated control over our lives, socially and economically," he had planned to spend this election season working to grow that party. He was surprised, but intrigued, when they asked him to run for office.
Braaten was raised in Haines, Alaska, and attended college in North Dakota. When his family relocated to the Polson area, he found he loved Montana. He plans to start an orchard and beekeeping operation with his family.
Braaten supports reducing regulatory barriers that inhibit direct farm-to-market sales of raw milk and meat.
"We've seen during this pandemic how much of a problem it causes for a lot of our farmers and ranchers, getting their products out to the people," he said. "Instead of getting it straight to them, it has to go through processes and tests and middlemen before it finally reaches our table. I want to have legislation that really ends that requirement."
Braaten said he feels that so long as there are warning labels about the potential risks, individual consumers should be allowed to make their own decisions. During the pandemic, when national meat processing plants struggled to keep up with demand, "We were bringing in meat from other countries because we couldn't keep up with the beef demand. That says a lot about the roadblocks growers have trying to get their beef on the market."
Criminal justice reform is another important issue to Braaten, especially keeping non-violent criminals from being incarcerated. He cited this election year's ballot initiatives CI-118 and I-190 legalizing marijuana and authorizing the state to regulate and tax its distribution.
"I am very excited about this. I would so much rather see non-violent criminals not in jail than to be in jail, wasting taxpayer money on a person who only affected themselves. That is a moral reason to keep someone in jail, and if not everyone has those same moral beliefs, it's not OK. I believe people should be able to make their own decisions."
He compared the decision individuals might make to those he often sees in the health care field who choose not to follow medical advice. If elected, he said he would push to not have marijuana "overly regulated," which could force the business "underground" and encourage criminal elements.
Braaten would support a study of a state sales tax to determine whether it could replace all or part of the state income tax so that Montana's tax burden is partly shared by visitors making purchases in the state.
"If it could reduce the tax burden for Montana residents, then I would be for it. We have to find a way of reducing taxes for Montana residents while still generating revenue."
Braaten did not agree with the Affordable Care Act when it was passed but recognizes it has become very helpful for many Montanans.
"I see every day that people do not have the means to afford the health care they desperately need. I would love to think that if we had more money in our pockets, we could responsibly set some aside for health care, but that isn't always the case when you have exorbitant costs for major problems." He said he is open to discussing other health care options.
Regarding the issue of Montana's short, biennial legislative session schedule, Braaten said, "I understand the rationale behind it," as it allows farmers, ranchers and others to serve and then get back to work. However, "say you have an issue that pops up in April that you can do something about, but you can't for another year and a half. I would like to see it more spread out so that we can continually reassess Montana's needs and how we can address them."
Braaten encouraged voters to "educate themselves on where every candidate stands and how they have voted in the past."
He does not like the factionalism and divisiveness that has developed and said he encourages people to vote for the issues that align with their ideals, not just the person or the party.
"You might realize that a third-party candidate shares your ideals."
Devin Braaten
Age: 27
Family: Single, close with family (parents, grandparents, sibling and children)
Background: CNA at St. Joseph Medical Center in Polson, medical surgery floor; Libertarian Party Region 5 representative.
Website: devinformt47.com
Contact: devin.j.braaten@hmail.com; 406-300-2904
---