Postseason bid slips away from Polson soccer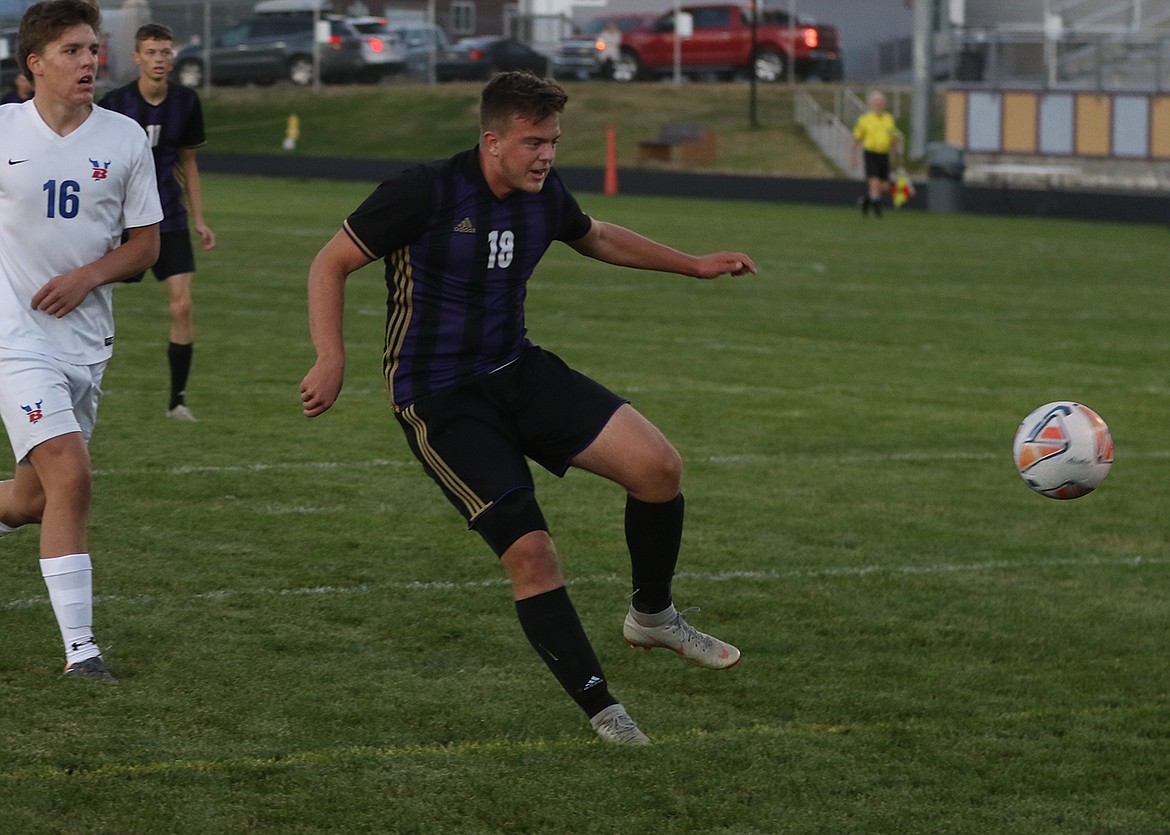 Kaden Nelson drives a goal-scoring strike against Bigfork. (Bob Gunderson)
by
John Heglie, special for the Leader
|
October 12, 2020 12:00 AM
Kaden Nelson got the Pirates on the scoreboard early off an assist from Cade Lanier in the second round of the Battle of the Bays series in Polson, but Bigfork netted the equalizer off a direct kick that veered on the Polson keeper, knotting the contest even at one apiece.
The visiting Vikings then strung together a trio of unanswered goals, maximizing on four possessions within an 8-minute span, the fourth ricocheting off the crossbar, which Pirate forward Ashten Nelson cleared out of harm's way before further damage could be inflicted.
Polson almost cut the lead in half at the 34th minute when Kaden Nelson carried the ball into the box. The Viking keeper deflected the ball but was unable to secure it. Before Nelson could reposition for a boot on the open target, Viking defender Landon Byerman cleared the ball away, thereby preserving the three-goal advantage at intermission.
Keith Erickson cut the lead in half at 4-2 with a goal a few minutes into the second half off a dual assist from Kaden Nelson, set up by Elijah Taylor.
A pair of bullet blasts by Kaden Nelson at the 58th-minute mark were blocked by Viking keeper Caden Riedesel.
Erickson pulled the Pirates within one off an Austin Luper direct kick that was toe-touch redirected by Braedon Iliff.
Aside from spoiling Homecoming, the loss torpedoed Pirate prospects for a playoff berth, with their lone game remaining on their regular schedule being twice defending State A champion Whitefish on their own turf. The visiting Pirates gave the champs their best shot. But the host Bulldogs were less than accommodating as their focus was upon postseason prep mode.
Bigfork 4, Polson 3
Polson (2-4-1n, 2-6-1), Bigfork (3-3-1n, 3-5-2)
Bigfork 4 0 – 4
Polson 1 2 – 3
P – g Kaden Nelson (a Cade Lanier) 5'
B – g Landon Byerman (unassisted) 5'
B – g Dax Stone (a Ben Pilskalns) 20'
B – g B.Pilskalns (pk) 23'
B – g B.Pilskalns (a Byerman) 28'
P – g Keith Erickson (a K.Nelson, Elijah Taylor) 45'
P – g K.Erickson (a Braedon Iliff, Austin Luper dk) 62'
Shots (on goal) – B 16 (11), P 32 (19)
Whitefish 6, Polson 0
Polson (2-5-1n, 2-7-1), Whitefish (6-0-1n, 9-0-1)
Polson 0 0 – 0
Whitefish 4 2 – 6
W – g Marvin Kimera (a Gabe Menicke) 5'
W – g Niath Edland (a Menicke) 13'
W – g Brandon Mendoza (a James Thompson) 23'
W – g Mendoza 25'
W – g Thompson (a Kimera) 50'
W – g Kimera 55'
---