Volleyball Roundup: Charlo takes first loss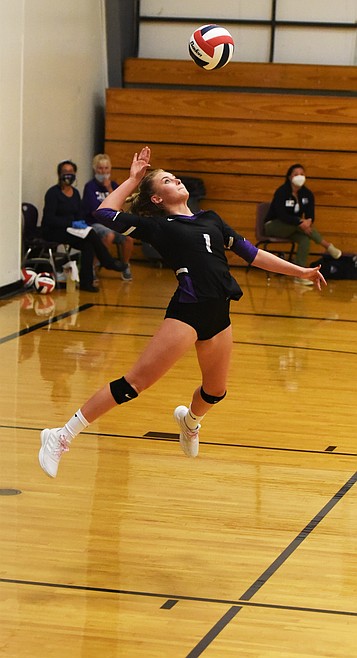 Kassidi Cox fires a serve against Thompson Falls on Thursday night. (Scot Heisel/Lake County Leader)
by
John Heglie, special for the Leader
|
October 12, 2020 1:00 AM
Charlo played host to the Lady Bluehawks of District 7B Thompson Falls on Thursday for their Homecoming match and were handed their first loss of the season in four sets. The two teams split the first two sets. But the visitors capitalized upon their edge in experience and depth to pull out the next two sets to capture the match. Hayleigh Smith and Carlee Fryberger combined for 17 kills, while Mila Hawk served a trio of aces along with stuffing a block at the net.
Despite sustaining their first loss against a nonconference foe, the only thing that has been able to slow down Lady Vikings thus far when it comes to conference competition appears to be COVID-19. Charlo had been slated to face Darby and Victor in nonconference action along with a rematch against Noxon this upcoming week. But after a student within the Charlo school system tested positive, subsequent contact tracing has prompted the temporary suspension of Lady Viking volleyball matches at least through Oct. 22.
Against the visiting Lady Red Devils from Noxon on Tuesday, Charlo almost doubled up their visitors across all five categories as they outhit them at the net as well as outserved them from the service line. Kassidi Cox and Carlee Fryberger collaborated on 10 kills on offense and 16 digs on defense.
Thompson Falls def. Charlo 25-18, 21-25, 25-15, 25-20
14C Charlo (12-1), 7B T-Falls (10-3)
KILLS – TF42 (Scarlett Schwindt 11, Jody Detlaff 11), C31 (Carlee Fryberger 9, Hayleigh Smith 8). ACES – TF11 (Schwindt 4, Detlaff 2, Cheyla Irvine 2), C8 (Mila Hawk 3). ASSISTS – TF32 (S.Schwindt 15, Riley Wilson 13), C31 (Connor Fryberger 23). BLOCKS – TF8 (Abbi Lane 3, R.Wilson 2, J.Detlaff 2), C2 (Mila Hawk, Car.Fryberger). DIGS – TF57 (Ariana Wood 14, S.Schwindt 14), C49 (Car. Fryberger 12, Katelyn Young 9).
Charlo def. Noxon 25-18, 25-16, 25-13
Charlo (7-0, 12-0), Noxon (3-3, 5-4)
KILLS – N11 (Avery Burgess 5), C21 (Kassidi Cox 5, Carlee Fryberger 5, Mila Hawk 4, Hayleigh Smith 4). ACES – N3 (Mia Vogel, Horner, Richter), C10 (Car.Fryberger 5). ASSISTS – N10 (Riley Richter 7), C19 (Connor Fryberger 12, Kass Cox 5). BLOCKS – N6 (Vanessa Horner 3), C2 (M.Hawk, Car.Fryberger). DIGS – N16 (Richter 4, Vogel 4), C29 (Car.Fryberger 9, Kass Cox 7).
Pirates pound Dawgs in rematch
At Whitefish, the visiting Lady Pirates avenged their five-set loss from a month prior. Polson outhit their opponent at the net, led by the collaborative efforts of Maggie Todd and Kobbey Smith, who combined for a dozen and a half spikes. But where the Lady Pirates really shined was when they rocked the service line, lobbing in 18 aces, almost half by Berkley Ellis supplemented by another quartet from Kobbey Smith.

Defense was better up to the task this time around, with 20 digs over the course of one less set than in the preceding loss to Whitefish the month prior. Lady Bulldog hitter Brook Smith had erupted for 37 kills the first meeting between the teams, and Polson's defense made sure that didn't transpire again. A trio of Lady Pirate defenders notched double figures for defensive digs, led by Ara Mercer, Kobbey Smith and Berkley Ellis, who combined for 52 digs. Todd and Hallie Moss collaborated on another 17 digs.
"We played much better defensively this time around," head coach Lizzy Cox said.
The Lady Pirates had been slated to travel to Browning this past weekend for their second round conference match with the Lady Indians. But that game has been suspended as a "no contest" for the time being as it is uncertain whether it will be able to be rescheduled contingent upon COVID-19 precautions. The originally scheduled Blocktober Classic multi-team event in Butte also was shelved.
Polson was slated to host Stevensville for their Homecoming match last Thursday, but that match was suspended and has been rescheduled for Thursday, Oct. 15.
Polson def. Whitefish 25-18, 23-25, 25-21, 25-17
Polson (5-3, 7-3), Whitefish (3-5, 4-5)
KILLS – P39 (Maggie Todd 10, Kobbey Smith 8, Turquoise Pierre 6, Hallie Moss 5, Mckenna Hanson 4, Liz Tolley 2, Ara 2, Berk 2), W30 (Brook Smith 14, Jadi Walburn 6, Brooke Zetooney 6). ACES – P18 (Berkley Ellis 7, Kobb 4, Chloe DuCharme 2, Mags 2, Hallie 2, Kenna), W3 (Zetooney, Patten, Treweiler). ASSISTS – P34 (Berk 25, Hallie 6, Chloe 2, Ara), W28 (Mikenna Ells 15, Jenny Patten 12). BLOCKS – P5 (Mags 2, Liz, Hallie, Turq), W1 (Walburn 1ba, Gabby Herrick 1ba). DIGS – P82 (Ara Mercer 21, Kobb 17, Berk 14, Mags 9, Hallie 8, Kenna 5, Chloe 5, Liz 2, Turq), W112 (Ashton Ramsey 30, Emma Treweiler 21, B.Smith 21, Ells 20).
Maidens prepare for Whitefish
The Ronan Maidens were idle this past week. They will have already faced Mission in Rez rivalry wrangle Round 2, then are slated to travel to Browning on Thursday. Whether that match will be played remained undetermined as of press time, contingent upon pending evaluation of virus susceptibility within their boundaries of the Blackfeet Reservation. On Tuesday, Oct. 20, the Maidens will host the Lady Bulldogs of Whitefish in a rematch round. Ronan won their first encounter 3-1.
Lions down Dawgs in clawfest
Mission engaged in the second round of their conference series with the Lady Lions of Eureka. Mission was competitive over the course of the opening set, pushing their tally into the high teens before Eureka emerged on top. But thereafter, the host Lady Lions capitalized upon their home court advantage to capture the match in straight sets.
Sydney Brander and Kooper Page combined for 15 kills, and the Lady Bulldog attack at the net improved over their previous encounter by almost twofold.
Mission's game at Anaconda, originally slated for last Tuesday, was postponed
Mission will have already faced the Maidens of Ronan in a Rez rivalry wrangle rematch on Tuesday, then host the Lady Bluehawks of Thompson Falls on Thursday before they travel to Missoula on Monday to face Loyola Sacred Heart.
Eureka def. Mission 25-19, 25-11, 25-14
Mission (2-4, 5-7), Eureka (4-1, 8-3)
KILLS – MSI 22 (Sydney Brander 9, Kooper Page 6, Ahni Umphrey 4, Gabby Smith, Keana Thomas, A.Bird), Eur (Reena Truman ). ACES – MSI 3 (S.Brander, Ko.Page, M.Couture), Eur (R.Hawkins ). ASSISTS – MSI 21 (Maysa Couture 16, ), Eur (Kamber Brown ). BLOCKS – MSI0, Eur (Rhianna Hawkins 7). DIGS – MSI 23 (S.Brander 5, M.Couture 5, Addison Bird 4, Ella Arlint 3, Emily Hawkins 2, Ko.Page 2, Izzy Evans, A.Umphrey), Eur (R.Hawkins 11).
Third time's a charm for Scarlets
The Arlee Scarlets played a trio of games within a week span during which they were savaged by Heat, victimized by Vals, culminating with third time's a charm when they picked up their third win of the season.
At Hot Springs against the Lady Savage Heat, the visiting Scarlets evened the sets when they pushed the second into extras. They played competitively in the following sets, but Hot Springs was too hot to handle.
At Bigfork, the host Valkyries doubled up the visiting Scarlets with the exception of defensive digs, where the Crawford sisters Rheid and Jerny collaborated on 21 digs.
At home against the visiting Lady Wardens of Deer Lodge, the net attack of both teams was fairly even. But the Scarlets rocked the service line with 19 aces, Shonlea Matt and Raven Parson combining for 13 sizzlers that were too hot to handle on the other side of the net. The Crawford sisters again led the defensive effort with a collaboration on 27 digs.
The Scarlets morph into road warriors this week as they travel to Anaconda on Thursday to pick up the match postponed from this past week, then travel to Troy on Saturday to tangle with the Lady Trojans.
Arlee def. Deer Lodge 25-17, 25-18, 25-23
Arlee (2-4, 3-10), Deer Lodge (0-5, 1-13)
KILLS – DL11 (Lauren Boese 4), A13 (Halle Adams 5, Jerny Crawford 3, Noel Johnson 2, Lark Thomas, Parson, X.Jacobson). ACES – DL6 (Lynzie Havener 2, S.Pierson 2), A19 (Shonlea Matt 8, Raven Parson 5, J.Crawford 3, X.Jacobson 2, Adams). ASSISTS – DL9 (Mary Hansen 9), A8 (Xaria Jacobson 8). BLOCKS – DL6 (Skyla Pierson 3), A3 (Parson 2, Adams). DIGS – DL11 (Dylan Bartos 3), A38 (J.Crawford 16, Rheid Crawford 11, S.Matt 4, X.Jacobson 3, Adams 2, Sara Schall, L.Thomas).
Bigfork def. Arlee 25-16, 25-12, 25-11
6B Arlee (2-10), 7B Bigfork (3-4)
KILLS – A11 (Halle Adams 6, Jerny Crawford 2, Lark Thomas, Raven Parson, N.Johnson), B24 (Myranda Gray 7, Frey 6). ACES – A5 (Adams 2, X.Jacobson 2, Shonlea Matt), B20 (Callie Martinez 6). ASSISTS – A7 (Xaria Jacobson 7), B21 (Jessa Newton 13). BLOCKS – A4 (Adams 2, Noel Johnson, Parson), B3 (Jessy Frey 2). DIGS – A28 (Rheid Crawford 12, J.Crawford 9, X.Jacobson 5, Sara Schall, Parson), B50 (Allie Reichner 14).
Hot Springs def. Arlee 25-18, 24-26, 25-19, 25-22
6B Arlee (2-9) 14C Hot Springs (8-3)
KILLS – A30 (Jerny Crawford 11, Halle Adams 9, Raven Parson 3, X.Jacobson 3, Lark Thomas 2, R.Crawford, S.Schall), HS38 (Katelyn Christensen 17, Savannah Roosma 10). ACES – A13 (J.Crawford 5, R.Crawford 3, R.Parson 2, S.Matt 2, S.Schall), HS12 (EmmaRae Rasmussen 4, L.Fisher 4). ASSISTS – A20 (Xaria Jacobson 19, Adams), HS20 (Lizzy Fisher 16). BLOCKS – A2 (Lark Thomas 1), HS11 (Lily Winn 5). DIGS – A62 (Rheid Crawford 23, Shonlea Matt 12, J.Crawford 9, Sara Schall 5, X.Jacobson 5, Karli Doerr 3, H.Adams 2, R.Parson 2, L.Thomas), HS23 (Christensen 6, Winn 6).
---