Community treasure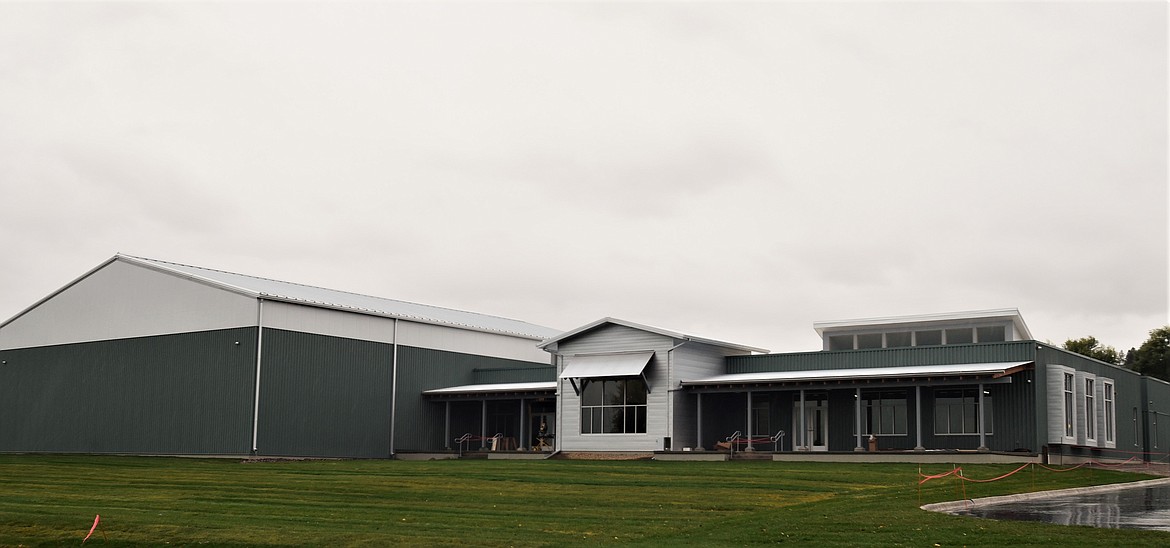 The new Polson Boys and Girls Club facility on the hill across the street from Polson Middle School. (Scot Heisel/Lake County Leader)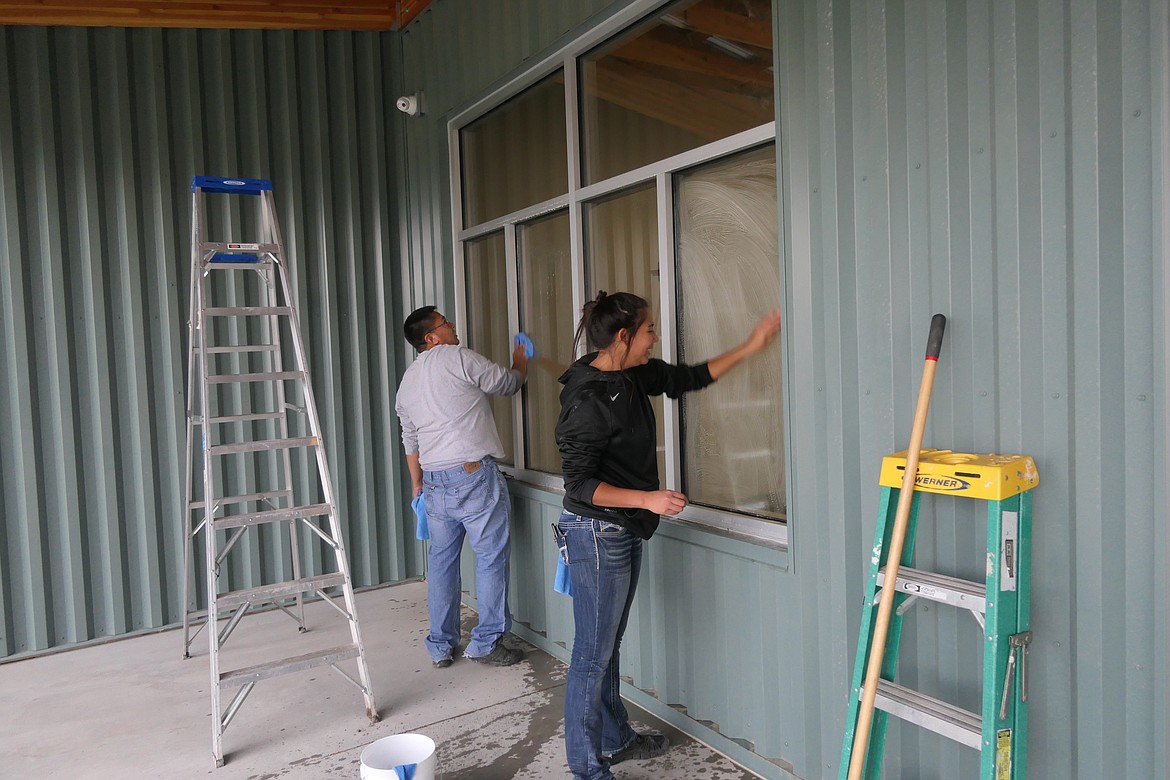 Students will be welcomed with sparkly windows next week thanks to John Grandchamp and his daughter, Jesse Pepion, of Grandchamp Window and Carpet Cleaning, who volunteered their expertise. John is unit director for the Ronan site. (Carolyn Hidy/Lake County Leader)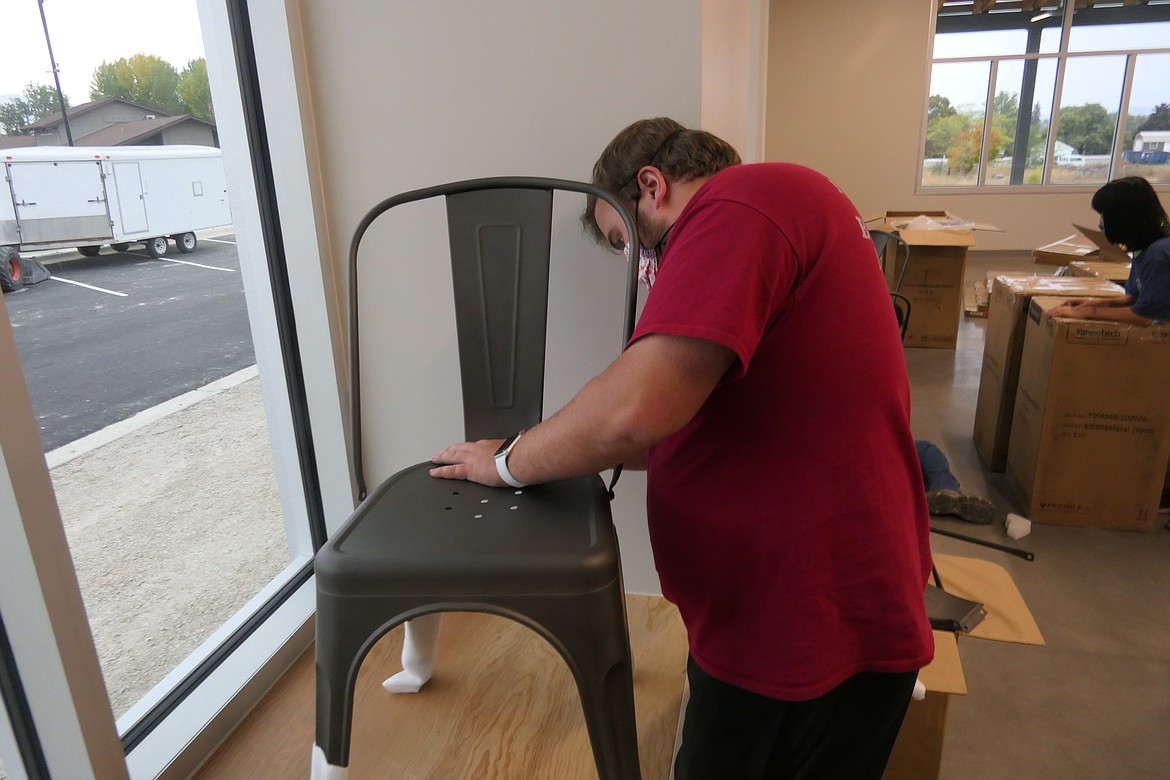 Jimmy Ray Stagg, teen coordinator for the Ronan club, assembles chairs. (Carolyn Hidy/Lake County Leader)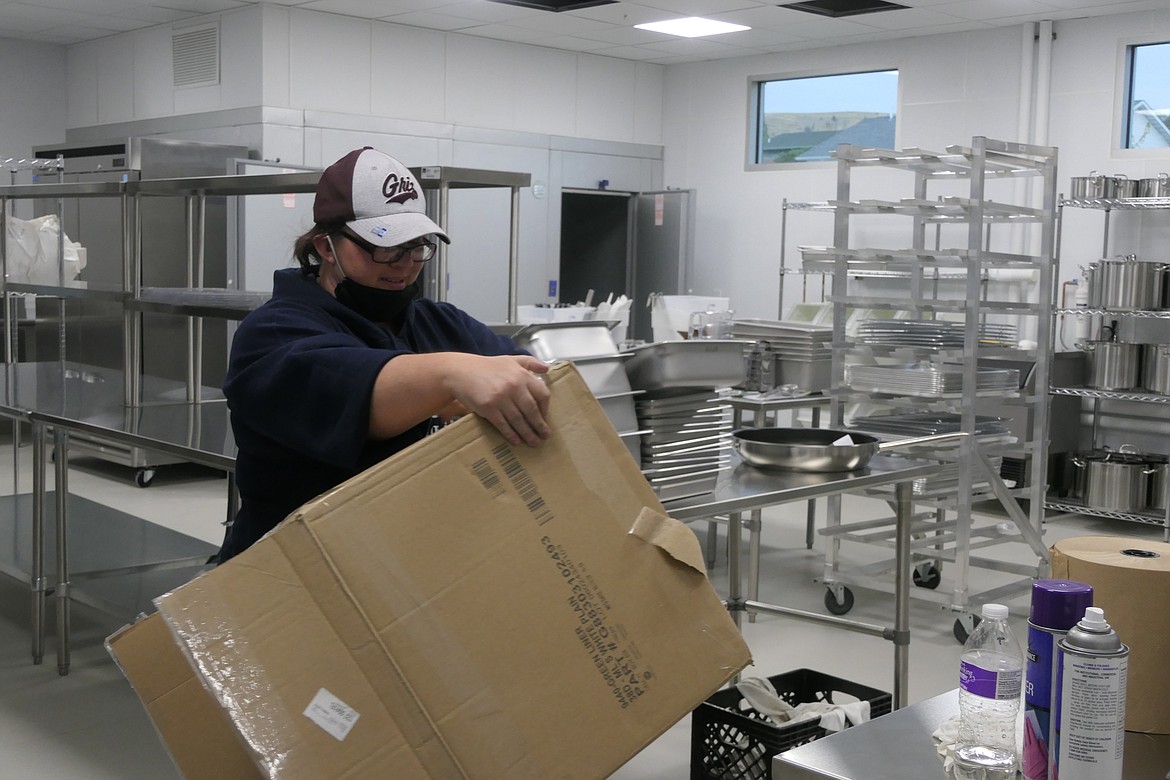 Amanda Baltz-Gainan helps unpack supplies and break down cardboard during the move-in. Amanda works the front desk at the Ronan Boys and Girls Club. (Carolyn Hidy/Lake County Leader)
Previous
Next
by
CAROLYN HIDY
Lake County Leader
|
October 15, 2020 12:20 AM
When Polson school kids step off the bus next Monday, many will enter a new world their entire community has worked for nearly five years to make possible for them.
The Polson Boys and Girls Club will open its brand new building for them to explore, including a full-sized gymnasium; special spaces for teens, computer tech, art and music; and a shiny new kitchen. It's a far cry from the church basement they have operated in for years.
"We have always dreamed of being able to have the kind of impact that a facility like this affords us," said Aric Cooksley, CEO of Boys and Girls Club of the Flathead Reservation and Lake County. "It is solely due to the generosity of the community. It's been a big community effort."
Fundraising and design for the new club building at 17th Ave. W, just down from the high school and middle school, began in 2016. Spearheaded by a committed board and capital campaign committee, the project raised a whopping $8.5 million in four years for two sites.
"That is absolutely astonishing for this community," a grateful Cooksley said. "It was the right combination of all the right pieces that came together."
Nearly $5.3 million of that sum built the new Polson clubhouse. The remainder went toward the purchase and renovation of the old Total Home Furniture Store that is now the Ronan clubhouse, which opened two years ago, and toward the construction of their gymnasium, now in progress.
With land donated by Providence St. Joseph Medical Center, generous lead gifts from the Dennis and Phyllis Washington Foundation, Greater Polson Community Foundation, and the Confederated Salish and Kootenai Tribes, as well as countless local donations of dollars and hours, both sites are debt-free.
The new Polson facility is a 23,000-square-foot community treasure with the capacity to serve up to 200 kids a day. That's up from the current 50 with a perpetual waiting list.
Teens in grade 7 and up will have their own dedicated area, a tech room with laptops and large-screen smart TV, and a cafe-style room with a gorgeous view and a small kitchen. The art and music rooms and gym will be available as scheduled for all ages. Eventually there will be a playground and a raised-bed garden and greenhouse. Membership is $10 per month for each child, and includes a snack, an evening meal, field trips, and even tutoring help for homework.
Donors continue to help keep the cost low. While some special activities require separate fees, scholarships are made available so no one is left out. Amy Vaughan, director of operations, said she appreciates the significance of the community's investment.

"It's just humbling. The community has totally rallied behind the club. When you think about how many hours people work to be able to have money to give. It's humbling to think that people believe in us that much. It's a big responsibility."
Two large fundraising events were held, but "really it's about relationships," Amy said, gratefully acknowledging very large donors of hundreds of thousands of dollars, and senior citizens who faithfully give $50/month. Several businesses also donate and often call to let them know when there is a good price on supplies.
Vaughan and Cooksley said volunteers are a significant part of the Boys and Girls Club. A cadre of volunteers put in countless hours during construction, including sports teams, church groups, community members and craftsmen — in the last week assembling tables and chairs, painting, washing windows, hanging whiteboards, and many other tasks. Others share their time, skills, knowledge, and kindness with the kids in classes. Some are already lining up to offer classes in painting, knitting, cooking and more in the new building.
"We need volunteers that want to spend even just an hour a week with a child. Or if they have a special interest project they want to share, they can bring that."
Boys and Girls Clubs primarily are about youth being able to build positive relations with adults, Cooksley said. Many adult alumni report that the club gave them a place of belonging where "they helped me become the person I am today." It is a safe, fun place providing consistency, safety and the ability to make long-term change and a positive impact on kids.
The model is based on "time-tested and evidence-based programming and development strategies" developed in coordination with the national organization, helping youth create the ability to rise to higher expectations.
The Boys and Girls Club will be open 3 to 7 p.m. school days, or noon to 6 p.m. on non-school or early-out days. Summer schedule is 8 a.m.to 6 p.m.
The facilities will offer opportunities for recreational leagues, fitness training and event space. The kitchen and dining area, along with ADA-approved restrooms, may be rented for receptions or other events
"The community made this happen. We want to see as many people benefit from it as possible," Cooksley said.
For more information, contact Cooksley at 528-5007 or hope@ronan.net. A time-lapse video of the facility's construction may be viewed at https://youtu.be/p5DX7b_9A7w.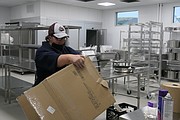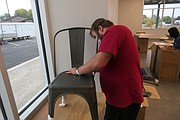 ---