Bulldogs honor seniors in football opener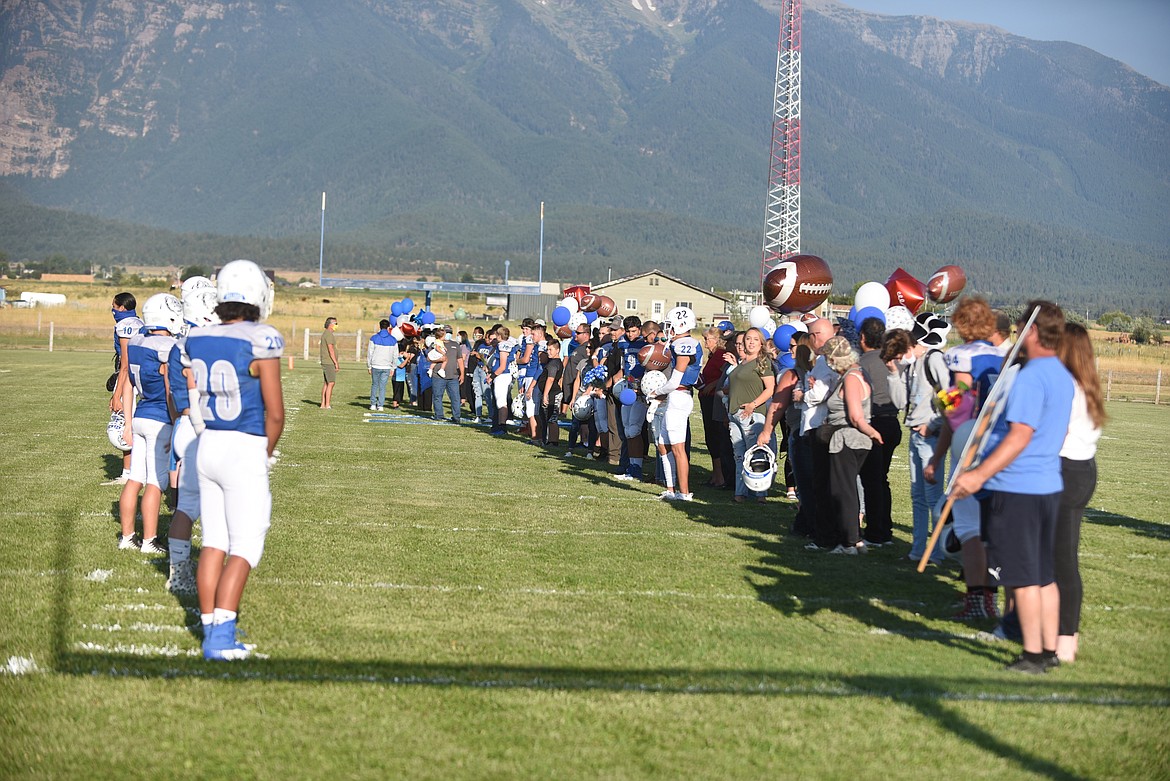 Mission seniors in cross country and football were recognized with their parents and family members before last Friday's game. School officials decided to hold the event earlier than normal in the event the COVID-19 pandemic cancels future games. (Scott Shindledecker/Lake County Leader)
by
SCOTT SHINDLEDECKER
Lake County Leader
|
September 3, 2020 12:00 AM
By SCOTT SHINDLEDECKER
Lake County Leader
Some teams would have rolled over after facing a 30-6 halftime deficit, but the Mission Bulldogs fought to the end Friday night against Thompson Falls.
Mission fell 38-32, but they battled through the fourth quarter on Senior Night, which was held on the teams' home opener in an effort to avoid any possible cancellations due to the COVID-19 pandemic.
Two members of the cross country team, Connor Burke and Isaiah Nasewytewa, and eight members of the football team, Boone Gilleard, Christian Smith, Javon Bolean, Layne Spidel, John Komotios, Dustin Mitchell, Ian Killorn and Lalo Bravo, were recognized with their parents and family members prior to kickoff.
In the game, the Bulldogs struggled in the first half, falling behind 16-0 midway through the second quarter. The Blue Hawks scored on a short TD run by Lucas Andersen and a long catch from Jordan Fisher.
But the Bulldogs answered the deficit with a scoring drive which Layne Spidel capped with a 27-yard run with 3:39 left. Spidel got to the edge and outraced the Blue Hawks to the end zone with a powerful run.
A pass interference call on a deep ball thrown by Kellen McClure helped set up the TD.
But Mission didn't maintain its momentum as a key defensive play and two touchdowns in the last 22 seconds of the first half helped the Blue Hawks to a 30-6 lead.
The Blue Hawks got the ball back with 3:30 left after Spidel's TD run.
Facing a third down and needing eight yards, Blue Hawks quarterback Roman Sparks hit Lucas Andersen for a 24-yard gain. Four plays later, the senior signal caller ran in from two yards out to make it 22-6 with just 22 ticks on the clock.
When the Bulldogs got the ball back at their 12-yard line, little time remained, but it was just enough for Nathan Schraeder to pick off a pass thrown up for grabs. After he returned it, the Blue Hawks had the ball at Mission's 18-yard line with four seconds left.
When the Blue Hawks came out of a timeout, Sparks lofted a pass to the goal-line where Trae Thilmony slipped under a Mission defender and caught the ball just inside the goal line. Thilmony capped the Hail Mary play with a successful run on the conversion to give his team a 30-6 halftime lead.
While the game appeared out of reach for Mission, the Bulldogs pulled with 16 points, 30-14, when Charley Adams scored on a 4-yard TD run with 6:51 left in the third. A McClure 37-yard pass to John Komotios set up the score.
The Blue Hawks were moving the ball again on their next possession, but an unsportsmanlike penalty ended the drive.
McClure and Canyon Sargent hooked up again for a big play, this time a 30-yard TD, to make it 30-20.
The Blue Hawks regained their composure and marched for a touchdown to make it 38-20. Sparks scored from two yards out and then hit Andersen for the conversion.
Mission scored the final two TDs on big pass plays with McClure hitting Bryce Umphrey for a 17-yard score and Komotios for 21 yards to make it 38-32 with 2:54 left.
Despite Mission's best efforts to force a turnover, the Blue Hawks held on and Sparks eventually knelt down at the Mission 3 to end the game.
McClure hit 21 of 32 passes for 264 yards, three TDs and one pick. Komotios was the top receiver, making nine catches for 117 yards. Umphrey had 66 yards on seven catches and Adams had 51 yards on four grabs.
The Bulldogs will look to get on the winning side Friday at Flint Creek. The Titans were scheduled to host Plains, but the game was cancelled when a Flint Creek player was sick Friday morning with flu or COVID-19 symptons.
Thompson Falls 38, Mission 32
Mission (0-1), T-Falls (1-0)
Thompson Falls 8 22 0 8 – 38
Saint Ignatius 0 6 8 18 – 32
TF – Lucas Anderson 4 run (Jordan Fisher run)
TF – J.Fisher 2 run (J.Fisher pass from Roman Sparks)*
MSI – Layne Spidel 26 run (conv fail)
TF – Sparks 1 run (conv fail)
TF – Trae Thilmony 16 pass from Sparks (Thilmony run)
MSI – Charley Adams 3 run (Bryce Umphrey run)
MSI – Canyon Sargent 30 pass from Kellen McClure (conv fail)
TF – Sparks 1 run (L.Andersen pass from Sparks)
MSI – B.Umphrey 17 pass from K.McClure (conv fail)
MSI – John Komotios 20 pass from K.McClure (conv fail)
RUSH – TF 60-196 (Schraeder 15-69, Sparks 27-65), MSI (L.Spidel 4-48, Ch.Adams 2-18, B.Umphrey 2-(-1), K.McClure 1-(-4)). PASS – TF(Sparks 9-11-149-1), MSI(K.McClure 21-32-264-1). REC – TF(Andersen 7-124), MSI (Komotios 9-117, B.Umphrey 7-66, Ch.Adams 4-51, Sargent 1-30).
INT – TF(Schraeder 1-15). FF – TF(Andersen). FR – TF(Thilmony), MSI2. TKL/AST – TF24t19a (Thilmony 5t7a, Sparks 5t4a), MSI
(Fr28Aug20)
---