Lady Pirates soccer team honors seniors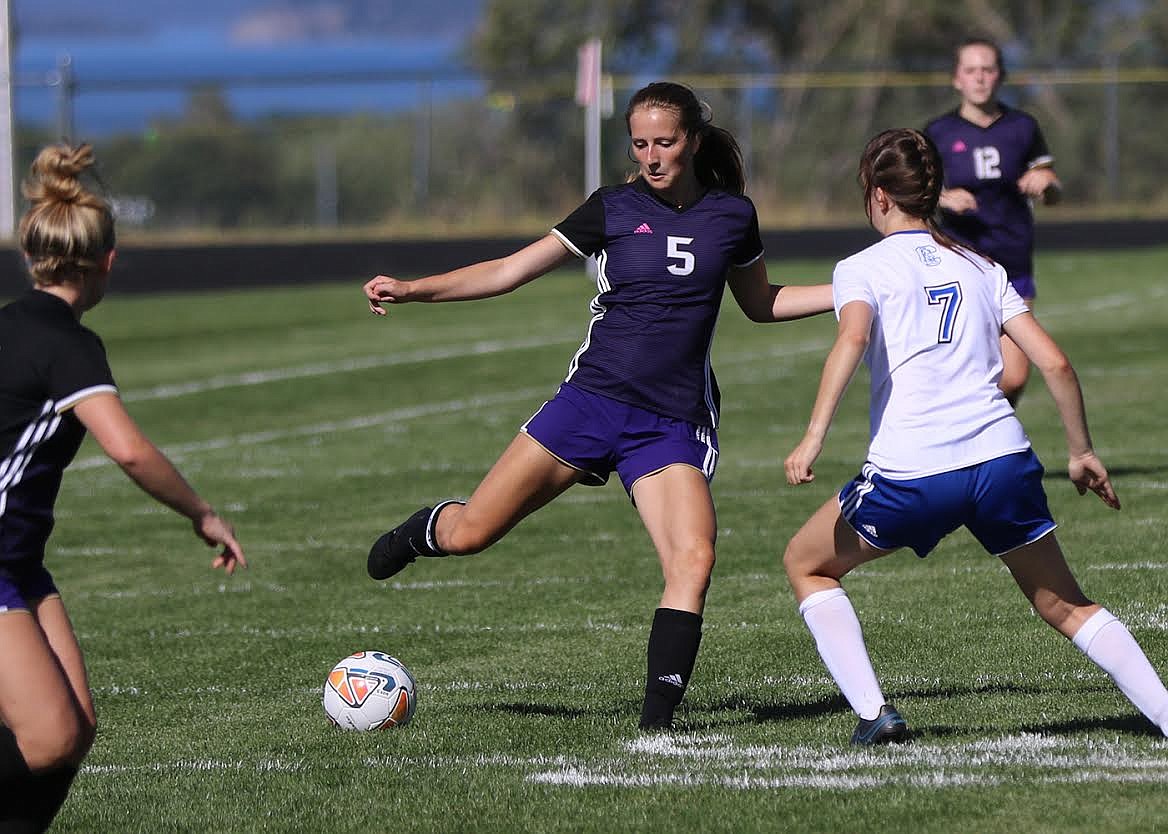 Polson's Tia Mercer tries to evade a defender during a game last week. (Robert Gunderson photo)
by
JOHN HEGLIE
|
September 10, 2020 12:25 AM
The Polson Lady Pirates honored their seniors last week, including nine players, keeper Megan Rost, forwards Autumn Burland, Kyla Heiser; midfielders Lilly Armstrong, Ali Hupka, Sarah Kinzle along with Paige Mergenthaler and defenders Grace Hobbs as well as Chloe Matt.
On the field, the host Lady Pirates fell to Stevensville Yellowjackets, 2-1, and Corvallis, 3-0.
Against Stevensville, the Lady Pirates were very much in the game.
Trailing 2-0, the Lady Pirates had two chances at netting the equalizer. Prior to the halfway mark of the second half, Tia Mercer launched a feed from Sophia Moderie that ricocheted off the bottom of the football goalpost, bouncing within the plane of the net. It was initially scored a goal, but later retracted as the football goal post is not part of the soccer playing field.
It was a play somewhat reminiscent of the 2010 boys State A semi when Polson hosted Belgrade during a scoreless tie when the ball did something similar. The refs didn't blow the whistle in that one, so the Belgrade player kicked the ball into the back of the net. It was scored a goal, Belgrade would advance 1-0 to the championship where they would lose to Libby, the latter whom Polson had beaten as well as tied during the regular schedule.
The Lady Pirate other opportunity was a Moderie crossbar ricochet with under 10 minutes remaining. Freshman Myranda Heiser would get Polson on the board for her first varsity goal during stoppage time when the final two minutes don't betray how little time remains on the clock.
Against the visiting Bitterroot Lady Blue Devils, an inordinate share of 50-50 balls gravitated into the possession of the visitors, making it difficult for Polson to sustain attacks. The departure of lead scorer Sophia Moderie from the field of play midway through the second half further compounded the Pirate predicament. Seasoned keeper Megan Rost kept the her Lady Pirate mates within striking distance with crucial saves of several zingers. It was evident that Corvallis had vastly improved from the team that Polson blanked 6-0 last season, a recollection that may have factored into host team adjustment difficulties.
Corvallis 3, Polson 0
Polson (0-2), Corvallis (2-1)
Corvallis 1 2 – 3
Polson 0 0 – 0
C – g Hadli Lords (a Lauren Criddle)5'
C – g Hadli Lords (a Kenzie Gross) 59'
C – g Hadli Lords (a Gross) 63'
SHOTS-(on-GOAL) – C30(20), P7(5)
SAVES – C (Mikayla King 3sv2h), P (Megan Rost 13sv1d5h)
CORNERS – C2ck, P1ck. CARDS&FOULS – na.
Indiv sh(SOG) – Tia Mercer (3):(5',27',Defl77'), Sophia Moderie 2(1): wide34'(35')f59'; Lilly Armstrong (1):(fk1'); Autumn Burland 1:78'
Defender deflections – P#12 Chloe Matt facial22'; P#4 Jazlyn Dalbey 25', P#18 Grace Hobbs 67'.
highlight reel: Kiera Davis (xbar42'ric); K.Gross (post51'ric)(xbar70'ric).
(Th03Sep20)
Stevensville 2, Polson 1
Polson (0-1), Stevi (1-0)
Stevi 1 1 – 2
Polson 0 1 – 1
S – g Maya Peretto (a McKenzie Brownlee) 25'
S – g Josie Lewis (unassisted) 46'
P – g Myranda Heiser (a Sophia Moderie) 80'
SHOTS (on-GOAL) – S20(9), P13(11)
SAVES – S (Maya Marble 4sv2h, Audette Rudoluph 4sv), P (Megan Rost 7sv2d3h)
CORNERS – S3ck, P1ck
indiv sh(SOG) – S.Moderie (4): (22')(49')(62')(xbar73'ric); M.Heiser (2): (53')(80'); Ali Hupka (3):(15')(62')(68'); Tia Mercer 2(1):(29')FGpost54'ric; Autumn Burland 2(1):(3')wide74'.
(Tu01Sep20)
---