Order up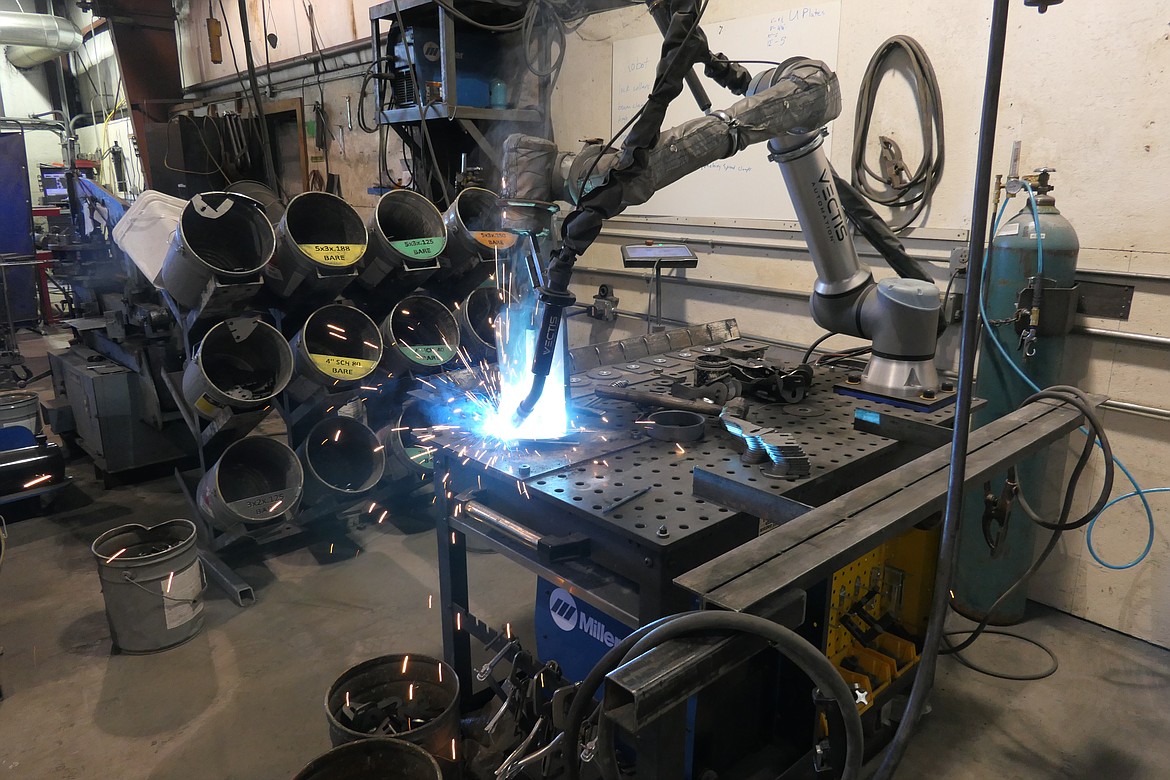 With the addition of a unique "cobot" from Vectis Automation, and powered by Universal Robots, MT Solar in Charlo uses cutting-edge technology and "lean manufacturing" to quickly fill hundreds of orders when demand surges, rather than store large parts inventories.
Carolyn Hidy/Lake County Leader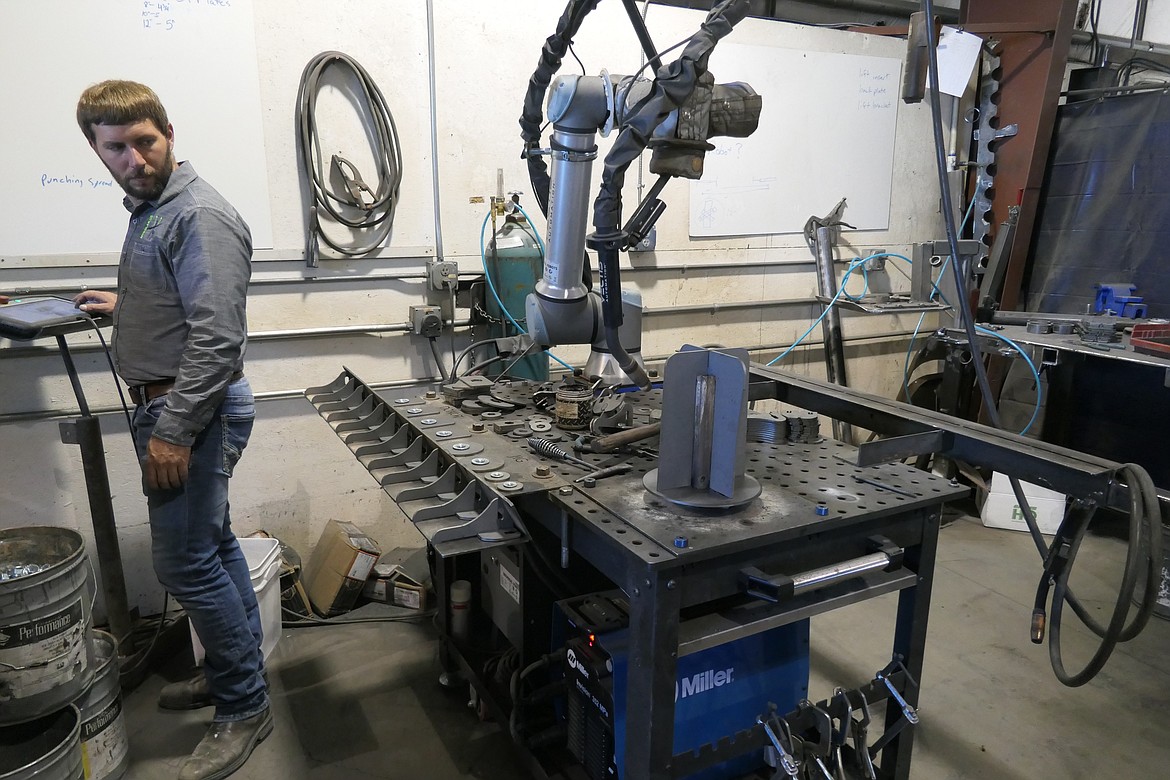 MT Solar President Travis Jordan demonstrates the preparation of parts for the company's new robot to weld.
Previous
Next
by
CAROLYN HIDY
Lake County Leader
|
September 10, 2020 12:15 AM
CHARLO — MT Solar, a small manufacturer in Charlo with a big reach, recently acquired a game-changing piece of robotics technology.
Company president and co-owner Travis Jordan said the crew was so excited when it arrived that they all started pulling off the shrink wrap, saying, "I wanna play."
MT Solar manufactures mounting brackets for solar panel installation throughout the U.S. and beyond. The company delivers packages that include their brackets and all other parts, many from other manufacturers, needed for a complete mounting structure. They're sort of the IKEA of solar, Jordan said.
Summer brings a surge in demand, as that's when most solar equipment is installed. It is expensive and wasteful to manufacture and store large lots of parts when it's unknown which particular parts, and how many, will be needed for each order.
"We used to have shelves stacked full of finished product, and invariably there's one item we were short for an order," Jordan explained, comparing it to baking a lot of cookies and running out of one ingredient. At the same time, it is difficult to find a large workforce of qualified welders who can come to work only when they are needed to weld parts. The new robotic process makes it possible to create parts in small batches quickly, precisely when they are needed to fill out orders.
An innovative Universal Robot, equipped with a Vectus Cobot welding tool, was the answer. "Cobot" is short for "collaborative robot," as it is highly user-friendly and adaptable.
"Nobody has to know any code," Jordan said. "You physically grab the handle and the button. I'll have 'gray-beard' older welder guys that will move it where they want it to be, and that programs it to do what they want it to do." Weld parameters are quickly set on an interactive computer touchscreen.
The robot autonomously runs a full MIG welding cycle, and can repeat that weld perfectly every time, then move to weld other parts just as consistently. With a nationwide shortage of certified welders, the process employs their expertise efficiently for process design and setup, without wearing them out on repetitive tasks. If a worker makes contact with the arm, it automatically stops to avoid injury, making it easy to work with and around.
"We're not welding parts for 10 units, we're welding parts for one unit," Jordan said, showing a complex array of several dozen pieces jigged and ready for the cobot welder. "That's very important for our business model of lean manufacturing, to not make ahead."
Conventional robots are used for "batch" manufacturing, making hundreds or thousands of the same part. "We are building to the need, not to excess. We now have no pools of inventory. We run the robot when we have work.
"(The robot) is the first one to go on unemployment, leaving the full-time positions for my people," Jordan said. "It brings more stability to these jobs. We keep our crew at a consistent, stable number."
MT Solar is featured in a promotion video by Universal Robot (UR) for its application in a small business. In the video, Operations Manager Mike Gillin, a certified welder, says: "We've got a shop full of people that will come up with ideas just based on their exposure to it and what we can use robots for."
Company officials expect to acquire more cobots soon for tasks such as manipulation of heavy and larger parts, alleviating some of the lifting performed by employees.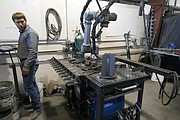 ---