Polson gridders slip past Whitefish, 14-7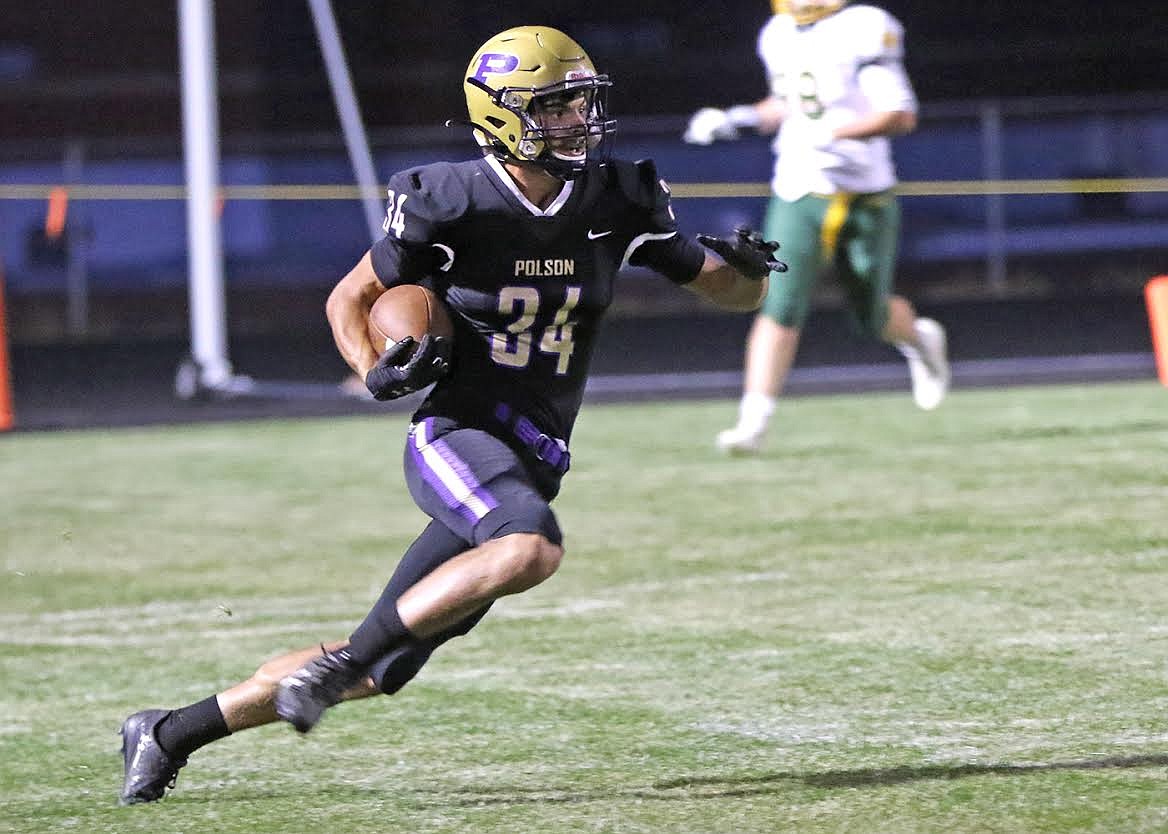 Polson's Boston Goode intercepts a Whitefish pass to prevent a possible touchdown during last Friday's game. (Robert Gunderson photo)
by
JOHN HEGLIE
|
September 10, 2020 12:00 AM
The Polson Pirates held off visiting Whitefish in a 14-7 win last Friday.
The game featured multiple momentum sapping defensive plays along with some impressive outbursts of offense.
An early Whitefish drive unraveled when senior lineman Ethan Cunningham recovered a Bulldog fumble.
The Pirates scored when Jarrett Wilson found Xavier Fisher for the first tally of the game. Whitefish stopped conversion run.
The Bulldogs were on the march again, reeling off reams of real estate as they infringed upon the Pirate half of the field. But senior defensive back Jony Perez picked off a pass that reversed the course of possession back to his Pirate mates.
The second Pirate scoring drive again featured Fisher as the target for both six and the conversion for a 14-0 Polson lead.
Early in the second half, Whitefish countered with a long run by Jack Alton with ensuring PAT to cut the Pirate lead in half.
The ensuing Pirate drive would feature an impressive 50-yard reception by Alex Muzquiz. But a promising drive would fizzle with a fumble on fourth and one in the red zone.
Whitefish would harnass the shift in momentum as they marched down the field to the five yard line for a game tying drive. Timing couldn't have been better when senior defensive back Boston Goode pilfered the incoming pass and returned an interception 92-yard to the Bulldogs 4. But the drive would dissolve when the Pirate were unable to capitalize, turning the ball over on downs.
A couple of possessions would seesaw back and fourth.
Whitefish was in the midst of a sustained drive to tie the contest with 90 seconds remaining. Ridgway would complete a long pass to Schlauch for what would have yield a first down. But before the Bulldog receiver could tuck the ball away, DB Jarrett Wilson would reach in and strip him off the ball, the Pirates taking over possession. They would run out the remainder of the clock to secure their first win of the season.
The game was an early Senior Night honoring of players on account of pandemic uncertainties: Ethan Cunningham, Boston Goode, Trevor Lake, Denzel Lefthand, AJ Mathewson, Jony Perez, Caleb Pierre, Hunter Pittsley, Weston Sansone, JC Steele and manager Mackinly Corrigan.
Polson 14, Whitefish 7
Polson (1-1), Whitefish (0-2)
Whitefish 0 0 7 0 – 7
Polson 6 8 0 0 – 14

P – Xavier Fisher 10 pass from Jarrett Wilson (run stopped after pass rec)
P – X.Fisher 26 pass from J.Wilson (X.Fisher pass from J.Wilson)
W – Jack Alton 55 run (Jaxsen Schlauch kick)
RUSH – W (Alton 21-141), P9-44 (J.Wilson 6-29, X.Fisher 2-12, JC Steele 1-3). PASS – W (Finn Ridgeway 12-26-97), P26-227 (J.Wilson 25-35-219-1, Co.Graham 1-1-8). REC – W(Schlauch 4-45), P24-219 (X.Fisher 7-68, Alex Muzquiz 4-61, Robert Perez 7-44, JC Steele 1-20, Colton Graham 3-14, Ethan McCauley 3-12, J.Wilson 1-8).
INT – W1(Bodie Smith), P(Boston Goode 1-92, Jony Perez 1-20). PD – W(B.Smith). FR – P(Ethan Cunningham, J.Perez). SK – W(), P(Trent Dwelle). TFL – P(Dwelle). (Fr04Sep20)
Wildcats claw Chiefs
At Columbia Falls, the visiting Chiefs succumbed to some precision passing and sharp claws exhibited by the Wildcat offense, which racked up eight tallies while denying counters by Ronan. The Chiefs are slated to host Libby this Friday.
Columbia Falls 55, Ronan 0
Ronan (1-1), C-Falls (2-0)
Ronan 0 0 0 0 – 0
C-Falls 14 20 14 7 – 55
CF – Cody Schweikert 2 run (Niels Getts kick)
CF – Rowdy White 48 run (Getts kick)
CF – Zane McCallum 17 pass from Mason Peters (Getts kick)
CF – McCallum 20 pass from Peters (Getts kick)
CF – Jordan Knapton 9 pass from Peters (pass failed)*
CF – Knapton 22 pass from Peters (Getts kick)
CF – Schweikert 1 run (Getts kick)
CF – Reis Rovig 7 run (Getts kick)
RUSH – R28-50 (D.Kelsch 15-24, D.Bishop 8-11, Tristan Fisher 2-9, T.McAllister 2-6, C.Cheff 1-0), CF22-219 (Rowdy White 6-108). PASS – R16-30-173 (Daniel Kelsch 12-23-128-2, Caleb Cheff 4-7-45-0), CF(Peters 13-17 ). REC – R16-173 (Daniel Bishop 6-51, Colter Cornwell 2-40, Trapper McAllister 3-33, C.Cheff 3-31, James Kenelty 2-18), CF (Cade Morgan 7-129, McCallum 4-66). INT – R1(T.McAllister), CF2( ). FR – CF2 ( ). TKL/AST – R (T.Fisher 4t3a, Kelsch 3t4a, Bishop 3t3a, C.Cornwell 3t1a,C.Cheff 2t2a, T.McAllister 1t2a, Payton Cates 1t1a, Jasen Rodda 3a, Kenelty 1a, Jesse LittleBoy 1a, Lathan Anderson 1a). (Fr04Sep20)
Asterisk (*) denotes stat variant(s) where alternate data exists: mediaDIL/406mtsports postings (55: 5th Conv pass fail, remainder PAT kicks good); Hudl film R/CF (56: 5th Conv pass good; 7th PAT kick fail). Layout based on CFstatistician call-in.
---