Emmabell Eural Carter Herak, 101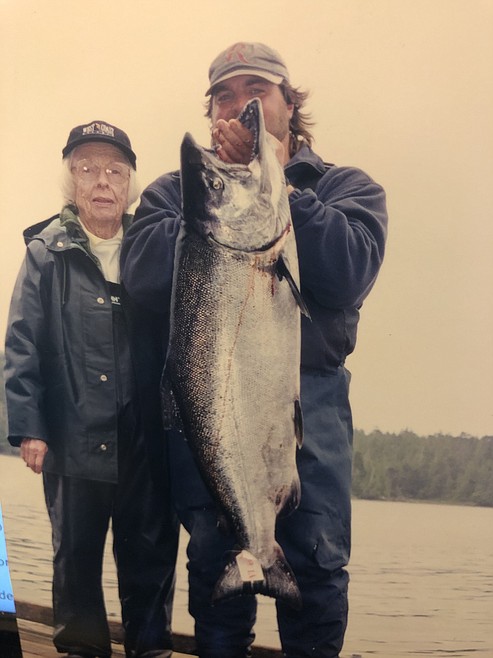 Emmabell Eural Carter Herak.
|
September 22, 2020 12:15 AM
Emmabell Eural Carter Herak was born Nov. 3, 1918, in Baker, Ore., to William Eural Carter and Mahala Elizabeth Flick Carter. She passed away Sept. 18, 2020, at the Carson Tahoe Transitional Rehabilitation Center at age 101. She is remembered by all who loved her as feisty, playful, caring and wise.
Emmabell grew up along the banks of the Snake River in Oregon. From an early age she fished, hunted and gathered food with her parents. She remembered being with her dad when he hooked a 300-pound sturgeon and had to get a tractor to pull it in. She loved that he then called all the neighbors for a big fish fry right on the banks of the river.
As a young woman Emmabell worked as secretary at Sears Roebuck & Co. in Los Angeles. Always hardworking and energetic, she moved rapidly through the ranks to become assistant to the chief executive. During that time Emmabell met and fell in love with John Peter Herak of Charlo. They were married at Precious Blood Catholic Church in Los Angeles on April 26, 1941.
In 1942 the Heraks moved to Denison, Texas, where John was on loan to the U. S. Army Corps of Engineers from the U.S. Indian Irrigation Service. From 1944-46 they lived in Vallejo, Calif., where John served in the Navy as a line officer. In 1946 they moved to San Francisco, where John worked for the U.S. Army Corps of Engineers. The Heraks lived in Kentfield, Calif., from 1951-71, after which they lived between homes in Carson City, Nev., and Sun City, Ariz. Emmabell moved permanently to Carson City after John's death in 1982.
Emmabell Herak was an avid fisherwoman most of her life. She loved battling with her favorite fish, the king salmon, and she continued going to lodges in Alaska and Canada until age 97. In the words of her favorite guide, Terry Schultz, "Emmabell was incredible. She could still, in her 90s, play a fish better than 95% of our guests. Once she hooks them, they don't have a chance!" He said that she is especially remembered for catching a behemoth 57-pound king salmon using only a fly rod.
Emmabell was sometimes joined on fishing expeditions by her beloved niece Julie Herak, who recalls with awe the rigors of the sport and her aunt's persistence. "Even at 97 she could outfish every other person at the lodge. She was amazing!"
When Emmabell wasn't fishing, her next favorite pastime was volunteering at the Carson City Sheriff's Office, where she supervised custodial inmates, delivered mail and oversaw office activities for over 30 years. Her good friend, Sheriff Furlong, said she filled the office with caring and laughter. He added wryly that if there was an argument, she seldom lost.
Emmabell was preceded in death by her beloved husband John and all of her Herak in-laws. She is survived by numerous nephews and nieces, many grandnephews and grandnieces, and her Carson City family, Paul, Vanessa, Sydney and Matthew Alper.
---