The little day care that could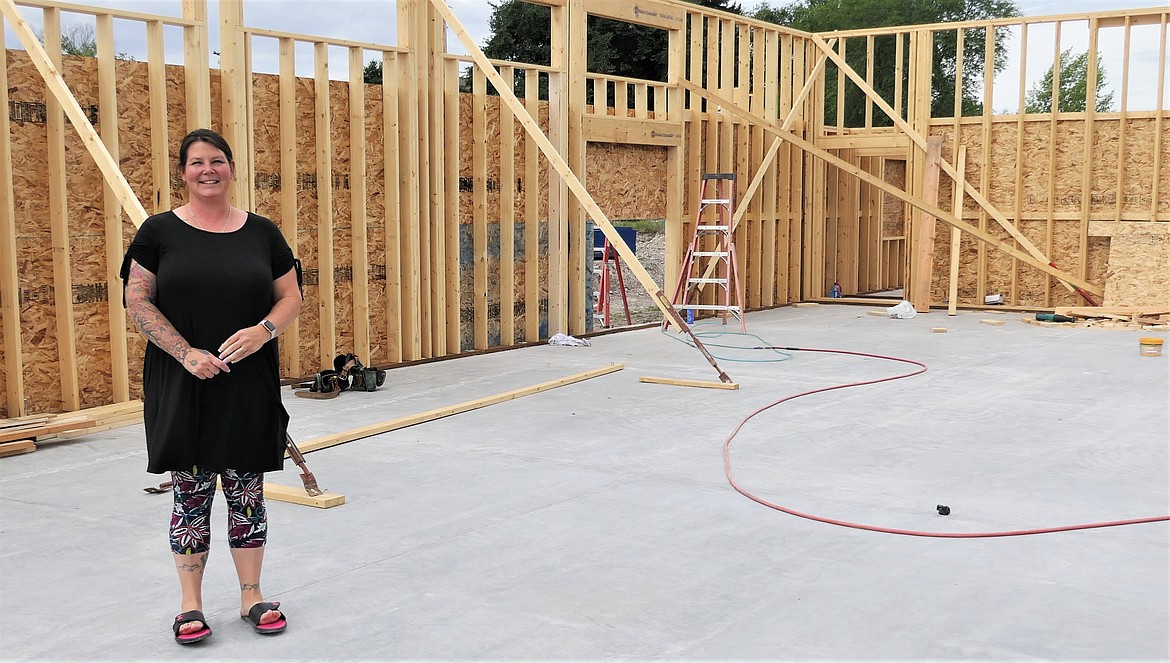 Lisa Wall-Wilbert standes inside what will soon be her dream library at the new Fun and Fancy Free Learning Center in Polson. (Carolyn Hidy/Lake County Leader)
Carolyn Hidy/Lake County Leader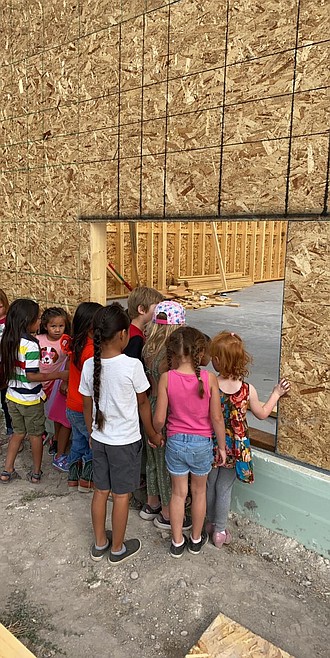 Attendees sneak a peak at their new digs. (Lisa Wall-Wilbert)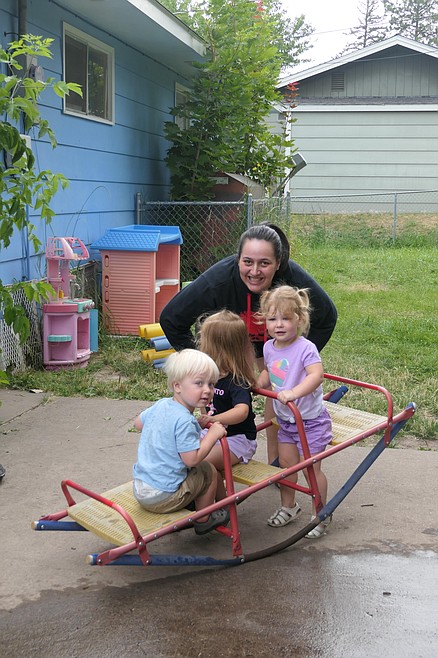 Coming full circle, Tuesday Hesselgesser now works at the day care/preschool she once attended. (Carolyn Hidy/Lake County Leader)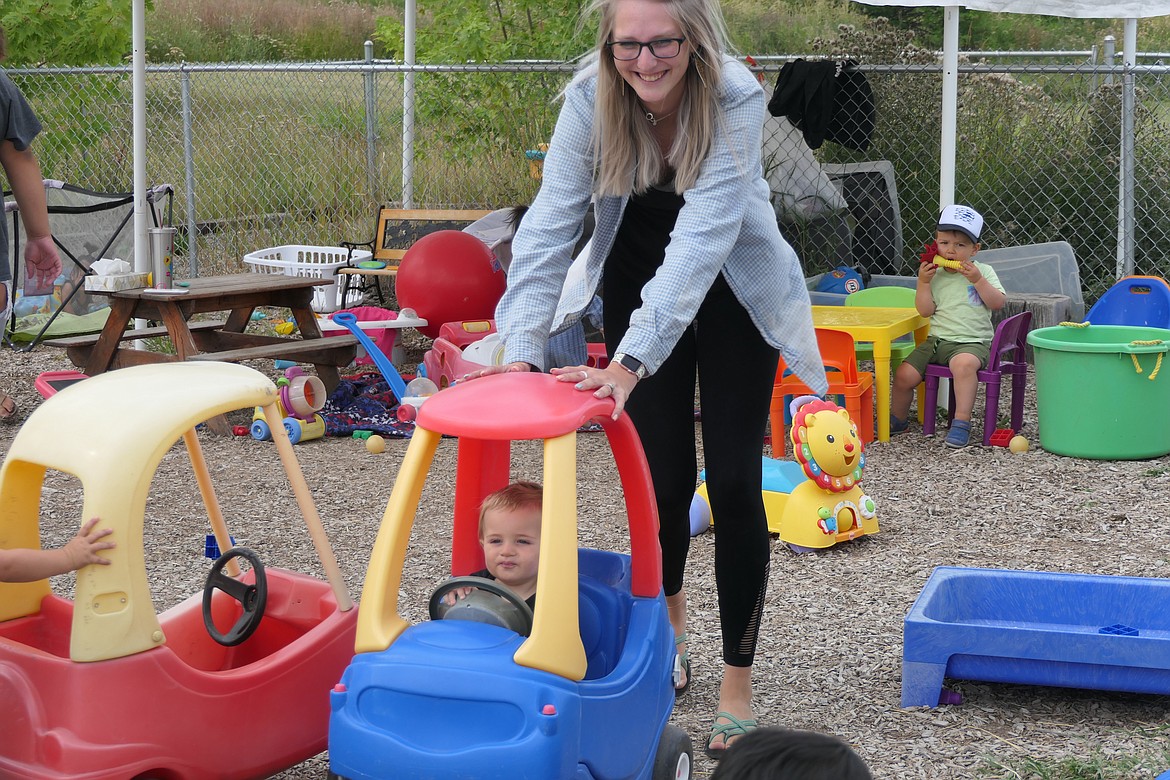 Fun is all part of the learning at Fun and Fancy Free Learning Center. Lindsay Barber helps a toddler on his ride to the future. (Carolyn Hidy/Lake County Leader)
Previous
Next
by
CAROLYN HIDY
Lake County Leader
|
September 24, 2020 12:45 AM
When Lisa Wall-Wilbert and her husband, Alex Wilbert, started a day care business in their Polson home, she was 18 and he was 22. Over the next 22 years, Fun and Fancy Free Learning Center has grown into a beloved preschool and day care facility that has helped raise hundreds of Polson children. A highly-trained staff of 20 people currently serves about 60 families, with more than 100 kids, from infants to 12-year-olds.
Soon their home away from home will move into its own new home.
Currently operating in three buildings, the center is constructing a new facility that will bring everyone together.
Lisa, who along the way also managed to earn an education degree, was very clear on what was needed in her new school. She sat down with an architect and designed exactly what she wanted, then worked out financing with Glacier Bank, Valley Bank and the Small Business Administration, with family members as business partners.
The center had grown from the original building to include the house next door and a large space that St. Joseph Medical Center had opened up for an on-site day care. Two age groups of preschoolers filled the houses, with infants and school-aged children at the St. Joseph site.
"We've always just made it work," Lisa said, describing the process of managing three sites with a small kitchen, tight driveways that made for a difficult mix of delivery trucks, buses and families dropping off children; and other complications. "Now it will work as designed. Under one roof, it will make our resources much better utilized."
Many of Lisa's friends run day cares of various sizes.
"I love that Polson has home day cares and large centers like us," she said. "Home day cares are just as valuable. Not everybody wants a big center like us, but some want more of a school feel. Parents have a variety to choose from."
But they all have one thing in common, she said. Everyone has waiting lists.
"That's another reason we wanted to expand — so we could take more kids."
The new facility is just a block away from the original, halfway between Cherry Valley Elementary and Polson High School. It will have double the capacity for preschoolers and infants, plus a large library, gym and professional kitchen. Deliveries will be taken at a side door, while buses and cars can drop kids in a smooth procession at the front. Parents with multiple ages of kids can drop them all off at one spot. Out back, 3 acres of space will be made into play areas for all the different ages, accessible for younger children directly from the classroom.
Older school kids will have the gym and the library before and after school. The library is Lisa's favorite place.
"When I say library, it's not only books. I want it to be a nice gathering place," she said. It is as large as the gym and includes a cozy fireplace. "I want a big Lego table, some little seating areas, places to cuddle up with a book while others are playing a game together."
As a Montana STARS-certified day care facility, extra care ensures a high-quality mix of books and learning materials.
The business has been built on a foundation of a strong family attitude.
"What we strive for is to be a family," Lisa said. "We'll go to games, plays, IEP meetings, show and tell, haircuts, doctor appointments. A parent might not be able to leave work, so we are their back up."
Field trips and community service are a big part of the center's programming, including swimming lessons, museums, lemonade stands, the animal shelter, holiday singing for residents at Polson Health and Rehab, and even bowling. Several pets have joined the family; kids currently help care for a cat, two guinea pigs, a snake, a tarantula and two frogs.
"We work hard, and we play hard," Lisa said.
The relationships they build are real.
"I'm a mess when I go to graduation," she said. "I know so many of those kids — I changed their diapers."
Several alumni have brought their own children to be part of the Fun and Fancy Free family, and some have come back to work there.
"One thing I'm especially proud of is that we take on a lot of children with special needs," Lisa said.
The STARS certification — part of a state program to improve child care — is extra training to help these kids, and the center has working relationships with specialists and schools throughout the area that help work out how best to help each child.
"It doesn't scare us. When we have a kid come in, we might not know anything about their disability. Whether it's a physical issue or a behavioral issue, we will learn. They are just part of the family."
Lisa and Alex's own family consists of many children by birth, adoption and foster parenting who join with the rest of the kids at the center as friends and as helpers.
"We're all in it together," Lisa said.
The staff is looking forward to moving into the new building in December or January and setting up in a brand new space. Among them, Lisa said, are some "amazing artists" who "can't wait to have some fresh walls to paint murals on."
Amanda Sullivan, a current staff member earning a business degree, will take on the manager position, freeing up Lisa for her roles as principal and curriculum director, and to run her precious library. Alex, who Lisa says always seems to be available whenever and wherever he is needed, will unleash his famed barbeque and cooking skills in the new kitchen.
"I see some great meals coming up," Lisa said.
For more information on Fun and Fancy Free Learning Center or their new building, call or text 250-6485.
---