Keeping stretch of Back Road litter free is Ronan man's personal mission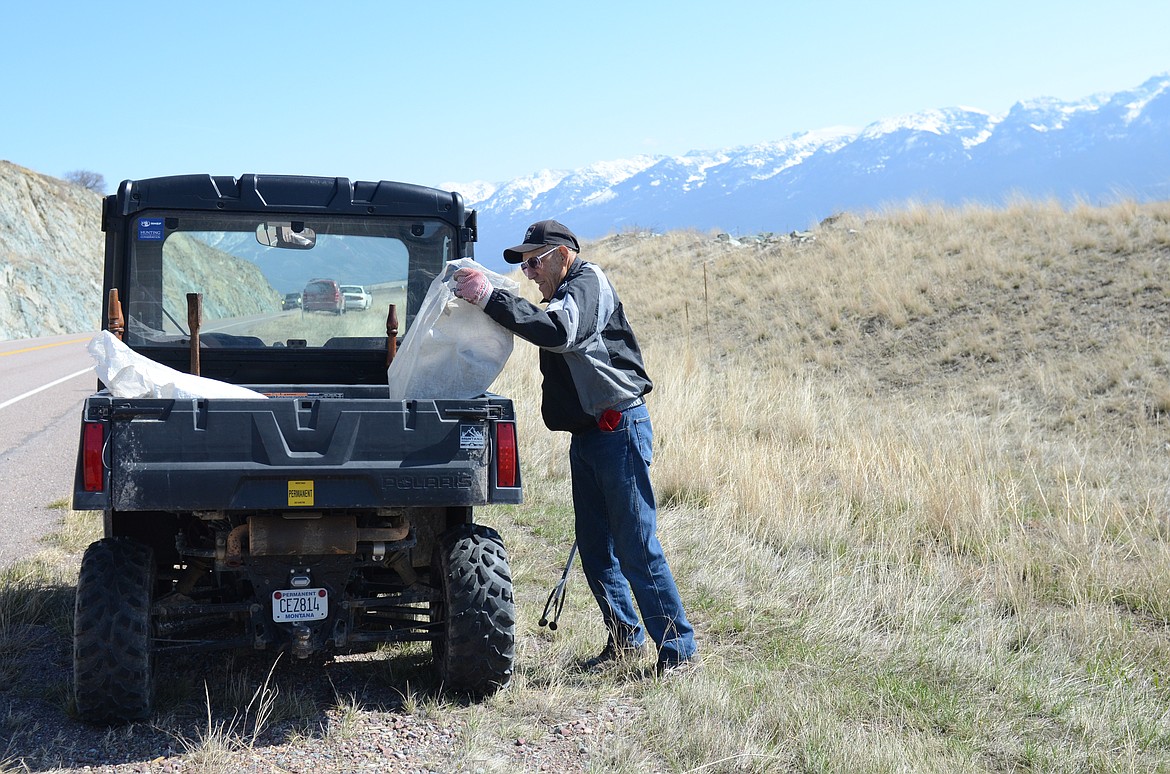 Larry Ruffatto, 89, of Ronan, picks up litter along an 8-mile stretch of Back Road south of Polson every spring. (Carolyn Hidy/Lake County Leader)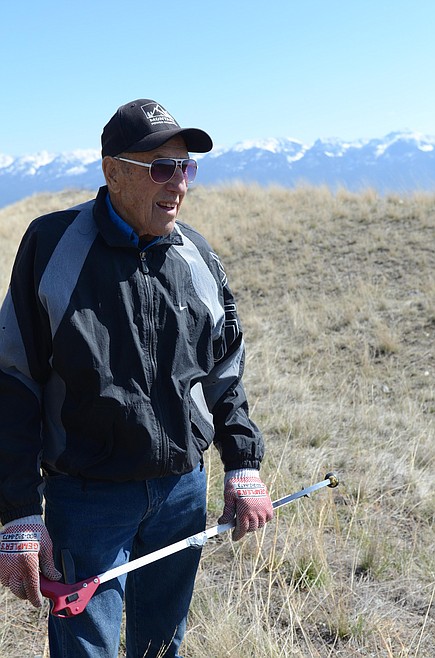 "If people want to walk for exercise, this is something they could do," Larry Ruffatto said as he was picking up litter recently along Back Road. (Carolyn Hidy/Lake County Leader)
Previous
Next
by
CAROLYN HIDY
Lake County Leader
|
April 8, 2021 12:50 AM
Larry Ruffatto of Ronan makes it hard for the rest of us to come up with excuses.
At 89, with a replaced knee and hip, and several old broken bones from a lifetime of action, including horses rolling on him, Ruffatto probably cleans up more miles of road each spring than some of us do in a lifetime.
After Back Road was paved from Round Butte to Polson over a decade ago, traffic greatly increased. So did the litter on the side of the road.
Ruffatto figured someone had to clean it up, so he got in his ATV and set out to tackle the nearly 8-mile stretch between Round Butte Road and North Reservoir Road. From there, the Polson Fire Department has adopted the 2-mile stretch into Polson. Ruffatto's been at it every year since then, in early spring before the grass gets high enough to hide the litter.
It may look like an 8-mile stretch on the map. But since Ruffatto does this whole thing by himself, he probably puts in six to eight times that. He always has to double back to his ATV for every stretch he cleans. He also zig-zags across the easement, uphill and down, on both sides of the road, to pick up everything he can find. He puts in three to four hours each time he goes out, covering 1 to 2 miles a day.
"If people want to walk for exercise, this is something they could do," he said.
He uses a "grabber" to minimize the bending over required.
Occasionally, people honk their thanks as they zip by. One man stopped to give Ruffatto a box of garbage bags.
"At least so far, no one has thrown anything at me," he said with a grin.
As if this isn't enough of picking up what others dump out or what flies out of the back of their pickups, Ruffatto is also a member of the Backcountry Horsemen, who have adopted a steep, brushy stretch of Highway 35 along the east shore of Flathead Lake.
"You fight your way down to the shore, and then you have to crawl back up," Ruffatto said.
Another project he undertakes with the Backcountry Horsemen is to clear and maintain two trails in the St. Regis cutoff area. Thanks to their work, at least one of those trails along the river now attracts hikers and mountain bikers for a scenic day trip, and plays host to an annual cross country running race.
Ruffatto trains his horses to carry a trash sack and uses a long pole with a nail to pick up stuff when he's riding. It takes a bit of getting used to for the horses.
"At first it's kind of a rodeo," he said, "but they get used to it."
And then, there are the bluebird boxes. Ruffatto and his partner, Carol, maintain a trail of 50 bluebird boxes on the Sloan's Bridge route to Hot Springs, cleaning them out before the birds arrive, as they will only build a nest in an empty hole.
Perhaps it surprises Ruffatto just how active he is at this stage in life.
"I'd have taken better care of myself if I'd known I was gonna live this long," he said.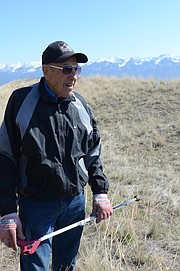 ---