Time Capsule: Stars of the stage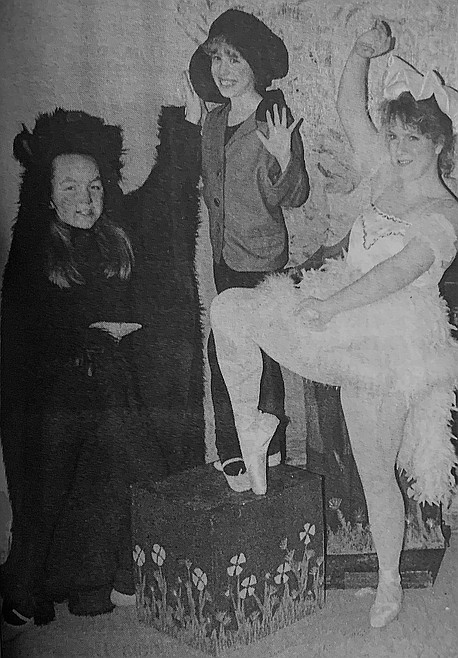 "Peter and the Wolf" comes to the Polson High School stage Saturday in a free half-hour ballet. The production, adapted by Karen Lewing, is sponsored by Mission Valley Friends of the Arts, in cooperation with the Port Polson Players. Among the performers are, from left: Elena Caplis as the Wolf, Christening Strole as Peter, and Kirsten Taylor as the Bird. (April 4, 1991 Lake County Leader)
by
Lake County Leader
|
April 8, 2021 12:15 AM
This week in Lake County news archives.
Flying high
April 7, 2011 Lake County Leader
Polson High School assistant principal Shawn Hendrickson, school counselor Jesse Yarbrough and band teacher Richard Sawyer were as far from their comfort zone last weekend as they could get, seated in a KC-135 military jet, cruising at 25,000 feet with five F-15 fighter jets soaring in formation at their side.
The trio was given the trip of a lifetime when Air National Guard recruiter and Polson grad Andy English nominated them for the 2011 Montana Air National Guard Boss Lift, giving them an opportunity to experience firsthand what a typical drill weekend involves for members of the Guard and reserves.
Special delivery
April 4, 2002 Lake County Leader
Dr. David Gorman and the family practice physicians at Family Medical Center in Polson have had a large obstetrics practice for many years, but that came to an end with the recent birth of Jose Antonio Muniz III. Jose was the last birth for the practice, which will no longer deliver babies.
Dr. Gorman delivered Kate Elaine McDaniels two days earlier. She was a personal record for the good doctor. Kate was the fourth McDaniels child he delivered.
"I've delivered three in one family before, but never four," he said.
Kate joined Megan, born in 1996, Michael, born in 1998, and Noland, born in 2000, to parents Charles and Tamara McDaniels.
Free 'Bird
April 10, 1986 Flathead Courier
It may just be the longest wait in American teenage history.
When Ann Manley of Polson turns 14 on Feb. 27, 1987, she'll still have half a year or so to wait before she can take driver's training, the dream of any teen. But for Ann, a special incentive will probably make her license all the more important and all the harder to wait for: a red 1986 Pontiac Firebird. A real street machine.
And except for the shipping charges from Anaheim, Calif., to Polson, it comes free.
During a recent trip to Disneyland, in honor of the park's 30th anniversary, Ann, like all visitors, received a card describing a free gift — mostly things like popcorn and pins. Ann's card, however, said "Pontiac Firebird," and was among several grand prizes the park awards to just one visitor per day.
---